Spring is right around the corner.  I know it's hard to believe in some parts of the country. But it's not too soon to start sowing seeds for spring and summer food harvests … or at least, thinking about what you might want to plant when the soil finally thaws.
To get your garden off to a great start, here is a mini Spring Garden Guide with some of Seasonal Wisdom's favorite resources. It's illustrated with photos from the inspiring 2014 Northwest Flower & Garden Show in Seattle. Come take a peek.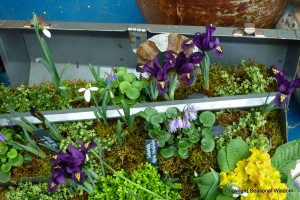 Spring is such an easy time to love in the garden and home.  As the Russian novelist Leo Tolstoy wrote, "Spring is the time of plans and projects."  It's a time for new births and new beginnings, especially in nature.
Before we step out into the garden, however, let's look at our homes first. To help get your home ready for the season, here is Spring Feng Shui Advice from Ann Bingley Gallops of Open Spaces Feng Shui.
Regional Spring Garden Advice
Spring is an excellent time to prepare your soil for healthy gardens. Add organic matter like compost, worm castings and well-aged manures to your soil.  Clean up winter debris in the garden. Cut away broken or diseased branches, but don't prune spring-bloomers until after they flower. Check on the conditions of your sprinklers.  Make sure the garden shed is organized and ready, and that's for starters…
In some places spring had sprung a few weeks ago. In other areas, spring seems like a dream that may never come. Each region has different spring garden chores and timing. Here's advice from university extension services from different regions around the United States:
Northeast: Cornell University

Southeast: Clemson University

Midwest: University of Illinois

Central: Texas Agrilife Extension Master Gardeners

Intermountain West:  University of Colorado

Northwest: Oregon State University

California: University of California Master Gardeners

Growing Food in Spring
Spring is the time to get your seedlings started for the growing season.  Some crops like lettuces, peas, radishes and carrots can be sowed directly in the garden. Others, such as warm-season tomatoes, eggplants and peppers, are best sowed indoors about 6 to 8 weeks before the last frost date.
Here's a brief primer on how to grow food from seeds, including seed resources, and tips on what to start indoors and what can be sowed directly in the garden. 

Need new seeds? Here are six questions to ask before buying seeds.

Are your seeds still good? Here's how long vegetables seeds will stay viable.

Don't let damping off disease kill your baby seedlings. Here's advice.

Eating Well in Spring
Make sure these foods are in your spring meals! Seven Spring Vegetables to Eat Now

Growing Spring Foods
Garden-fresh foods always taste best. Here are gardening tips and photos of different spring foods, including interesting heirloom and hybrid varieties:
Cool Season Vegetables to Grow From Seeds
Carrots, Peas and Salad Greens

Spring Garden Basics
And just a few more basic tips for your spring garden:
How to Read a Fertilizer Label
Basic Pruning Tips for Healthy Garden

Enjoy your spring garden! And don't forget these wise words from author Margaret Atwood, "In the spring, at the end of the day, you should smell like dirt." We agree.