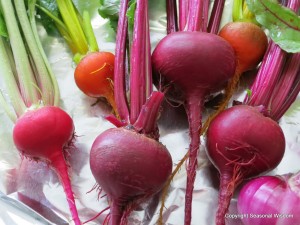 Beets are beautiful vegetables that thrive in cool weather. Above are some beets freshly picked from our kitchen garden, along with a red onion (bottom right). Learn more about how to grow beets and enjoy their edible roots, leaves and stems in the kitchen. All photos copyright Seasonal Wisdom, unless otherwise noted.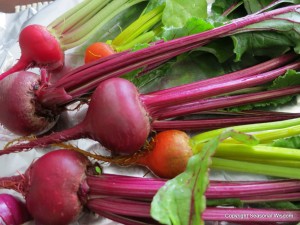 Photo copyright Seasonal Wisdom
Delicious and beautiful, beets are easy to grow vegetables, which are best planted direct from seed in the garden. Above are 'Red Sangria' and 'Golden' beets of various sizes, harvested from my raised bed. I sowed my beet seeds in spring in full sun in well-drained soil, already amended with aged manure and compost.  Depending on weather conditions, beets take about 55 days to harvest. You can also plant beets in August to September for a fall harvest.
Beets germinate rather quickly, about 5 to 10 days. As they grow, gradually thin the beet seedlings 3 to 4 inches apart, and throw these extras into salads.
To keep the birds from eating the beet greens, I used bird netting as the plants grew.  This worked very well. See more pictures of my beet garden bed.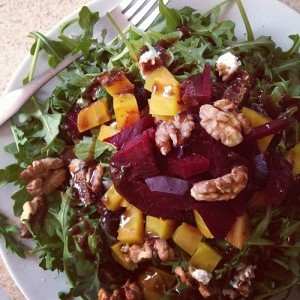 Beet salad with spicy arugula and goat cheese.
Photo copyright Heather Quintal on Flickr.
Eat Your Beets: This colorful vegetable gives a lot of bang for the buck. Although we often focus on eating the roots these days, you can eat the yummy beet greens and stems too. I often sauté the greens and finely chopped stems with herbs, onions, shallots and garlic.
The greens can be cooked in the same ways you would prepare Swiss chard, which is a member of the same plant family (Chenopodeae) as beets. Toss the cooked greens into quiches, soups and casseroles for an added nutritional boost. A cup of beet greens provides about 65 percent of the recommended daily intake for Vitamin C, according to the Lance Armstrong Foundation's Livestrong.com.
The colorful roots can be steamed, boiled or baked whole like potatoes. I cut off the leaves and stems, and then wrap a few beets in tin foil, after adding a bit of olive oil and garlic. Depending on the beet's size, you can roast it at 400 degrees for between 20 – 45 minutes. Poke a few small holes in the beets before they cook, so they don't explode in the heat.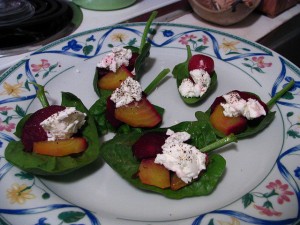 Appetizers with beets, spinach and goat cheese.
Photo by randomduck on Flickr.
Beets have many nutritional benefits. I like the yellow and orange ones best, because they are so sweet and don't bleed as much. But the red ones, are particularly high in vitamin C and the phytochemical Betaine, which is helpful for cardiovascular and liver health. The juice from red beets is believed to lower high blood pressure, according to a publication from the American Heart Association.
Here's more information on the health benefits of beets — plus cooking ideas — from the non-profit George Mateljan Foundation for the World's Healthiest Foods.
Health. Beauty. Taste. Beets certainly have a lot going for them. So, save a little space in your garden for some beets in the spring and fall. Your garden and kitchen will thank you.
Are you growing beets already? Which varieties? Do you have any growing tips you'd like to share with Seasonal Wisdom readers? We're all ears.