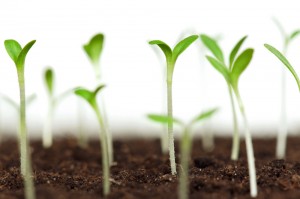 Growing food from seeds is easier than you may think. This Seasonal Wisdom mini-guide gives you quick tips and resources for seed starting this growing season, as well as some of my favorite foods to grow from seeds.
Right about now, I'm usually devouring the new seed catalogs piling up in my mailbox, and wondering what to plant next. It's inspiring to think that one small package of seeds can grow enough lettuce or squash to feed you for a long time, without spending much money. Plus, the selection is much better than anything you'll see at your grocery store.
Starting Seeds Indoors: Want to grow foods from seeds like tomatoes, eggplants or peppers? In much of the United States, you'll want to start those seeds indoors about now. These warm-season vegetables need 6 to 8 weeks indoors to grow plants hardy enough for your garden. Transplant outside after the last frost date. But leave nearly a week to acclimate these fragile plants to outdoor conditions.
Learn about growing foods like tomatoes, peppers and eggplants from seeds from the University of Minnesota Extension. (Once you get your seedlings growing, here are my tips for growing healthy tomatoes.)
Not that ambitious? You can often find heirloom and unusual varieties at independent garden centers, farmer's markets and farmer sales like this annual one at Peaceful Belly Farm in Boise.  That's where I've found literally hundreds of unusual tomatoes and eggplants to consider for my garden.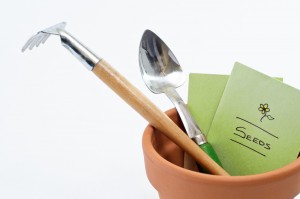 Sowing Seeds Directly: Growing food from seeds is easiest when you plant vegetables that can be sowed directly into the garden, which is what I often do. Here are five fabulous cool weather vegetables that you can grow from seed outdoors.
Plus, these are a few vegetable plants that grow better when sowed directly in garden:
Arugula, lettuces, salad greens and winter greens like Swiss chard and kale (cool season) – Tips here
Beans (warm season – after last frost date)
Carrots (cool season) – Try this 'French Market' heirloom if you have hard, clay soil!
Cucumbers (warm season – after last frost date)
Corns (warm season – after last frost date) – This blue corn grows in a container.
Parsnips (cool season)
Peas (cool season) – Some ideas … and try this tiny English heirloom pea for small gardens
Pumpkins (warm season – after last frost date) – more advice
Radishes (cool season) – Growing tips
Squashes (warm season) – This heirloom squash grows summer and winter types.
Favorite Seed Companies:  For your family's health, buy from seed companies that provide organic, non-GMO and non-treated seeds. This is especially important for sweet corn; it's now very difficult to buy non-GMO corn seeds in the United States, unfortunately. A few of my favorite seed companies:
Baker Creek Heirloom Seed Company – Gorgeous catalog and selection of unusual heirloom foods. A real leader in saving heritage foods from extinction. Highly recommended.
Botanical Interests – Organic seeds of all types, along with the industry's finest growing information on seed packaging.
Burpee – Large selection of well-known seeds and various gardening supplies.
Comstock, Ferre & Co – Recently purchased by Baker Creek, this historic seed company is the oldest in New England.  Nice selection of heirloom seeds and charming vintage-style catalog.
Irish Eyes Garden Seeds – "This is the place for organic seed potatoes," reports my friend at The Yarden. That's good enough for me. The company also offers a large selection of garlic, shallots, onions and other organic vegetable seeds.
Peaceful Valley Farm and Garden Supply – Organic seeds can be found here, along with organic fertilizer, pest control and other organic garden supplies. The website features lots of helpful and sustainable gardening tips and videos.
Renee's Garden Seeds – From gourmet herbs and lettuce mixes to charming cottage garden flowers, Renee's Garden offers a very nice selection of unique seeds.  Growing information provided on seed packaging.
Seed Savers Exchange – Last but not least, this is my favorite seed company. Not only does Seed Savers Exchange have an excellent selection of heirloom seeds from around the world, the non-profit organization is among the largest non-governmental seed banks in the United States.
These hardworking folks are helping to keep thousands of  heirloom and heritage foods around for generations to come.  Order the Seed Savers Exchange catalog for this year's garden, and become a member to gain access to literally thousands of very rare seeds … many offered nowhere else!
Meanwhile, what are some of your favorite tips for growing food from seeds? Leave a comment below or visit the Seasonal Wisdom Facebook page to share ideas and pictures.