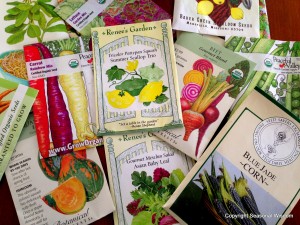 Each year, I end up with many more vegetable seeds than I could possible plant in my garden. So, I give them to friends. Or, I save them for the next growing season … or, the next growing season after that.
As a result, some of my seeds are several years old. Should I throw them in the trash? Not necessarily.  To learn more, I did some research. Here's what I learned about the average shelf lives of common seeds, and how long vegetable seeds stay viable.
Not Clear:  It's not always easy to know how long a particular type of seed will last, as Margaret Roach points out in this excellent post in A Way to Garden. She features an interesting chart that shows how expert opinions differ on seeds' shelf lives.
Here are my rough estimates, based on advice from seed sources, gardening books and cooperative extension services. Sources are listed below.
How Long Will Vegetable Seeds Stay Viable:
| | |
| --- | --- |
| Vegetables | Average Shelf Life |
| Bean | 2-3 years |
| Beet | 3-5 years |
| Broccoli | 3-5 years |
| Carrot | 3 years |
| Corn, Sweet | 2 years |
| Cucumber | 5 years |
| Eggplant | 3-5 years |
| Kale | 4 years |
| Lettuce | 2-5 years (lots of debate!) |
| Muskmelon | 5 years |
| Onion | 1 years |
| Pea | 3 years |
| Pepper | 2 years |
| Radish | 5 years |
| Spinach | 2-3 years |
| Squash | 4 years |
| Tomato | 4 years |
| Watermelon | 4 years |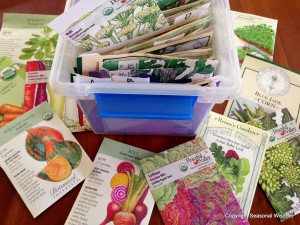 Storage Matters:  The way you store your seeds will determine how long they will stay viable.
Ideally, seeds like to be stored somewhere cool and dry.
Some people store their seeds in a jar in the refrigerator. But the authors of Heirloom Life Gardener, who own Baker Creek Heirloom Seeds, recommend that seeds be kept in an airtight container, such as a jar or envelope, in a dark, cool spot where the seeds won't get any light or moisture.
My set-up isn't fancy, but I keep my seeds in their packages and store them in this Seed Keeper in a dark, dry room that stays cool in my house. I won the Seed Keeper during a #gardenchat giveaway on Twitter years ago, and it has worked well for me.
What Do They Look Like?  You can often tell whether the seeds are still good by their appearance, according to the Iowa State University Extension.  So, give those seeds a peek before you plant.
Do the seeds usually look round and plump? Then they probably won't "germinate well if they are pocked or wrinkled," say these extension agents.
When in Doubt … Test: Still concerned? Give your seeds a germination test.
Select some randomly picked seeds, and spread them across several layers of premoistened paper towels. Keep them in a plastic bag or container somewhere warm. In a couple days, check seeds to see if they have germinated. Repeat every day for a week or so. Here's how I presprouted seeds for faster growth in the summer, which is one way to help you test your seeds.
So, don't rush out to throw away those old seeds. Check to see if they may still be viable, and be sure to sow a bit heavier, just in case. What are you planning to grow from seeds this year?
Get Growing: Here's a Seasonal Wisdom mini-resource guide for growing food from seeds. Let me know if it helps you!
Seed Viability Sources:
Heirloom Life Gardener by the owners of Baker Creek Heirloom Seeds
Virginia Tech Cooperative Extension
Iowa State University Extension