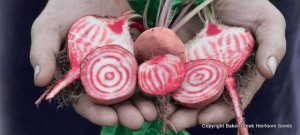 When it comes to heirloom foods like these 'Chioggia' beets, Jere Gettle is considered quite the expert. As co-founder of Baker Creek Heirloom Seed Company, he has even been called "the Indiana Jones of seeds," by The New York Times.
After all, this intrepid seedsman has traveled the globe to uncover unusual, delicious and beautiful heritage foods worth saving for future generations. Together with his wife, Emilee, he describes these adventures and gives gardening tips in the critically acclaimed The Heirloom Life Gardener.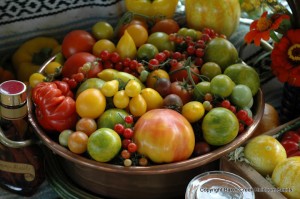 As a lover of heirloom plants, I've been a big fan of Baker Creek Heirloom Seeds for several years. Each winter, when the company's gorgeous, four-color catalog arrives, I sit down and literally study the more than 1,400 varieties of amazing tomatoes, peppers, beets, lettuces and other heirloom seeds available from 70 different countries.
With so many heritage foods disappearing from our diets, it's comforting to see such a large number of non-hybrid, non-GMO, non-treated and non-patented seeds in one place. According to the United Nation's Food and Agriculture Organization, 75 percent of agriculture's genetic diversity has disappeared over the last century.  Yet, each of those historic seeds grew a particular food, and told its own unique story.  To learn more about this topic, here's an article I wrote for Horticulture Magazine on why we should treasure heirloom foods. (PDF)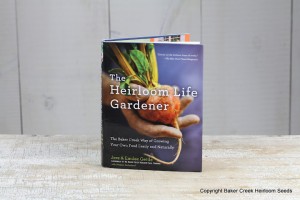 Already a fan of their catalog, I was excited when I learned that Jere and his wife Emilee had written a book called The Heirloom Life Gardener, about the Baker Creek way of growing food.
As I expected, this hardcover book is packed with gorgeous four-color photos, along with practical tips about gardening and saving seeds.  But some of the most interesting reading is actually about Jere's early life and how it shaped his heirloom seed company.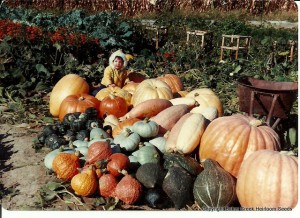 As you'll learn in The Heirloom Life Gardener, Jere started gardening at a young age. Growing up in the Boise Valley of eastern Oregon and Montana in the 1980s, his parents were homesteaders and lived off the land. While other kids were home watching Dallas and Dynasty sitcoms, Jere was growing up surrounded by nature — including heirloom winter squashes and pumpkins, as you can see above. By three years old, Jere had already sowed his first seeds.
The family later moved to a farm in the Ozark Mountains in Missouri. At the age of 17, Jere printed his first seed catalog and started the Baker Creek Heirloom Seed Company in 1998.  Today, Baker Creek offers the largest selection of heirloom varieties in the United States, many dating back to the 19th century or earlier.
As a young man, Jere traveled to remote villages in Mexico and Asia to visit farmers' markets selling unique and unusual foods, rarely if ever seen in the United States. Above is a farm in Thailand; a nation that supplied many exotic vegetable seeds that he now sells. Jere writes of how these experiences shaped his company and his commitment to preserving heritage foods.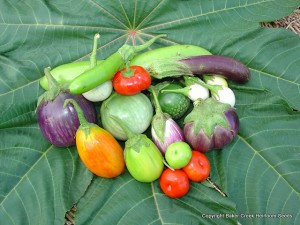 These Thai eggplants are typical of the ones Jere found during his travels, and illustrate the many colors, sizes and shapes of eggplants you can grow by seed in your garden. Few of these heritage foods can be found in ordinary grocery stores in the United States.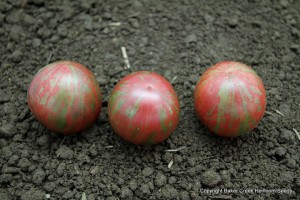 Jere also has come across amazing tomatoes over the years, such as the prolific 'Violet Jasper.' Not your typical tomato, this Asian heirloom is striking and sweet tasting. Each one a tiny work of art.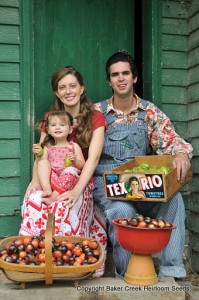 These days, Jere has a wife and daughter, who also play important roles in the family business. The company has expanded from the Baker Creek Heirloom Seed Company in Missouri to include the quaint Petaluma Seed Bank in Northern California, where seeds and locally made items are sold from a grand, former bank building built in the 1920s.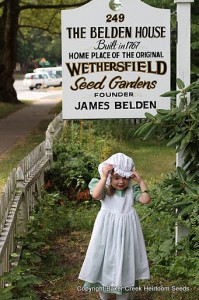 Recently, Jere and his wife Emilee purchased Comstock, Ferre & Company.  Located in old Wethersfield, Connecticut, the renowned firm is the oldest continuously operating seed company in New England, selling heirloom seeds for more than 200 years.  The property features 11 historic buildings, including the founder's 1767 house where the Gettles' daughter Sasha  can be seen having a good time above.
In upcoming years, it'll be exciting to see what plans the Gettle family has for this landmark seed company.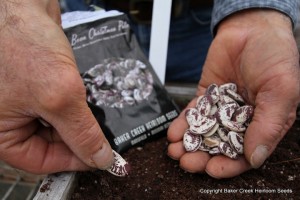 A large portion of the book is an A-Z Growing Guide to the Gettles' 50 favorite vegetables. This section covers growing, pests and diseases, seed saving and cooking advice — all illustrated with the same stunning photos that heirloom gardeners have come to love from their catalogs.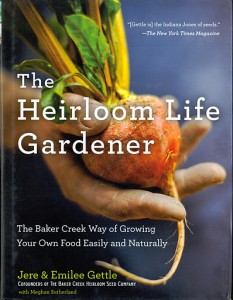 Win Your Own Autographed Copy of The Heirloom Life Gardener
We'd be delighted if you would follow Seasonal Wisdom and Baker Creek Heirloom Seeds on Facebook, but it is NOT a requirement to enter this giveaway: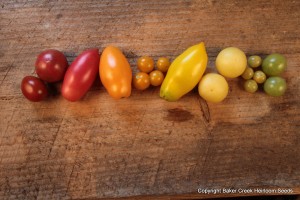 How To Enter: It's easy to enter The Heirloom Life Gardener special book giveaway, valued at $29.99. Just do the following before midnight on March 23, 2012: This giveaway is over. Congratulations to Kathryn of Raleigh, North Carolina for winning this book. 
1)      Leave a comment below and tell us why you think it's important to preserve heirloom foods in our culture. Do you prefer the look and taste of old varieties? Are you determined to help save our world's culinary heritage? Is it important that sufficient food diversity be maintained for the health and well-being of future generations? Or, do you just really love funky foods like the 'Purple Podded' pole beans below?
Whatever it is, we want to hear your thoughts about why these old, heritage foods matter to you.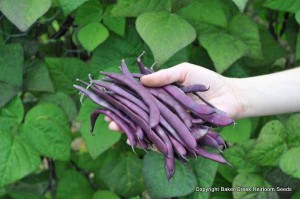 The winner will be chosen at random on March 24, 2012 and contacted within 24 hours. If the proposed winner forfeits or does not claim the prize by March 28, the prize will be re-awarded based on the sponsor's sole discretion. All prizes will be awarded. Please provide your name and email to enter this contest, so we can contact you promptly if you win. The winner agrees to allow his/her first name to be mentioned in conjunction with this giveaway.
The number of eligible entries will determine the odds of winning. This giveaway is limited to U.S. residents only, who are over the age of 18 years old. NO PURCHASE NECESSARY TO WIN. This sweepstakes is VOID WHERE PROHIBITED BY LAW.  By entering this giveaway, you are agreeing to these conditions.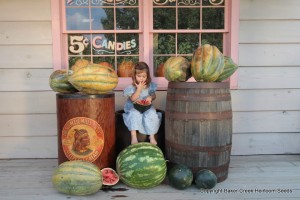 Disclaimer: This is a sponsored post, and the books were provided at no charge. However, all expressed opinions are my own.
Please be sure to enter this giveaway before midnight on March 23, 2012. Good luck everyone! Meanwhile, stay tuned for more exciting garden giveaways in upcoming weeks. This giveaway is over. Congratulations to Kathryn of Raleigh, North Carolina for winning this book. 
All images in this post are copyright Baker Creek Heirloom Seeds.
Learn More: