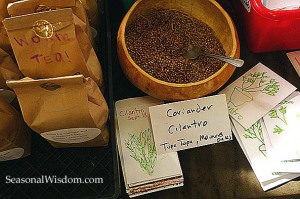 Maybe you bought too many flower and vegetable seeds. Or, perhaps you're lusting for different types of seeds to grow this year. No problem. Why not share the bounty by swapping those seeds with friends and neighbors? Here's advice from Seasonal Wisdom on how to host a seed swap …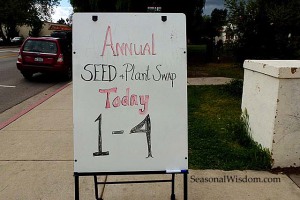 Yesterday, Seasonal Wisdom spent the afternoon with my friend in the picturesque town of Ojai, California. One of the day's highlights was visiting the Ojai Valley Green Coalition's Fourth Annual Seed and Plant Swap.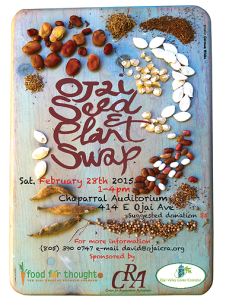 For the seed swap, I brought seeds for some of my favorite wildflowers, herbs and vegetables. My friend brought seeds she had saved for many years from her grandfather's heirloom bean plants. In exchange, we picked up lots of seeds, plants and worm castings tea for free or next to nothing. Plus, all the proceeds benefited the local community.

Above are some of the cool things we walked away with that day.
Seed Swap Ideas
Want to participate in a seed swap? Look around your community for scheduled swaps. Many are happening right about now.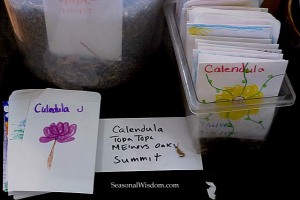 Or, consider hosting your own seed swap. Here are some tips:
Invite friends, neighbors, work colleagues or family members to your seed swap.
Have them bring seeds to share with others.
Determine if your seeds are still viable in this Seasonal Wisdom chart.
Consider hosting a potluck so it's a fun and tasty celebration too.
Provide lots of empty envelopes or little bags for people to use.
Include planting tips and helpful information about your seeds on handouts or on bags.
Try some new plants this year, and have fun.
Free Printables
For FREE downloadable invitations and seed packages, go to MyFrugalHome.com. This helpful blog gives lots of clever ideas for your seed swap.
Learn More
Get tips for growing food from seeds.
Are those seeds still viable?
Spring foods to enjoy right now.