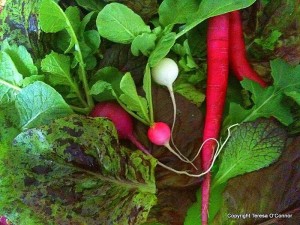 "Lettuce is like conversation," said the American editor and author Charles Dudley Warner. "It must be fresh and crisp, so sparkling that you scarcely notice the bitter in it."
Spring's cool temperatures and wet weather provide ideal growing conditions for lettuces. In my garden, I like to grow everything from spotted and red romaines to arugula, mustard, tatsoi and kale. Colorful radishes appear around the same time, such as the striking 'Long Scarlet,' round 'Purple Plum' and pastel 'Easter Egg' varieties shown above from a past harvest.
I'll sow seeds for salad greens, wherever I can. Here's a bed where I tossed different seeds together for radicchio, lettuces, kales, mustard greens and more. It's a wild look, which also works well for containers.
Eventually, I let the greens form flowers as the temperatures rise. Then I'll pick the flowers for a vase. So, we can snip off edible, spicy flowers right at the table. And the flowers left in the garden help to self-seed new plants for next year.
Some greens are pretty enough for a prominent position in your ornamental beds. This 'Leonardo' radicchio is a favorite. The leaves add a beautiful, slightly bitter taste to salads. As you can see above, this plant grows nicely next to baby kales and other greens.
Don't have a lot of space? Lots of greens like these butterhead lettuces grow nicely in a small pot. As temperatures rise, move these cool-weather plants into partial shade and water well. Lettuces prefer rich, well-drained soil that has plenty of organic matter.
If I could only pick one green to grow, I'd pick 'Forellenschluss' romaine lettuce … called "speckled trout" lettuce in English. I sow this Austrian heirloom directly into my raised beds, in neat rows.
This variety handles cool temperatures and heat well. In fact, it's the last salad green to bolt in my gardens. You'll love the way this delicious lettuce holds its shape well with salad dressings, and its beauty will impress your friends. If you can't find this delightful lettuce variety at your local garden center, try Seed Savers Exchange.
Fall Greens: You can also enjoy lettuce and salad greens in the autumn. Simply, count back from your average first frost date and allow enough time for the lettuce to grow before then. Most varieties take about 30 to 60 days to grow, and you can pick the leaves while they're still small. Many varieties perform well with a little frost, as long as the ground hasn't yet frozen.
With a little effort, you can enjoy all types of greens for many months of the year.
Want more information?
Here are lettuce growing tips from Clemson University. Plus, tips for growing radishes. Happy growing.