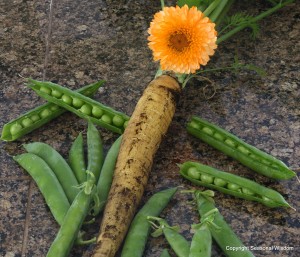 It's easy to be amazed by the power of seeds. One tiny seed can grow to be an eight-foot flowering vine smothering a trellis in a single summer.  And many vegetables are easy to grow from seed too. For instance, these five cool-season vegetables can not only be sowed directly into the soil … but often prefer to be planted that way:
Winter Greens: From kale to mustard greens, it's hard not to love these leafy vegetables. These cool-season greens tolerate cold temperatures and deliver high-powered nutrition when much of the garden is still waking up.  Just starting out? Consider growing a mix of different greens. This year, I'm trying 'Renee's Stirfry Mix' with greens like red mustard, pac choi and Asian red kale, which can be harvested in about 45 days.  As the leaves grow, cut them 1 to 2 inches from the soil, and these "cut and come again" plants will re-grow leaves for a few more harvests. Winter greens grow best with cooler temperatures, consistent moisture and rich soil with good drainage. Sow as soon as your soil can be worked in spring, or in late-summer for fall harvests.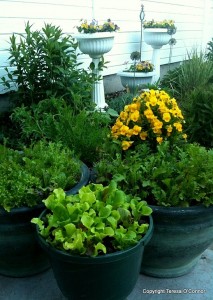 2. Lettuces: The world's most delicious gourmet salad greens and lettuces can be found in seed packages, from the freckled 'Forellenschluss' (an Austrian heirloom) to the dark red leaves of 'Devil's Tongue.'
Sow cool-season lettuces in tiny garden rows, or scatter them evenly in containers and beds for "cut and come again" harvests. You don't need much room to grow lettuce, but your soil should be rich with organic matter.
I've just planted 'Chef's Gourmet Spicy Mix' from Botanical Interest, featuring arugula, endive and lettuces like 'Red Salad Bowl' and 'Black Seeded Simpson.' I also plan to create color contrasts with heat-tolerant lettuces like 'Batavian Nevada' with rich green leaves, mixed alongside ruby-red 'Dutch Redina' and burgundy 'French Cardinale' with green hearts.
But I'm just getting started this season, and I'm sure I'll sow many more seeds in containers and beds in upcoming weeks. More on growing lettuces.
3. Peas: This cool-season vegetable taste much better straight from the garden, yet only about 5 percent of peas bought in the USA are eaten fresh. Spoil yourself and grow fresh peas at home this year. You can sow seeds outside as soon as the soil is ready to work in spring (and soil temperatures have reached 45 degrees F.). This happens around St. Patrick's Day for many places.
Peas thrive in cool weather, full sun, and neutral to slightly alkaline, sandy soil. These vegetables also produce better when an inoculent (found at local garden centers) is mixed into the soil while peas are planted.
Like all legumes, peas have the ability to "fix" nitrogen from the soil, which benefits neighboring plants. It also means that peas don't really need more nitrogen added when they are planted.
A favorite: 'Green Arrow' – an English variety that produces peas prolifically in 60-72 days.
4. Radishes: Fast and easy are good ways to describe radishes. And you'd be amazed how many different colors, shapes, sizes and tastes of radishes can be found, especially when grown from seeds. Everything from the slender bright-red 'Long Scarlet' (that looks more like a carrot) to the round 'Purple Plum' with a pretty purple skin and crisp white flesh.  Plant radishes in full sun, and you'll have something to eat in a little over a month.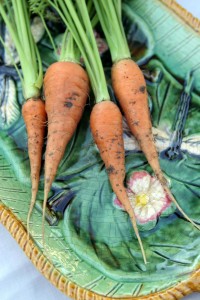 5. Carrots: Since this root vegetable can take a while to germinate and get growing, carrots are often planted with radishes. The faster-growing radishes will mark your carrot rows, and will be long gone by the time you harvest your carrots. This year I'm growing yellow, orange and purple carrots.
Have heavy, clay soil or want to grow carrots in containers? Consider 'Paris Market.'
Tune in for more articles about easy edibles to grow from seed soon. Meanwhile, happy gardening!