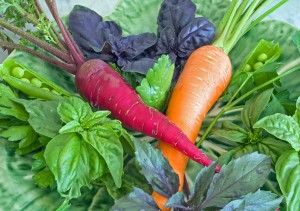 Sometimes Mother Nature follows a different schedule. That's been the case during the Summer of 2011, thanks to a cooler and wetter than normal spring … not to mention, a late summer. As much as I like to eat seasonally, this summer I'm eating vegetables more typically found in my Zone 6B garden months earlier.
Above is a recent harvest from the garden:  'Cosmic Purple' and 'St. Valery' carrots, nestled among cool-season 'Green Arrow' peas, parsley, and four warm-season basils: 'Genovese Emily,' 'Ararat,' 'Amethyst,' and 'Mammoth.'  Come see what else we've been growing and eating around here …
Photo copyright Kevin O'Connor.
Let's start with peas. Typically, this cool-season vegetable is planted around mid-March and produces a couple months later. With any luck, the peas come before the first steaming hot summer days that scorch the plant and make it stop producing.
This year, however, everything is late. I still planted in March. But we got the lion's share of our peas in late-June and we're eating the last of the peas in mid-July. They taste so good, however, I'm not complaining.
I just slide the pods open, and pop the peas right in my mouth. Or, I throw them into salads. I rarely cook them, because I want to retain the vitamin C. It's such a rare treat to eat fresh peas straight from the garden. As I've written in other posts, only about 5 percent of peas are eaten fresh in this country; most are frozen or canned. If you've never enjoyed raw peas, it's time for you to explore the idea of growing your own.
I direct sowed 'Green Arrow' pea seeds in pots too, and the vines climbed a couple feet up a short metal trellis. (Note: some pea varieties grow up to six feet or taller.)
One reason the peas did so well was the cool, moist weather that lasted longer than normal into the season.
But another step helped too. When I planted the pea seeds, I inoculated them with a commercial formulation of nitrogen-fixing bacteria. I simply rolled the seeds in the inoculant before planting. In studies, this inoculation process has been shown to increase the yields of peas in new beds.
In my own garden, adding inoculant made a difference to my crop. You can look for these products at your local garden center or mail order companies.  I was advised by my local independent gardening center to refrigerate inoculant for a longer life. Keep in mind, inoculants do have expiration dates, so you'll need to buy them annually.
Learn more about growing peas from the University of Illinois Extension Service.
If that wasn't enough peas, I planted the English heirloom 'Tom Thumb' in little pots around my deck. This variety is perfect for small spaces, and even tolerates freezing temperatures.  I find him absolutely adorable, and intend to stay friends with 'Tom Thumb' a long time.  Find seeds for this rare plant at Seed Savers Exchange.
I've been growing a lot of lettuces this year, as you may know from my other posts. The greens loved the cooler temperatures and kept producing longer than normal. Above is a salad blend called 'Italian Misticanza' from Renee's Garden Seeds. This mixture is from the Emilia-Romagna region of Italy, and features a blend of different mild, tangy and bitter tastes. In the far right corner, is a 'Heirloom Pepperbox' poppy just starting to grow, also from Renee's Garden Seeds.
Now I love birds. But this year, they've been a real nuisance, and nearly destroyed my lettuce crop. Luckily, I was sent some Ross Tree Netting to test from Easy Gardener, which really did the trick. I cut it into wide strips and strung it across my raised bed. Voila! My lettuce was saved.
Our harvests in recent weeks have featured lettuces of all types … not to mention, edible flowers like 'Pink Surprise' calendulas, of course peas, and different types of carrots. Seeds for these plants were direct sowed in the garden early in spring.
The carrot shown above is 'Jaune Obtuse du Doubs,' pulled straight from the garden. This lemon-yellow heirloom carrot was originally fed to livestock in the 19th century, but is now prized by chefs for its good looks and fine flavor. I found my seeds at Baker Creek Heirloom Seeds.
Summer is Here. Really. As the temperatures edge higher and I pick the last of the swollen peas from the vines, I'm grateful to have enjoyed some of the best of spring's offerings so late in the season. But I'm eager to start eating tomatoes, eggplants, peppers, melons, watermelons and other warm-season goodies growing in my garden.
Meanwhile, with the help of that Ross Tree Netting, I'm protecting from the ravenous birds four bean varieties growing up my teepee … 'Painted Lady' runner beans; speckled 'Rattlesnake' pole beans; 'Purple Pod' pole beans; and yellow 'French Gold' pole beans. Should be quite a colorful feast.
If I win the battle against these birds, look for pictures soon. Meanwhile, what's growing in your garden?