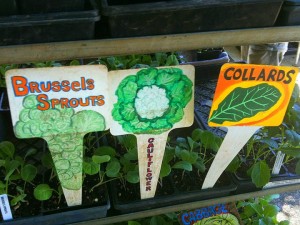 Start the year right. These garden and food resolutions are easy to implement into your life, regardless of where you live. Yet these six simple ideas will help you eat better, feel healthier and connect more closely with your community. Take a peek.
Image of Eugene (Oregon) Farmer's Market is copyright Teresa O'Connor.
1) Eat Local: These days, food travels nearly 1,500 miles on average to reach your grocery store. Yet, there are several ways to buy delicious fresh foods directly from your local farmers, including farmer's markets, Community Supported Agriculture (CSA) memberships and online networks such as Local Harvest and Eat Wild.
Numerous studies show a local, seasonal diet has multiple health benefits, and the food certainly tastes better. Just think of that juicy tomato bought at the farmer's market, or picked fresh in your garden, versus the rubbery ones found in your grocery store.
Eating locally supports your regional economy too. When you buy directly from local farmers, they earn up to 90 cents on the dollar. But when you purchase that food in the grocery store, that farmer only earns about 20 cents.
Buying locally reduces the environmental impact of shipping and long-distance travel. Plus, it's comforting to know you're eating well while supporting your local economy and family farmers.
2) Grow Your Own Foods: Whether you have a small balcony or an acre garden, promise yourself to grow at least one type of food this year, even if it's just a basil or thyme plant in a pot.
When you grow your own food, you know exactly how it was grown. And you won't need to worry how many miles that fresh food traveled to arrive in your store. In fact, some of your homegrown veggies will be lucky to make it safely into your house, because they taste so delicious right off the vine.
I've become a big fan of Greenbo planters this year. Small space gardeners will especially love how these nifty Greenbo planters let you grow food on city balconies, fire escapes and other challenging spots.
Even for my suburban garden, I appreciate how securely these cute containers hang on railings — regardless of whether those railings are square, straight or curved. Plus, look at all those cool colors! Greenbo's size is ideal for herbs, but I recommend you try growing a bit of baby lettuce or arugula too.
3) Experiment with Heirlooms: Over the last century, about 75 percent of agriculture's genetic diversity has disappeared. Yet, each of these heritage foods has a rich history and distinct taste that should be preserved. In your kitchen garden, promise yourself to grow heirloom foods as well as modern hybrids.
Why we should treasure heirloom foods. (An article I wrote for Horticulture Magazine, which reveals the amazing stories behind many of our favorite heirlooms.)
4) Eat Flowers:  Expand your culinary horizons by indulging in a food tradition that dates back to ancient times. Edible flowers can spice up meals and impress your snobbiest foodie friends, but always make sure you know what you're eating and how it was grown. Not every flower is edible; some are poisonous.
5) Share the Harvest: Take that extra mint, rosemary, squash and lettuce, and share your harvest with people in need in your community. Your fresh food donations will benefit local food banks and community centers, and it's comforting to know your garden is helping to feed children and adults throughout your area.
6) Help Kids Garden: From reconnecting children with nature to giving kids much-needed exercise, gardening provides a number of physical, emotional and intellectual benefits. Here are five reasons why kids should garden, plus some really adorable photos of young gardeners at work.
Get Started: From supporting local farmers to growing your own groceries, these resolutions will get you off to a healthy start in 2012. Even if you just adopt one, you'll still benefit.
Meanwhile, what are some of your New Year's resolutions?