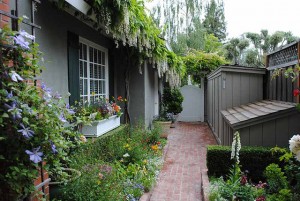 What's the best way to maximize outdoor spaces, hide eyesores and create drama in your garden? Consider vertical gardening. A recently released book called Garden Up! shows you how.
Recently, I spoke with the authors to learn more about this popular gardening trend. Come take a peek…
Photo copyright Garden Up!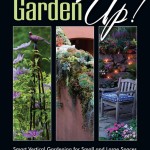 Garden Up! (Cool Springs Press, Feb. 2011) is the brainchild of California designers and vertical garden experts Susan Morrison and Rebecca Sweet.
I've known both of these landscape designers for a few years now, and I'm often impressed by the clever garden designs these women create for their clients, or uncover by other gardeners.
With space at a premium for many gardeners, many homeowners are looking for new ways to garden, according to Rebecca. "As houses are getting bigger, gardens are getting smaller," she explains. "Often the only places left to garden are on fences, patios or courtyard walls."
"With smaller lots, traditional planting beds are giving way to skinny spaces," continues Rebecca. "The need to cover up eyesores seems to be something everyone contends with in their garden, whether it's large or small. Vertical gardening is the answer to all of these gardening challenges."
Despite its popularity, there are plenty of misconceptions about vertical gardening out there, according to Susan.
"The number one misconception is that vertical gardening is synonymous with living walls," she explains. "Living walls are great, but there are all kinds of wonderful ways for innovative gardeners to add vertical elements to their gardens."
"Creatively layering plants in narrow beds (see below), designing an outdoor focal point wall (see above) and making over an under-utilized side yard are a few examples," says Susan of innovative vertical gardens.
When I asked Rebecca what surprised her the most when writing Garden Up!, she said it was "the sheer amount of creativity" shown by gardeners around the country. One of her favorite gardens is in San Francisco, where the gardener turned a small cement-covered shared space into a lush garden by planting on her fences.
This is despite the fact that she only had 6 inches of planting space along her fence, and a cement patio in the center filled with the other tenants' motorcycle, BBQ, dog and other items.
"With a ton of creativity and very little money," says Rebecca, "she turned this hum-drum utilitarian area into a garden and gathering spot for the tenants of the building. She re-purposed file cabinet drawers attached to the fence to grow herbs (see above), made a strawberry tower of PVC pipes (see below), made her own 'shoe-rack' of sorts to grow lettuce, and had many trellises for climbing peas and beans."
Throughout this photo-packed book is a good blend of vertical garden inspiration and practical how-to help. What I like the best about Garden Up! is that it makes these high-impact design ideas look rather simple to duplicate with charts and pull-out tips. You don't need to be an expert gardener to recreate many of the looks found in this book.
In Garden Up!, the authors walk you around the garden and point out where you could be creating focal points, softening spaces, disguising unwanted elements, designing intimate corners, maximizing space and growing more food.
From edible living walls to climbing vines, they cover nearly every possible aspect of using vertical space efficiently in the garden.
"We hope we've inspired gardeners to look at their gardens through fresh eyes," says Susan. "Whether you are a beginning gardener or an experienced one, with a giant backyard or a tiny courtyard, taking advantage of vertical spaces is a wonderful way to breathe new life into a garden."
Visit Morrison-Sweet.com for more information on the authors and book.   Buy this book.
Disclosure: I was provided a review copy of this book, but my opinions are my own.