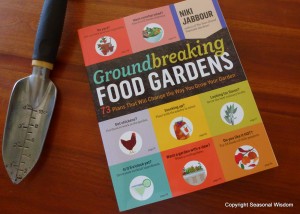 Growing vegetables, fruits, grains and herbs at home can be done with an amazing amount of style. That's quite clear from the 73 edible garden designs in the new book Groundbreaking Food Gardens by Niki Jabbour.
If you're looking for creative ways to grow food, this book is a wonderful resource. You'll find food garden designs from your favorite garden designers, botanical gardens, TV and radio hosts, book authors, horticulturists, bloggers … and even Seasonal Wisdom! 
In her latest book, Jabbour has assembled edible garden plans for every taste. The author of The Year-Round Vegetable Gardener has gathered ideas by folks ranging from the New York Botanical Garden and Seattle Urban Farm Company to Joe Lamp'l of the PBS-TV show Growing a Greener World.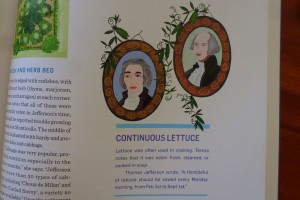 Founding Fathers illustration copyright Anne Smith
Seasonal Wisdom's Garden Design
It's a great honor for Seasonal Wisdom to be included among the 73 food garden designs in Groundbreaking Food Gardens. 
Jabbour asked me to design an edible garden inspired by the Founding Fathers of the United States, after she read Seasonal Wisdom's articles about George Washington's Mount Vernon and Thomas Jefferson's Monticello gardens.
My Founding Fathers garden plan includes plant varieties and design influences from Mount Vernon, Monticello and Colonial Williamsburg gardens in the late-1700s to mid-1800s.  It also shares some of the most popular vegetables grown around this important time in American history.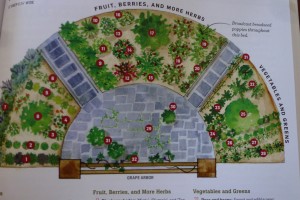 Edible Cutting Garden illustration copyright Mary Ellen Carsley
An Array of Food Garden Designs
Regardless of your style, there's something for everyone in this book. Throughout Groundbreaking Food Gardens, there are beautifully illustrated garden plans, detailed plant suggestions and general growing tips.
One example is this gorgeous Edible Cutting Garden (shown above) by acclaimed book author Debra Prinzing. It creatively mixes edible flowers with fruits, berries and vegetables of all types.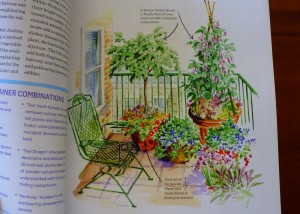 Beautiful balcony edibles ilustration copyright Elayne Sears
Don't have a large garden? No problem. You'll find plenty of designs that work well in small spaces, including this Beautiful Balcony Edibles design by Andrea Bellamy, author of Sugar Snaps and Strawberries.  Her cute little garden features a bean teepee and 'Brown Turkey' fig tree.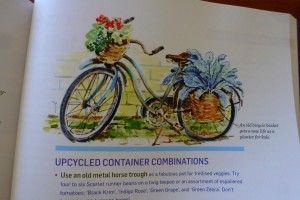 Bike planter illustration copyright Elayne Sears
When it comes to growing edibles, it's clear from this book that we need to think "outside of the pot."
You'll find lots of innovative container ideas, including this bike planter idea from Jean Ann Van Krevelen, who co-authored Grocery Gardening: Planting, Preparing and Preserving Fresh Foods.
These examples are just a small sampling of the many creative food garden designs you'll find in Groundbreaking Food Gardens. Don't miss:
And that's just for starters…
Whether you're just beginning to grow food, or you're already an experienced gardener, you'll find something to inspire and inform your outdoor spaces in this book.
Disclosure: As a contributor to Groundbreaking Food Gardens, I received a free copy of the book. However, I was not compensated for writing this review, and my opinions are my own.
Learn More: Niki Jabbour also authored the award-winning book The Year-Round Vegetable Gardener. My interview with Jabbour about growing food all year long  is one of Seasonal Wisdom's most popular stories.