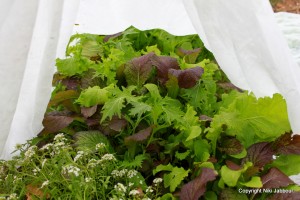 Growing and harvesting vegetables all four seasons of the year is only a dream for many cold climate gardeners. And that's exactly what Niki Jabbour of Nova Scotia, Canada is trying to change.
Her book, The Year-Round Vegetable Gardener (Storey Publishing) proves you can grow your own food, 365 days of the year, no matter where you live. After all, her garden is "perched on the edge of the Atlantic Ocean in the Great White North," as she writes in her book. And just look at the greens she's growing in December!
Seasonal Wisdom sat down with Niki to get more advice on four-season vegetable gardening, and learn about her award-winning book. Enter to win a free copy of this book by midnight on Tuesday, Feb. 5, 2013. Congratulations to Sarah from Texas for winning this book!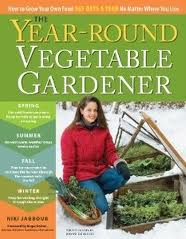 The Year-Round Vegetable Gardener  caught my eye the minute I heard about this book. Excuse the pun, but I was really hungry for information on growing food in my own winter garden.
It's no secret that Seasonal Wisdom is a fan of local and homegrown foods. So, imagine being able to eat locally and seasonally from your own garden in a cold climate like Canada? Needless to say, I was intrigued.
Over the last year, Niki and I have become friends through social media tools like Twitter and Facebook, as well as our garden writing community. And I even helped her a bit with her next book.  But first things first … let's get back to the idea of four-season food gardening and this great book that you could win.
The Year-Round Vegetable Gardener taught me a lot about how the growing season can be extended from an early jump start in the spring to fall planning for winter harvests.  Even after all these years of vegetable gardening, I find this book is one of those garden resources I'll reach for again and again.
Want to have a lovely winter garden? See these tips.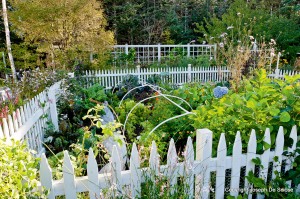 Winner of the 2012 American Horticultural Society Book Award, the 247-page book is packed with gorgeous four-color photography, as well as practical and inexpensive ways to grow vegetables all four seasons.
From getting an early start in spring to picking vegetables in winter, Niki walks you through a calendar that makes these ongoing harvests possible.
Part 1 explains how to stretch the growing season effectively using everything from cloches to row covers and homemade hoop tunnels, such as the uncovered frame shown in the garden above. There's also great advice on intensive planting, prepping the soil and designing effective gardens.
Part 2 describes how to grow a wide variety of different vegetables and herbs. Plus, Niki provides a helpful planting schedule for each crop, as well as her favorite varieties.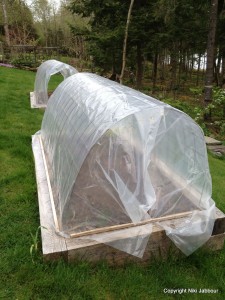 You can even learn how to make a mini hoop tunnel similar to these covered with plastic.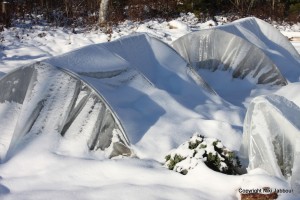 When winter comes, the mini hoop tunnels can be used to grow a wide variety of taller vegetables, such as kale and leeks.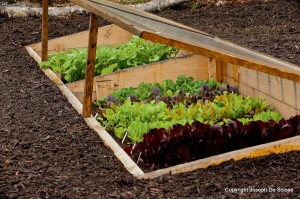 Niki gives great tips for succession planting and interplanting, so you can fit more in your garden spaces. She even tells you how to make these attractive cold frames, shown in early-spring.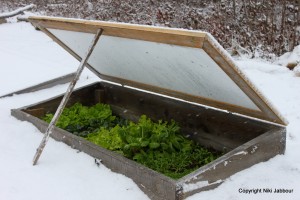 In winter, these cold frames are still packed with a wide variety of foods. Can you imagine how nice it must be to harvest spicy greens, kales and lettuces, even in the snow?
Conversation with the Author
Niki recently sat down with me to discuss the book and all-year gardening. Here's what she had to share: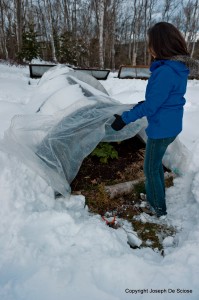 1) What inspired you to write a book about four season gardening?
Answer:I grew up with a veggie garden, but it was a typical short season garden that gave us only a few months of homegrown harvest – peas, tomatoes, carrots, beets, corn and my favorite – yellow beans! Over the years I've had fun experimenting with countless crops, pushing my season to extend for as long as possible. Now, we are able to enjoy a year-round harvest and I wanted to share my successes – and failures! – with other gardeners.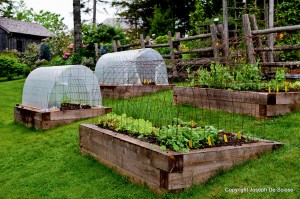 2) Why do you think more gardeners don't grow vegetables all year long?
Answer: I don't think a lot of gardeners know about the wide range of cold tolerant veggies and herbs that can be harvested all winter long. When the frost arrives in autumn, many gardeners are tired and happy to hang up those gardening gloves until the following spring. Yet the truth is that a winter garden is very little work.
The only thing I do from Dec through Feb is harvest! There is no weeding or watering, and I don't have to fight the deer or slugs like I do in spring, summer and autumn!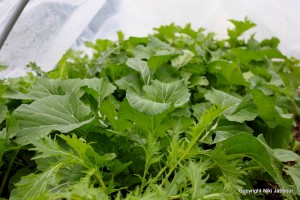 Mizuna and mustard plants
3) What misconceptions about four season gardening did you want to clear up?
Answer: People often ask me what food crops could possibly be grown in winter and most think it's just kale. But, really there are dozens of cold tolerant veggies that can be harvested in winter. I had never heard of – much less tasted – most of these vegetables until I grew them myself.  Edibles like mache, mizuna, tatsoi, celeriac were all new to me, but have since become family favorites.
I still love kale though, which is incredibly cold tolerant and we grow about six types each winter. My top pick for flavour and tenderness is dinosaur kale, which is also called black or Tuscan kale. It's just outstanding!
I like to have a steady supply of both baby kale and mature kale. The mature leaves are used for kale chips and in soups, wraps, burritos and more, but the baby leaves are perfect for tender salads. I'm making myself hungry!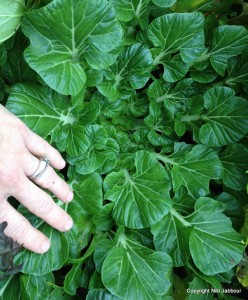 4) What are some of the wonderful things growing in your garden in early-February?
Answer:  If I walked up to the cold frames right now, there would be delicious frilly endive, spinach, Swiss chard, leeks, scallions, 'Winter Density' lettuce, arugula, mache, tatsoi, pak choi, mustards, mizuna, carrots, celeriac, beets,  and kale. We generally have between 25 to 30 types of winter veggies.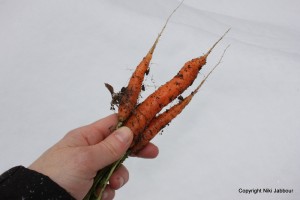 Carrots are definitely the top cold season crop for the kids, but I love all the salad greens.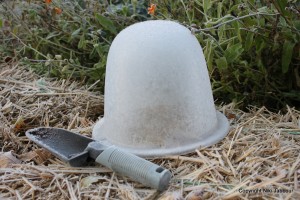 5) What would you like readers to know about four season gardening and your book?
Answer:  I really want to encourage gardeners to move outside their comfort zone both in terms of gardening techniques (with a cold frame, for example) and with variety selection.
Who knows? You may find new favorite foods to grow! Growing into winter is really very easy, but does require some advance planning as most of winter crops are planted in late summer and early autumn.
Season extending doesn't have to be fancy or expensive either. Many of our devices are made from recycled materials, but even a simple row cover or cloche can be used to extend the harvest for several weeks in spring or autumn.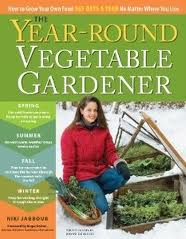 Win a Copy of The Year-Round Vegetable Gardener!
Seasonal Wisdom readers can win a copy of this award-winning book. Enter below!
Good luck everyone. Don't forget to enter by midnight on Feb. 5, 2013! And PLEASE check your spam folders so we can alert the winner quickly.  This giveaway is now over. Congratulations to Sarah from Texas for winning.
Disclosure: This prize was provided at no charge, but my opinions are my own.
Coming soon! Niki has a new book coming out in late 2013, which features dozens of amazing gardeners from North America and the UK, who have shared some of their own ideas for growing food.
The working title for this book is Superstar Food Gardens: 70 Plans From My Favorite Gardeners.
I'm thrilled that Seasonal Wisdom's kitchen garden design, inspired by Thomas Jefferson, George Washington and other famous Founding Fathers will be featured in Niki's upcoming recently-released book.  
Hope this post inspires everyone to keep eating local and seasonal foods, as well as to grow more foods yourself, even in winter. How are you extending your growing season in the vegetable garden?
Read More! 
Tips for a Lovely Winter Garden
How to Survive Winter if You're a Gardener
Great Winter Containers (Maine)
Great Winter Plants (Northern Idaho) 
Great Winter Plants (North Carolina)