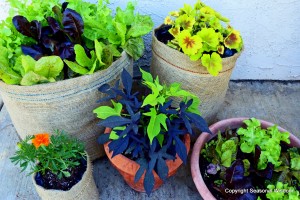 True confession: I've fallen in love with fabulous plant foliage in recent years. Red romaine and speckled lettuces. Lime green and black sweet potato vines. Chartreuse pelargonium leaves marked with reddish brown. Who needs flowers when you can have this fabulous plant foliage?
Come see a few examples of unusual edible and ornamental plants with foliage too pretty to ignore.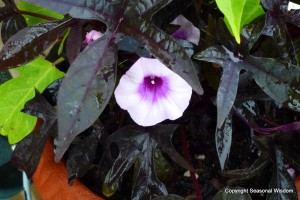 Ipomoeas batatas 'Blackie' is a fast-growing vine with fabulous plant foliage. But despite the pretty flowers, this vine is often grown for the blackish-purple, hand-shaped leaves.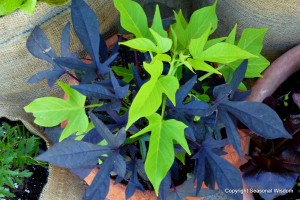 'Blackie' looks striking when paired with lime green 'Marguerite', as you can see here. The ornamental sweet potato vines are typically grown as annuals, but are perennials in USDA Zones 9 to 11.
In my garden these vines are growing in partial sun, but they really thrive in full sun.  In one summer, they'll quickly cover a hanging basket or container.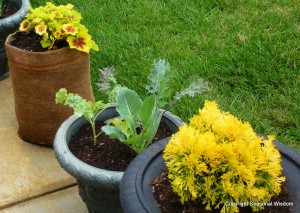 Lime green and black are matched with golden yellow and chartreuse in my garden.  Even on a gray day in late-September, the colors really pop against the green grass.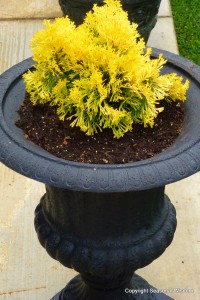 Thuja occidentalis 'Filip's Magic Moment' is an easy-to-grow evergreen from Proven Winners ColorChoice shrubs.  The compact shrub grows 6 to 8 feet tall, and 1 to 3 feet tall. I can't wait to see it grow a bit taller in these new containers.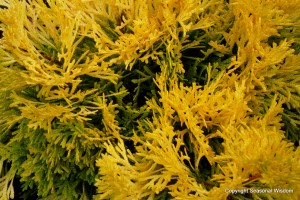 Isn't that golden foliage dreamy? Now imagine this cheerful color in winter next to your deciduous trees and snowy yard.
Proven Winners asked me to test this shrub for them this summer, and I've been very happy with its performance so far. This shrub is hardy to USDA Zone 3.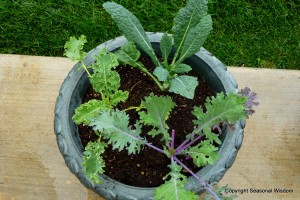 Red Russian Kale, Black Kale and Blue Curled Kale are growing peacefully together in this container.  Between the purple stems and deep-green leaves, the edible kale plants are pretty enough to grow near your prized ornamental plants.
Cold-hardy kale will often overwinter in many climates, tasting better after the first frost. That's especially true if you provide some winter protection like a frost cloth. See more about growing vegetables in winter.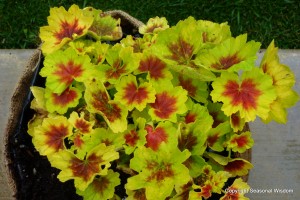 When I buy Pelargoniums (otherwise known as geraniums) I typically buy them for the flowers.
But 'Indian Dunes' is pretty enough without any blooms at all.  When these geraniums do flower, the orange-red flowers literally jump out against this fabulous plant foliage. Grown as annuals, the plants are perennials in Zones 9 to 11.
The chartreuse leaves marked in reddish brown are gorgeous next to reds, blacks and oranges. These are all good colors for Halloween and autumn, so if your climate is warm enough, plop a pumpkin down beside this pretty plant.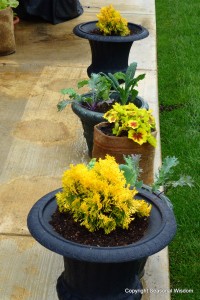 A gloomy day in late-September is brightened by Thuja occidentalis 'Filip's Magic Moment', Pelargonium 'Indian Dunes' and mixed kales.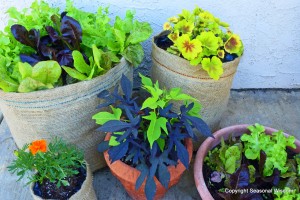 In another spot in my garden, I'm growing more edibles and ornamentals with fabulous plant foliage. They are planted in hardy burlap girdles from The SeedKeeper Company, who provided them for a Seasonal Wisdom product review.
Basically, these handsome containers come in 1-, 5- and 10-gallon sizes. There is a stitched burlap bag that sits on top of a black growing bag with good drainage holes. This means the soil won't leak all over your jute bag, and make it dirty. But your plants will still have good soil aeration and drainage.
When winter comes, you can empty the bags and store them easily in your garage or garden shed. If you're active on Twitter, you may already know the ladies at The SeedKeeper Company. They are a real hoot, and full of gardening information. Follow them at @SeedKeeperCo.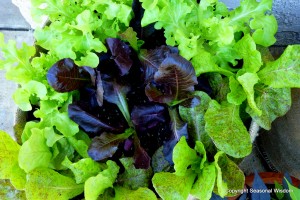 In my 10-gallon container, I'm growing 'Panisse' green oak leaf lettuce (top); red romaine lettuce (middle) and speckled butterhead x COS (bottom).
Besides having fabulous plant foliage, these sweet lettuces are "cut and come again" vegetables. That means you can cut back the leaves, and they will come again a few times more.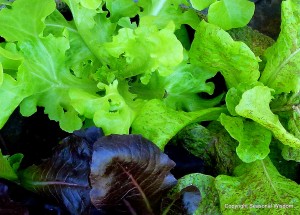 Plant your lettuces in rich garden soil, amended with worm castings, well-aged manure or premium compost.  A regular foliar feeding of fish emulsion will keep them growing well.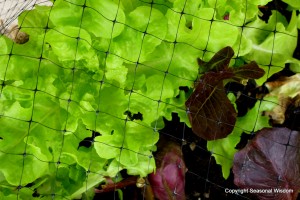 In my garden, we always have plenty of birds hanging out. They love to eat my vegetables as much as I do. That's why I use bird netting on my greens, so I can make sure there will be plenty of lettuces left for us to eat this fall.
What are some of your favorite examples of fabulous plant foliage?
Disclosure: The Proven Winners ColorChoice shrub samples,and the burlap girdle bags from The Seed Keeper Company were provided at no charge. However, I was not compensated to write this story, and my opinions are my own.
More Resources 
Ten Great Foliage Plants for Containers
Ten Black Foliage Plants for Halloween