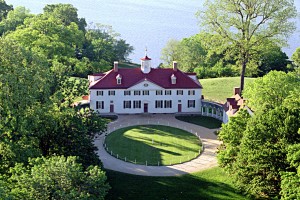 "No estate in United America is more pleasantly situated than this …," declared George Washington about his beloved home, Mount Vernon. The first president of the United States was not only a wartime hero, he also was a farmer who worked tirelessly for nearly 50 years to expand his plantation to 8,000 acres.
Take a quick tour of the renowned, colonial-era kitchen and flower gardens at Mount Vernon in this post, and see what creative ideas you might apply to your gardens today.
Aerial view of Mount Vernon and Potomac River copyright Mount Vernon Ladies' Association.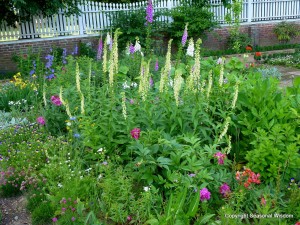 A charming array of flowers awaits you at Mount Vernon's Upper Garden. Restored recently to its appearance in 1799, the recreated garden features three large planting bed with produce, flowering trees and perennials.
The estate's gardener during this time was a talented young man named William Spence, recruited from Scotland by the president himself.
President Washington had high expectations for the gardener at Mount Vernon, and wrote in 1797, "the man ought to be a good Kitchen Gardener, to have some knowledge of a Green house and hot house; and how to raise things in hot beds."
In return, the gardener "would be furnished with a good apartment, convenient to his work, to reside in."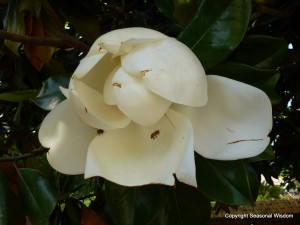 Not far from the Mount Vernon mansion, a magnificent magnolia tree bursts into bloom with flowers and bees during my May visit, mercifully low in humidity.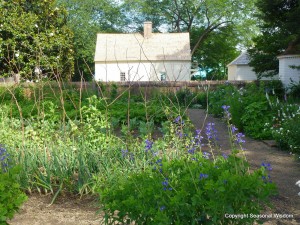 In the Upper Garden, charming cottage-style flowers mingle with leeks and old-fashioned trellises made with simple sticks found on the property. The gardener's cottage was located not far from this garden, which is also near Mount Vernon's greenhouse.
The garden began as a nut and fruit garden in 1762, but was transformed into a pleasure garden in 1785.  Not shown is a well-documented, recreated boxwood parterre in the shape of a French fleur-de-lis.
Mount Vernon researchers report the parterre was a way to honor Washington's friendship with the Marquis de Lafayette and thank the French for helping the United States win the Revolutionary War against England.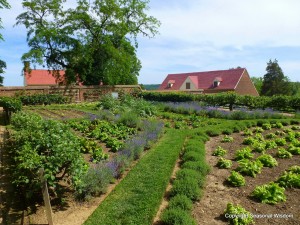 The Lower Garden at Mount Vernon is a classic, English-style potager, which stole my heart. The carefully recreated kitchen garden has been called one of the most noteworthy Colonial Revival gardens in the United States.
Neatly mowed grass paths travel by orderly planted lettuces, lavenders, chives, espaliered trees and other herbs and vegetables found during the colonial era. This garden provided food for President Washington and his family, as well as many guests and dignitaries. Learn more about cooking at Mount Vernon.
Located near the stables, the kitchen garden received plenty of well-aged animal manure, which added valuable organic matter and nutrients to the soil.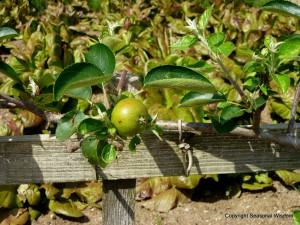 Just as medieval gardeners in Europe did, Mount Vernon espaliered apples and other fruit trees on fences and walls to save space and create an attractive appearance. Apples, along with cherries and other fruits, were used in pies, tarts and other delicious desserts.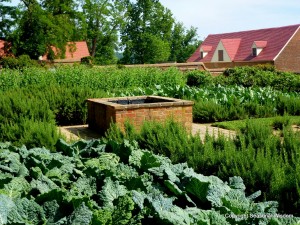 Cabbage and rosemary are just a few foods enjoyed at Mount Vernon. The cistern (one of several) helped to collect water for irrigating the garden during dry periods.  A modern-day rain barrel would function well today in our own gardens.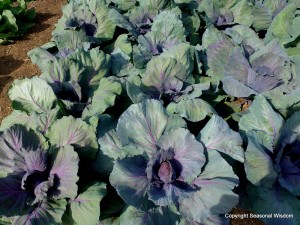 Cabbages were an important, nutrient-rich food, eaten especially during the colder months. The plant is attractive, as well as healthy and delicious.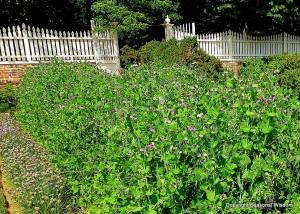 Flowering chives and trellised peas create colorful accents in George and Martha Washington's kitchen garden. The entire sunny garden is enclosed with a brick wall and white picket fence to keep animals out.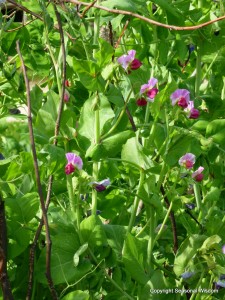 Peas provide edible and ornamental value to any sunny garden. These are trellised on old sticks found on the Mount Vernon property.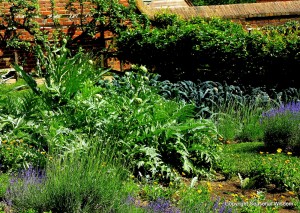 Artichokes were one of President Washington's favorite foods. Also grown were kale, lettuce and lavender, as shown here.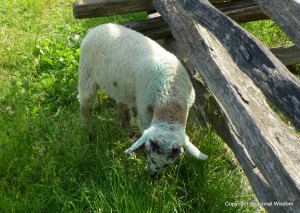 A lamb grazes on the field near the Lower Garden at Mount Vernon, just as he might have done when the Washington family lived here.
When you visit, be sure to see the Fruit Garden & Nursery — which supplied the family with fresh fruit for six months of the year — as well as the Botanical Garden, where the president-farmer experimented with new seeds sent from friends around the world.
Together, with 2 or 3 slaves, his hardworking Scottish gardener Spence maintained these four gardens (which comprised six acres) for the first president of the United States. Incidentally, President Washington was the only Founding Father to release his slaves to freedom upon his death.
Nation's First Foodies: Martha Washington was one of the young nation's most important hostesses during the 18th century. Here's another Seasonal Wisdom story on colonial cooking, and get a recipe for A Ragoo of Asparagus, inspired by the 1763 edition of The Art of Cookery.
As you'll soon see, the first president and his wife were certainly one of the nation's first foodies. More recipes and colonial food tips to come!
Take a tour of Monticello with Peter Hatch, who supervised the restoration of Thomas Jefferson's renowned gardens.
Unless noted, all photos are copyright Seasonal Wisdom.