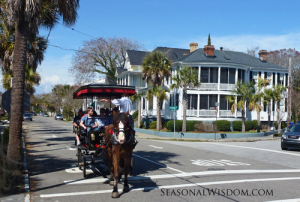 What do a famous city in South Carolina, a picturesque old home and six national bloggers have in common? Come along on this tour of one of America's most important historic gardens and I'll tell you about it.
Cooper-O'Connor House
Recently, I found myself in Charleston, South Carolina – a beautiful city with a rich history. "Charles Town" was founded in 1670, and later changed its name to Charleston in 1783.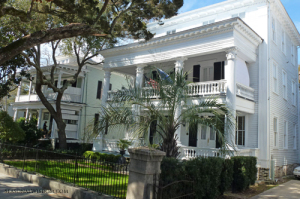 The oldest city in South Carolina is filled with charmingly restored homes, such as the Cooper-O'Connor house on Broad Street (shown above) constructed circa 1855.
During the Civil War, the house was used by the Confederacy as a prison for Union officers, according to the Historic Charleston Foundation.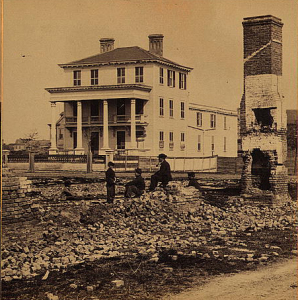 Image courtesy of Library of Congress
Here's a photo of the Cooper-O'Connor house right after the Civil War. You can see how it has changed a bit over the years, but perhaps most noteworthy, is that the house is still standing … unlike its neighbors. Considering I married an O'Connor, you can see why I took an interest in the place.
My host for the Charleston trip was Troy-Bilt, and I was joined by five accomplished garden and DIY bloggers. More about this information in a moment… But first, let's tour Middleton Place.
Middleton Place
The 18th century Middleton Place sits along the Ashley River, with 65 acres, and is a National Historic Landmark.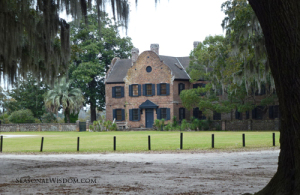 It's interesting to note the family history. In one generation, Arthur Middleton signed the Declaration of Independence. Nearly a hundred years later, Williams Middleton and his older brother signed South Carolina's Ordinance of Secession. This removed South Carolina from the United States, and started the Civil War.
The only surviving part of the residence is the former gentlemen's guest quarter (shown above) built in 1755.  Two other parts of the South Carolina home were burned by the Union troops in 1865, just two months after the end of the Civil War.
Historical Landscape
Middleton has the oldest landscaped gardens in the United States, dating back to 1741.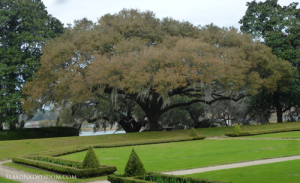 Classic French garden design techniques can be seen here, including a strong focus on symmetry, geometric shapes and order.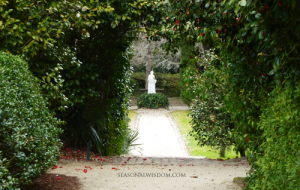 There are hidden treasures here, including a sweet statue that sits at the end of a walkway.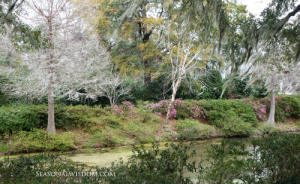 In early March 2015, the azaleas were just starting to bloom. Can you imagine how this space will look in a few weeks, when the flowering shrubs are a riot of colors?
Early Camellias
Camellias hold a special place at Middleton Place. In 1786, a French botanist gave the Middleton family some of the first camellias grown in a United States garden.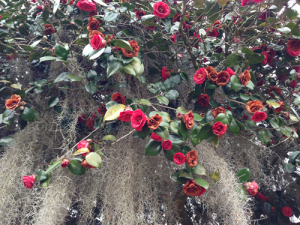 Unfortunately, I don't know the variety of these red camellias, but they looked rather stunning with the Spanish moss.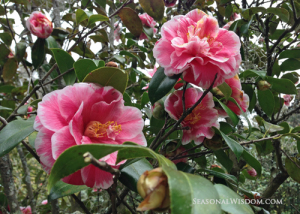 Today, there are more than 3,500 camellias in the Middleton Place gardens, including this one I photographed during our tour.  Camellias add vivid colors to this Southern garden during the late-fall and winter months.
Many camellias at Middleton Place are older than 220 years. And, yes, one of the original four camellias from the French botanist is still alive.
Here's more about the fascinating history of camellias at Middleton.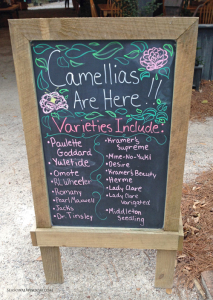 Guests to Middleton Place can buy several varieties of camellias at the garden shop.
Growing Camellias
To have success with camellias, you'll want acidic soil in your garden. These flowering plants, just like azaleas, can run into problems with neutral or alkaline soils.
A general guideline about pH is that wetter climates with forests, like the Eastern United States or the Pacific Northwest, tend to have more acidic soil than drier areas out West, which often have alkaline soil. However, your soil may have changed when your house was built with new topsoil. So if you are curious, get a pH soil test from your local cooperative extension service.  Or, purchase an inexpensive pH test.
Here's good growing advice for camellias from Southern Living magazine.
Gators in South Carolina
During our garden tour, several alligators were visible in Middleton Plantation's lakes and creeks.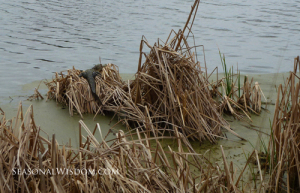 Alligators are indigenous in South Carolina, and our tour guide mentioned the gators are quite common. Here's more trivia about alligators around Charleston.
Natural Dyes and Peacocks
Around the property, there are different Colonial-skills demonstrations recreated at Middleton, such as spinning wool or milking cows.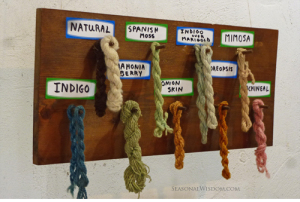 The above display shows how different colors were made in earlier times, using onion skins, berries and Spanish moss as natural dyes.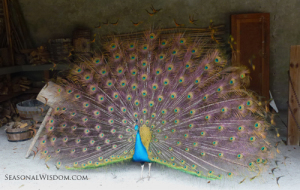 Peacocks strutted their stuff and showed off a bit for us as we were leaving.
This guy's impressive display ended our tour of Middleton Place with an appropriately dramatic finish, worthy of such a historically important place.
Saturday6 Announcement
My trip to Charleston, S.C. was sponsored by Troy-Bilt, a well-known manufacturer of lawn and garden tools. Troy-Bilt is the brand who introduced the first rototiller for U.S. gardens back in the 1930s.
Seasonal Wisdom was asked by Troy-Bilt to be part of its Saturday6 blogger program for 2015, along with these five accomplished bloggers from across the nation:
Seasonal Wisdom does occasionally accept sponsorships from select companies, which have proven quality products and admirable corporate values.  I evaluated this opportunity carefully, and was encouraged by what former Saturday6 bloggers Gardening with Confidence and Our Little Acre said about their experiences last year.
What does this mean to you? Not much really. During 2015, you'll see a few Troy-Bilt sponsored posts, which will be clearly identified with the Saturday6 disclosure. I'll also be writing for Troy-Bilt's own publications. I'll mention these stories over on Seasonal Wisdom's social media platforms; so you can find them there, if you're so inclined.
Any sponsored posts or product reviews on Seasonal Wisdom will continue to be treated with objectivity and honesty. Thanks for your support, and happy gardening.
Learn More