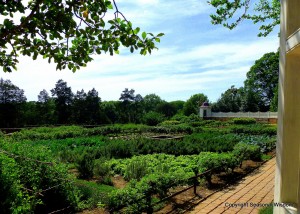 Imagine traveling back to the earliest days of the United States, and having the chance to dine with the first president, George Washington, and his wife Martha at Mount Vernon, their plantation on the Potomac River.
Ingredients for your meal would have come from this attractive Lower Garden. The kitchen garden supplied farm-to-table vegetables, fruits and herbs to feed the thousands of visitors to the young nation's most visited private home. Learn about the surprisingly sophisticated 18th-century foods these guests ate, and get a recipe for A Ragoo of Asparagus.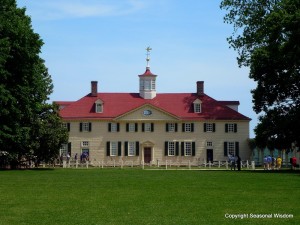 During a recent visit to Mount Vernon, I had the good fortune to see the Hoecakes & Hospitality: Cooking with Martha Washington exhibition running through summer 2013.
The eye-opening exhibition revealed the 18th-century cooking methods used by our nation's first lady to impress and entertain guests long before grocery stores, farmers markets or modern appliances.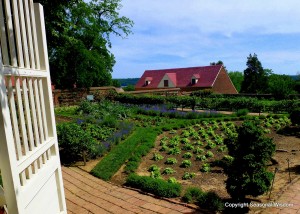 Harvests from the Lower Garden were grown and gathered by the hired gardener and two or three slaves. Overall, Mount Vernon provided the Washington family with homegrown fruits, vegetables, herbs, grains, meats and dairy products, while other food items were imported from distant lands. See more photos of the gardens.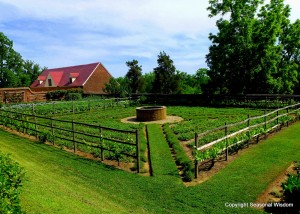 Common foods grown at Mount Vernon included lettuces, turnips, onions, carrots, beans, cabbages, cauliflowers, leeks, parsnips, beets, celery, asparagus and artichokes (one of the president's favorites).  These vegetables were often served in ragouts and other side dishes.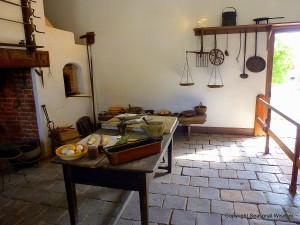 It's hard to believe, but the well-stocked 18th century kitchen shown above is where meals for the first president and thousands of guests were prepared.
"A glass of wine and a bit of mutton are always ready, and such as will be content to partake of them are always welcome,"  wrote George Washington to a friend.
Dinner was served in the small or large dining room at 3 p.m. with two courses of meat and vegetables, and a dessert that might include cherry and apple pie, fruit tarts or gingerbread.
Sometimes ice cream was even prepared. It was made from frozen ice taken from the Potomac River in winter, and stored in a dry well or ice box until the spring milk was available from the plantation's cows. More from National Public Radio on George Washington's ice cream.
Fish from the Potomac — including the president's favorite shad — was served at almost every meal. Father Jack was the slave responsible for providing the fish daily, "so that they might be served smoking on the board precisely at three o'clock," according to Martha's grandson, George Washington Parke Curtis.
Along with this feast, Curtis reported, "a ham was boiled daily."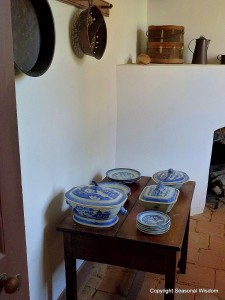 Whether it was a pound of cayenne pepper or a pipe of Madeira wine or a bushel of almonds, many food items for the Washington household traveled from as far away as the Mediterranean, West Indies and Asia. So, did the family's tableware.
The distinctive blue and white Blue Canton china — with its rich, hand-painted scenes of Chinese villages — was the everyday tableware for the president and his family.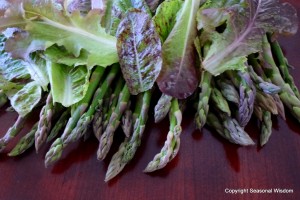 With locally grown asparagus and heirloom lettuces from my garden, I photographed some of the lovely ingredients you'll need to make the below recipe from Mount Vernon.
The recipe for A Ragoo of Asparagus was inspired by the 1763 edition of The Art of Cookery by Hannah Glasse. The modernized version was created by Nancy Carter Crump for Dining with the Washingtons.
A Ragoo of Asparagus
Ingredients
3 pounds asparagus, trimmed and cut into thirds
5 tablespoons unsalted butter
1 medium onion, peeled and chopped
2 Belgian endives, trimmed and thinly sliced lengthwise
1 small head of soft-leaf lettuce (Bibb or Boston), cored and shredded
1 1/2 teaspoons salt
1/2 teaspoon ground black pepper
4 tablespoons all-purpose flour
2 cups chicken stock (preferably homemade)
Directions:
Bring 2 cups of water to boil over medium heat. Add asparagus, reduce heat and simmer until the vegetable is barely tender. Drain, cover and set aside to keep warm.
In a saucepan, melt butter over medium heat. Add the onion and endives, cooking for 5 to 7 minutes until they begin to soften. Stir in lettuce, salt and pepper, and continue cooking until vegetables are just tender.
Sprinkle flour over the vegetables, and stir to blend well. Add stock slowly, stirring until it simmers and thickens slightly.
Add asparagus, reserving a few tips for garnish, and heat until warmed.
Serve the ragout in a serving dish, and garnish with reserved asparagus tips.
Learn more: