Today's famous foodies and stylish hostesses could learn a lot from Martha Washington. In the early days of the United States, George Washington's wife was renowned for her hospitality and cooking. As the first First Lady, she entertained thousands of guests at Mount Vernon and helped establish the young nation's culinary tastes.
Travel back to 18th-century Virginia as Seasonal Wisdom brings you an authentic recipe for Martha Washington's Great Cake — as well as a modernized version — just in time for the holidays… Photo copyright Mount Vernon Ladies' Association.
As historians have discovered, George and Martha Washington were among the nation's first foodies and featured sophisticated meals concocted from foods grown in their kitchen garden, as well as exotic commodities that originated in Asia, the West Indies and the Mediterranean.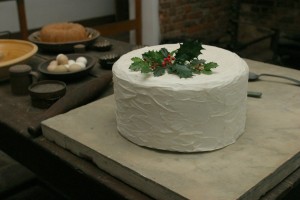 Photo copyright Mount Vernon Ladies' Association
Martha Washington's Great Cake Recipe
This is the original recipe written by Mrs. Washington's granddaughter Martha Parke Custis Peter (Patsy), so other family members could serve her cake at holiday parties, Christmas dinners or Twelfth Night parties.
"Take 40 eggs & divide the whites from the yolks & beat
them to a froth then work 4 pounds of butter to a cream &
put the whites of eggs to it a spoon full at a time till it is
well work'd then put 4 pounds of sugar finely powder'd to
it in the same manner than put in the Youlks of eggs and
5 pounds of flower and 5 pounds of fruit, 2 hours will bake
it add to it half an ounce of mace and nutmeg half a pint
of wine & some fresh brandy."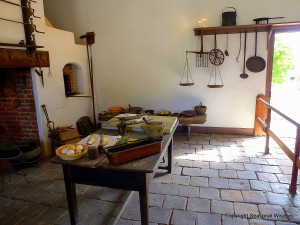 Keep in mind that this elegant cake was created in Washington's humble kitchen at Mount Vernon, which lacked the modern conveniences we take for granted today.
Below is a modernized version of Martha Washington's Great Cake, created by the author of Dining with the Washingtons (Nancy Carter Crump): 
Ingredients:
1 1/2 cups currants
1/3 cup chopped candied orange peel
1/3 cup chopped candied lemon peel
1/3 cup chopped candied citron
3/4 cup Madiera, divided
1/4 cup French brandy
3 cups all-purpose flour, sifted
1/2 cup slivered almonds
1/2 teaspoon ground nutmeg
1/2 teaspoon ground mace
3/4 cup unsalted butter, softened
1 1/2 cups sugar
3 large eggs, separated
Directions: 
Combine currants, orange and lemon peels, and citron in a large bowl. Add 1/2 cup of Madeira and stir to combine. Cover with plastic wrap, and set aside for at least 3 hours, or overnight. Stir the reminder of the Madeira with the brandy; cover and set aside.
When ready to bake the cake, preheat the oven to 325 degrees F. Grease and flour a 10-inch tube pan.
Drain fruits in a large strainer set over a bowl, stirring occasionally to extract as much Madeira as possible. Add the strained Madeira to the set-aside Madeira and brandy.
Combine 1/4 cup of the flour with the fruit, and mix well. Add the almonds, and set aside. Sift the remaining flour with the nutmeg and mace.
In the bowl of an electric mixer, cream the butter until it is light. Add the sugar, 1/2 cup at a time, beating for several minutes after adding each ingredient. Whisk the egg yolks until they are light and smooth, and add them to the butter and sugar. Continue to beat for several minutes, until the mixture is light and fluffy.
Alternatively add the spiced flour, 1/2 cup at a time, and the Madiera and brandy, beating until smooth.
In a separate bowl, beat the egg whites to form stiff peaks. By hand, gently fold them into the batter, combining lightly until well blended. By hand, fold in the fruit in thirds, mixing until well combined.
Pour the batter into the prepared pan, smoothing the top with an offset spatula, or the back of a spoon. Bake for about 1 1/2 hours, or until a wooden skewer inserted in the center comes out clean. Set the cake on a wire rack to cool in the pan for 20 minutes. If serving the cake plain, turn it out of the pan to cool completely. If finishing it with icing, turn the warm cake out of the pan onto a baking sheet, and proceed with the icing.
To ice the cake, spread Sugar Icing generously onto the surface, piling it high and swirling it around the top and sides. Set in the turned-off warm oven, and let sit for at least 3 hours, or until the cake is cool and the icing has hardened. The icing will crumble when the cake is sliced.
Sugar Icing Recipe for Great Cake
Ingredients:
3 large egg whites at room temperature
1 1/2 cups of sugar
2 tablespoons rose water or orange-flower water
Directions:
In the bowl of an electric mixer, start beating the egg whites on low speed, gradually adding 2 tablespoons of the sugar. After about 3 minutes, or when they just begin to form soft peaks, increase the speed to high and continue adding the sugar, 2 tablespoons at a time, beating until all the sugar is incorporated and the egg whites form soft peaks.
Add the rose water, and continue beating to form stiff peaks. Use immediately to ice the cake.
Learn More:
Get more information on Mount Vernon.
Take a tour of Mount Vernon's famous Colonial Revival gardens.
Learn how George and Martha Washington were among the nation's first foodies, and get another recipe.
See how Thomas Jefferson created Monticello's garden with a tour from historian Peter Hatch.