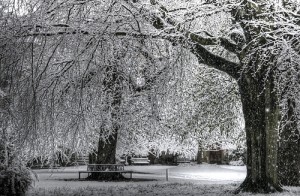 It may be the dead of winter, but that doesn't mean you can't have a lovely winter garden too.  Now is the perfect time to consider how you can make your winter garden more attractive. Here are eight easy tips to consider.
Photo copyright pcgn7 on flickr.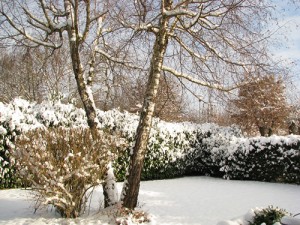 Photo copyright chacrebleu on Flickr.
Plants Add Structure: In winter, the right plants can attract the eye, especially when covered with a light dusting of freshly fallen snow. Always select plants hardy enough to survive your region's growing conditions, by paying attention to your USDA Hardiness Zone. Find out your zone from this chart by the U.S. National Arboretum.
Evergreens, such as the hedges above,  maintain their color in the cold weather, and provide structure and focal points to your winter garden, as do deciduous trees with interesting shapes.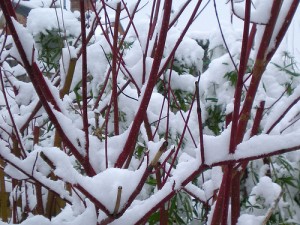 Photo copyright tortipede on Flickr.
Select Colorful Plants: Along with evergreens that stay fresh all winter, consider shrubs and trees with colorful bark such as this Red Osier Dogwood. Striking alone or planted in mass, this dogwood is native throughout the western and northern United States. More about this plant from the USDA.
Here are other woody plants with interesting bark, from the Harvard Arboretum. The article (PDF) was published in November 1947, and lists plants with red, gray, green and yellow twigs in winter.
Photo copyright Teresa O'Connor
Look to Nature: Above is another picture of that native dogwood growing wild in the foothills of Idaho, which I photographed a few years ago. See how the red pops in the landscape? No wonder gardeners and landscape designers love it.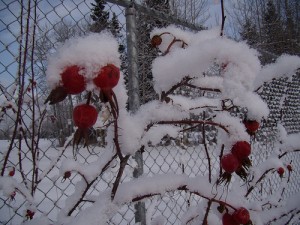 Photo copyright Ian BC North on Flickr.
Remember Berries: Many shrubs and trees have brightly colored berries in autumn and winter, which add some excitement to your garden, and feed birds when food is scarce. Above are rose hips with red berries that are very high in vitamin C.  You can learn more about the nutritional value of rose hips from Dr. Andrew Weil.
Photo copyright Teresa O'Connor.
Don't Prune Everything: As you can see from this winter scene in the foothills, even dried seed heads can add some drama. Here are sunflowers silhouetted by the setting sun.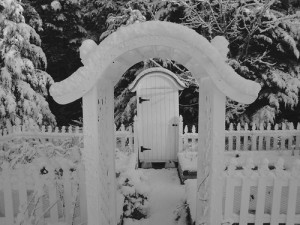 Photo copyright jronaldlee on Flickr
Hardscaping Helps: Sometimes the most exciting accents in a garden aren't even plants. Look how lovely these classic white trellises, garden gates and picket fences look in this snowy scene. If you decide to use wooden fences and accessories in your garden, here are tips from HGTV for taking proper care of them.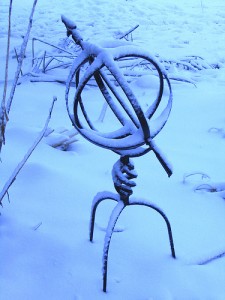 Photo copyright whiteoakart on Flickr.
Get a Bit Artsy: Even this whimsical iron accessory adds a nice focal point in this winter garden. Look for garden accessories with interesting shapes, and that can handle the natural elements.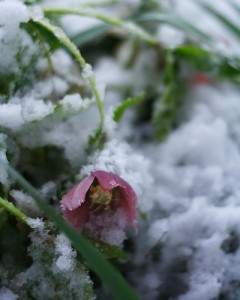 Photo copyright by mjp on Flickr.
Select Early-Blooming Plants: There are also a number of perennials, shrubs and trees that bloom in late-winter and early-spring, such as hellebores (aka Lenten Rose) shown above.
To learn more, check out this article (PDF) I wrote about twelve plants that bloom early, sometimes even in snow.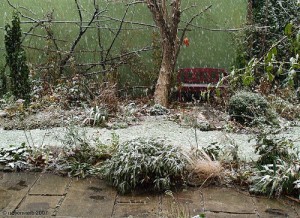 Photo copyright Er.We on Flickr
More Plants: Want more good winter plant suggestions? Here are favorite winter plant choices from garden writers, garden coaches, landscape designers and other garden experts from across the United States and Canada:
Favorite Winter Container Plants (Maine) by Kerry Michaels
Favorite Winter Plants (Northern Idaho) by Dan Eskelson
Favorite Winter Plants (Canada) by Doug Green
Favorite Winter Plants (North Carolina) by Helen Yoest
Favorite Winter Plants (Western Washington) by Christina Salwitz
Plus! Here's a guest post on winter plants I wrote for Open Spaces Feng Shui. See how plants can add life to your outdoor spaces, even in the dead of winter.
Emergency Help: Don't know how you're going to survive winter as a gardener? Here's advice from five avid gardeners, who share their secrets for surviving until spring.
Meanwhile, what are your favorite winter plants to grow? Do you have more tips for wonderful winter gardens? If so, please share them. I'm all ears.