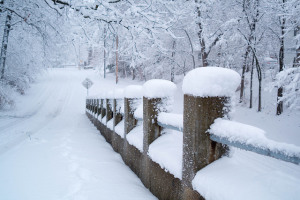 The cold weather season is upon us. But that doesn't mean you need to cut yourself off from nature now, even if there is a foot of snow on the ground. From the foods you select to the activities you plan, you can retain your connection to Mother Nature. Here are five easy ways to keep you thriving in late fall and winter, even when the temperatures drop to freezing.
Snow storm photo by Phil Roeder/Flickr Creative Commons.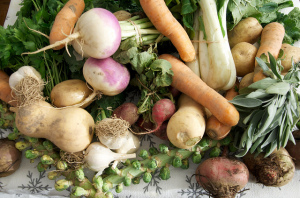 Cold-weather foods by Smith_c19/Flickr Creative Commons
1) Eat Seasonally and Locally
Even in winter, it's a good idea to eat as seasonally and locally as possible. In our home, we make aromatic stews in the slow cooker with hardy vegetables like carrots, parsnips, turnips, potatoes and cabbages. The smell is amazing, and the stew provides healthy meals for several nights.
We also stuff acorn squash with cooked rice, slivered almonds, chopped sage and cooked ground turkey; then we sprinkle Parmesan cheese on top before baking again. Delicious!
Vitamin A-rich sweet potatoes and yams show up frequently on our menu at this time of year. We mash them with plain Greek yogurt and spices. On warmer nights, we grill thick slices with a dash of cumin and cayenne, and serve them with pork chops or chicken breasts.
Here's why eating locally is important.
Here are five favorite fall foods (also good for winter).
Here's where to find local foods all year long from Local Harvest.
Here's how Niki Jabbour grows food in winter outdoors in Nova Scotia, Canada.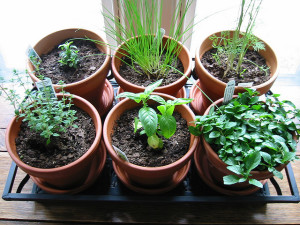 Indoor herbs by dogeared/Flickr Creative Commons
2) Grow Indoor Herbs
Have a sunny window? Try growing culinary herbs indoors this winter. It's a convenient way to have fresh foods at your fingertips. You snip only what you need, so you reduce food waste and save money. Best of all, however,  is enjoying aromatic fresh herbs when the world is frozen outside. Talk about local foods!
Chives, thyme, sage and rosemary are just a few easy herbs to grow in a sunny window.  Water when dry, but make sure the plants drain properly. Don't let pots sit in water. Keep plants away from heater vents or window drafts. A weekly fine spray of water helps keep away mites from rosemary.
From local farmers to indoor herb gardens, a wide variety of fresh local foods are available in winter. It's particularly satisfying when those foods come from your kitchen window.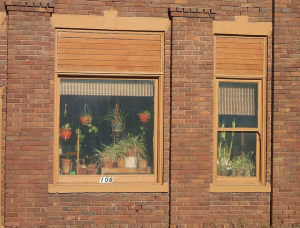 Houseplants by ConanTheLibrarian/Flickr Creative Commons
3) Select Plants for Clean Air
Alongside the houseplants you eat, be sure to make room for plants that make your home healthier. In winter, it's common to live in stuffy, closed-up houses and office buildings with questionable air quality. Some windows can't even be opened in high rise buildings to allow in fresh air.
Fortunately, you can grow certain plants that help clean the air of your home, according to the NASA Clean Air Study. The NASA study was done in conjunction with the Associated Landscape Contractors of America in the 1980s, and identified a number of common plants that naturally remove toxic agents such as formaldehyde, benzene and trichloroethylene from the air.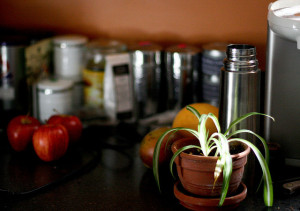 Spider Plant by Opacity/Flickr Creative Commons
These aren't exotic and rare plants either. Plants that are known to improve indoor air quality  include such favorites as aloe vera, English ivy (Hedera helix), azaleas (Rhododendron simsii), peace lilies (Spathiphyllum), snake plant (Sansevieria trifasciata 'Laurentii'), weeping fig (Ficus benjamina) and spider plant (Chlorophytum comosum) shown above.
See a copy of the NASA Clean Air Study.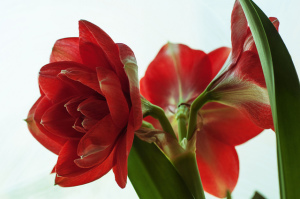 Amaryllis by Gabludlow/Flickr Creative Commons
4) Grow Beauty in Your Home
There are houseplants you can eat. There are houseplants that clean your home's air quality naturally. And there are even houseplants that will make you feel better in dreary weather just because they have beautiful flowers.
In our home, Amaryllis bulbs are popular flowering plants to grow indoors from October to March. They bloom for weeks, spreading cheer on gloomy days. And don't forget the delicate and fragrant paperwhites, which are easy to grow indoors and smell sweet in winter. We love decorating with these pretty white flowers at the holidays.
Experiment with other blossoming beauties, such as jasmine, begonia, oxalis, Kaffir lilies, Christmas cactus and African violets. Most are easy to grow, and bloom for weeks with the right conditions.
You just may find these houseplants satisfy your need for flowers until it is warm enough to garden outdoors again.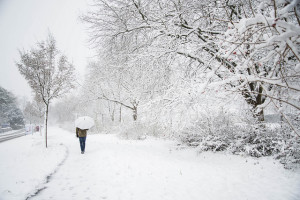 Walk in snow by CarlaB_/Flickr Creative Commons
5) Get Outside More
If winter makes you sleepy, depressed and craving carbs, you aren't alone. Just like bears, it's natural to want to hibernate now.
Many of us suffer from the "winter blues" or seasonal affective disorder (SAD) during winter's short, dark days, according to Dr. Mark Servis, professor of clinical psychiatry and vice chair of UC Davis Department of Psychiatry and Behavioral Sciences. If winter depresses you, he offers these practical tips for fighting SAD.
Spending time outdoors in winter may not seem as appealing as snuggling up in a blanket with a cup of cocoa, but being outdoors helps keep you healthier now.
You could hit the ski slopes, of course. But even a simple winter walk around the neighborhood will give you much-needed vitamin D on these shorter, darker days. That walk also helps you burn calories, feel invigorated, brighten your mood and reconnect with nature. So, lace up your snow boots and grab a warm hat. There is a quiet beauty to winter that can be cherished. Enjoy!
Mayo Clinic's Safety Tips for exercising outdoors in winter.
Don't forget your kids. Even your children should play outside in winter. Mommies magazine tells you why.
What are your favorite ways to connect with nature in cold weather?
Learn More
Garden Bloggers Tell How They Survive Winter