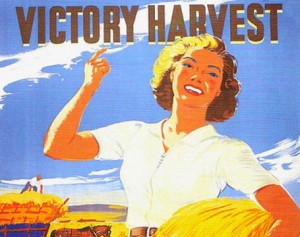 Harvest time is going strong as I write this Seasonal Wisdom post.  August and September have long been celebrated as an abundant time of year when delicious fruits and vegetables are plentiful. Now is the time to acknowledge Mother Nature's gifts, while preparing for the upcoming cold season.
This Seasonal Wisdom harvest time post is illustrated by historic wartime garden and food preservation posters, and provides helpful resources, tips and recipes for enjoying local foods now … and in the winter. Happy Harvesting!
As another harvest time approaches, I wanted to share these old wartime propaganda posters, which encouraged U.S. and U.K. citizens to grow their own foods, and to preserve what they could. It also was a time to help people relearn old skills like gardening and canning.
Learn about these government propaganda programs from well-known historian Rose Hayden-Smith, and see why it was so important to make Victory Gardens and food preservation patriotic during World War I and World War II.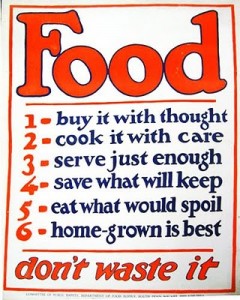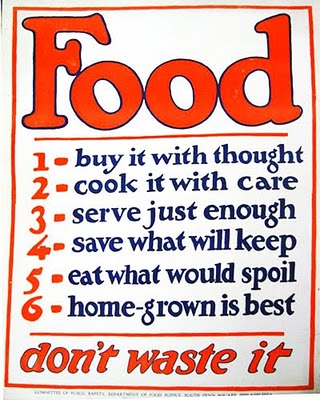 Even today, the wise words on this particular World War II poster make plenty of sense during this harvest time of year.
Especially number six. Nothing beats the taste, freshness and nutritional value of garden-fresh foods grown seasonally in healthy, organic soil. And if you're a gardener, you already know how priceless a sun-kissed tomato tastes when picked minutes before, especially with a little salt.
"Earth is here so kind, that just tickle her with a hoe and she laughs with a harvest."
Douglas Jerrold, 1803-1857
But what if you don't have an edible garden? You still can benefit from this harvest time by visiting local farmers' markets or farm stands now.  Often the prices are quite reasonable for many fresh, local vegetables and fruit right around now. Especially at the end of the market day, growers are eager to sell the rest of their crops and will often throw in a little extra.
"What His Royal Highness most particularly prides himself upon, is the excellent harvest."
Richard Brinsley Sheridan, 1751-1816
Buy extra produce during this harvest time. Then freeze or preserve what you can for the colder months. You'll save money, eat well and recall the summer at a time when everything else looks wintery outside.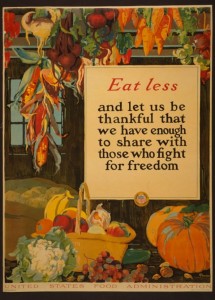 Remember, when you support local farmers at harvest time, you support your own communities and food sources. Here's how to show family farmers some love.
Buy direct from farmers = they earn up to 90 cents on the dollar, reports the Eat Local Challenge.
Buy from traditional markets = farmers earn about 20 cents on the dollar, according to U.S. Department of Agriculture (USDA).
Share the Bounty: Have more than enough food growing in your own garden? Share some of that harvest surplus with those who are hungry. Here's information about Ample Harvest and sharing your garden harvests with those in need.
A Few Recipes for Harvest Time
Carrot Salad with Exotic Spices
Three ways to enjoy peppers – grilled, sautéed and stuffed
Pimientos de Padron with Basil Mojitos
Butternut Squash Soup with Nasturtiums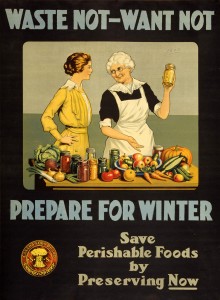 There are many different ways to preserve foods for the winter, as this World War I poster from 1914 to 1918 explains. These days, it's easier than ever to ensure you'll have some of that harvest food in the winter. Here are DIY ways to…
Make Herb and Flower-Infused Honey
Preserve Fruit-Infused Liquors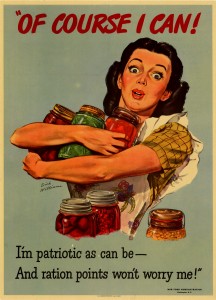 Canning your own food was considered patriotic during World War II, because it preserved valuable food supplies and allowed the U.S. government to send more food to the overseas troops.
These days, you can find canning recipes and safety tips from:
The National Center for Food Preservation

The national PBS-TV show, Growing a Greener World, where my friend Theresa Loe, the co-executive producer just launched an exciting, new food preserving section.

Mother Earth News on How to Preserve Foods Without Refrigeration using canning, drying and root cellars

On Twitter, follow @canvolution and the hashtag #canvolution to see tweets about canning, recipes and inspiring photos from a national ad hoc group of chefs, gardeners and food lovers committed to the lost art of "putting by" food.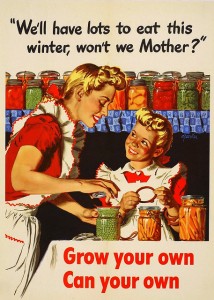 Hope this Seasonal Wisdom post has inspired you to think differently about your garden harvests, and consider the importance of growing and preserving your own foods.  Learn more …
A Historian Looks Back at Victory Gardens
Chicago's Peterson Garden Project Inspired by 1940s Victory Gardens
Eating Local Year Round, Even in a Northern Climate like Wisconsin
Growing Food All Year Long, Even in Nova Scotia, Canada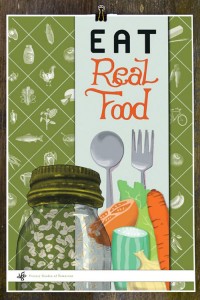 The old-fashioned posters get a new look at the retro-inspired designs from The Victory Garden of Tomorrow by Joe Wirtheim in Portland, Oregon. Definitely go check out his cool work!