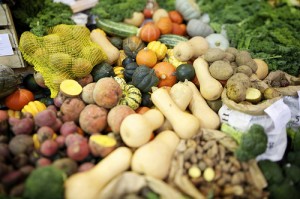 From sweet potatoes to leafy greens to colorful squashes of all types, there are lots to love about these five fabulous fall foods.  Photo copyright aurélien on Flickr.
Here are five of my favorite foods to eat when the temperatures start to drop in the fall months: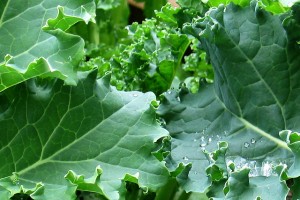 Photo copyright kusine on Flickr.
1) Kale:
This cool-season vegetable is highly nutritious, and packed with antioxidants that have been shown to fight several types of cancer. Kale is loaded with calcium, iron, vitamin A and C. In fact, this leafy green has seven times the beta-carotene of broccoli.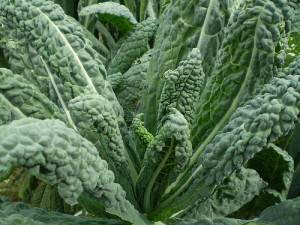 Tuscan kale photo by Tuscanycious on Flickr.
Uses: Toss this cool season green into warm salads, soups and stews. When cooked for 30 to 35 minutes at 250 degrees F. in the oven, kale makes a delicious "chip," especially when seasoned first with olive oil, herbs and pepper. Kale also makes a wonderful comfort food when cooked slowly with onions and herbs in stock, and then tossed with bacon and feta cheese right before serving.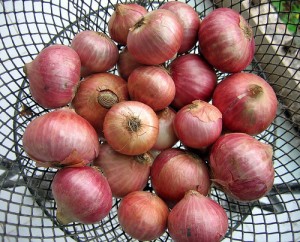 Photo copyright remusse on Flickr.
2) Onions (and Garlic):
The humble members of the Allium family are considered key ingredients in most of the world's fine cuisine. Personally, I couldn't imagine making a dinner without chopping up an onion with a little garlic first.
It's easy to understand why onions have been used so frequently over the centuries in fall folk remedies for good health. Modern science has learned that onions feature a range of healthy phytochemicals including sulfides, sulfoxides and other smelly sulfur compounds. Onions have powerful antioxidants, which are antibiotic and antiviral. In recent studies, onions have been shown to help fight cancers, reduce allergy symptoms, and support strong heart health, among other benefits.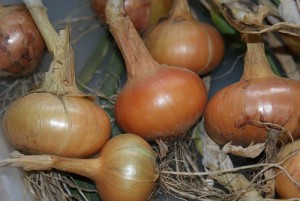 Photo copyright Ripplestone Garden on Flickr.
Uses: From soups and stews to chili and casseroles, it's hard to imagine most of the world's favorite meals without at least an onion. Experiment with different types of onions, such as shallots and leeks, in your meals. Or, combine several types of onions together and make your own version of a French onion soup. We often have a pot of this onion-rich soup prepared during the cold months to keep us healthy in a delicious way.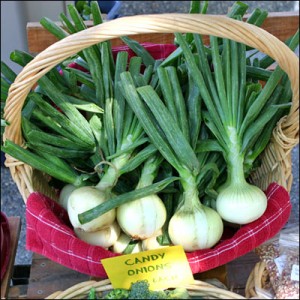 Photo copyright La Grande Farmers Market on Flickr.
Onions and its cousin garlic are often used together in various dishes, from Middle Eastern to Mediterranean cuisines. They are an essential ingredient in soups and stews.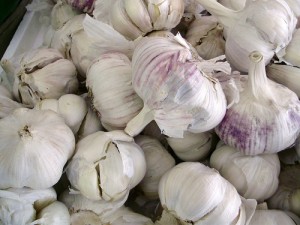 Photo copyright mullica of Flickr.
As with onions, garlic is one of the oldest cultivated plants in the world. An excellent source of vitamin B6, garlic also has vitamin C and loads of minerals like phosphorous, calcium and manganese.  Many studies have shown garlic is helpful for improving cholesterol levels, reducing blood pressure and fighting infection. More on onions and garlic from this Coastal Home magazine article I wrote.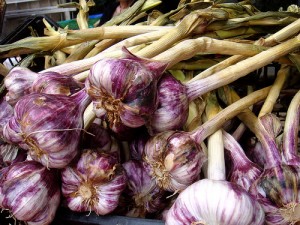 Photo copyright sivandsivand of Flickr.
3) Parsnips: Shaped like a carrot, the unassuming parsnip was revered by Ancient Romans as well as Medieval cooks for its wonderful flavor.  Parsnips are also quite healthy. Low in calories, parsnips are high in fiber, folate, calcium and potassium.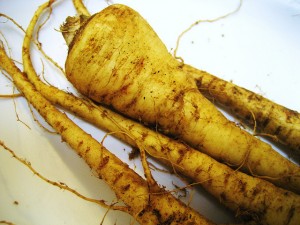 Parsnips add a sweet, nutty flavor to meals.
Photo copyright Little Blue Hen on Flickr.
The root vegetables also contain phytochemicals, such as polyacetylenes. These plant compounds are believed to help protect against carcinogens.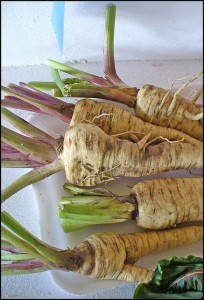 Photo copyright K. Sawyer Photography on Flickr.
Uses: You'll find lots of uses for parsnips in the cold-season kitchen. Mash cooked parsnips (as you would potatoes) and add butter, a little plain yogurt and herbs. Peeled and chopped parsnips are wonderful in soups and stews, adding a nutty sweet flavor to fall meals. Once you start cooking with parsnips, you'll wonder how you lived without them.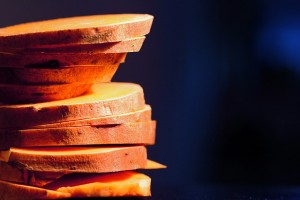 Photo copyright Dave Lifson on Flickr.
4. Sweet Potatoes:
They aren't a potato, but sweet potatoes are quite sweet and delicious.  High in fiber and beta-carotene, sweet potatoes also boast vitamin A, complex B vitamins, potassium and calcium. Sweet potatoes also contain important anti-inflammatory plant compounds like quercetin. All that nutrition, plus great taste, for only about 103 calories for a medium baked sweet potato. See why I love them?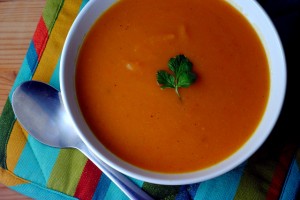 Photo copyright Katherine Martinelli of Flickr.
Uses: Puree sweet potatoes into delicious soups, such as the one shown above.  (Here's a Spicy Sweet Potato Soup recipe from allrecipes.com.) Make up a batch of home-made sweet potato fries for a vitamin-rich snack. Or, mash up a couple sweet potatoes with butter, plain yogurt, cumin, goat cheese and a dash of cayenne.  We often grill sweet potatoes with a bit of olive oil, spices, and salt and pepper.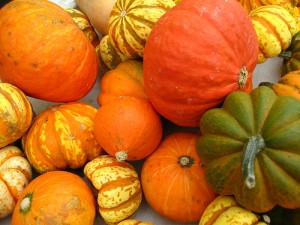 Photo copyright ramdomduck at Flickr.
5) Winter Squash:
Delicious, nutritious and absolutely beautiful … winter squash is easy to love.  Many varieties (such as butternut squash) have very high amounts of beta-carotene and alpha-carotene. They also provide vitamin C and complex B vitamins, as well as potassium and dietary fiber.
Cushaw squash, pumpkins and more at farmer's market.
Photo copyright dyogi on Flickr.
Uses: Peel and slice winter squash to add flavor and taste to soups and stews.  Cut squash in half, scoop out the seeds and roast in the oven with olive oil and spices. You can eat it right from the oven, or restuff the squash with ground turkey, sauteed with onions, garlic and spices. Then bake the stuffed squash for a few minutes with a little shredded cheese on top.  Use winter squash as you would pumpkins in other recipes. You'll find lots of delicious recipe ideas for pumpkins and winter squashes from Smitten Kitchen.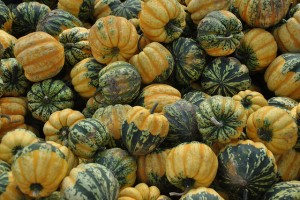 Photo copyright subfictional on Flickr.
Even though winter squash is grown in summer, this vegetable's hard shell gives it a relatively long shelf life in the right conditions. So, you can enjoy this nutritious and beautiful culinary treat throughout the cold months. This rare squash, however, provides delicious food in summer and winter.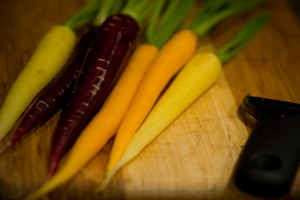 Photo copyright rcoder on Flickr.
Bonus Veggie – Carrots: It just didn't seem right to talk about fall foods without mentioning carrots. They overwinter well in many gardens, and are among the first vegetables to eat in the spring.  Learn more about carrots here. Even if you have clay soil, you can grow these French heirloom carrots.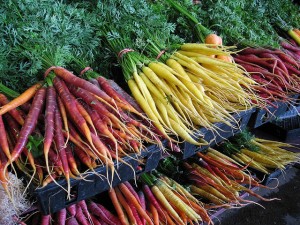 Carrots come in many colors. Photo copyright letouj on Flickr.
More Resources: Learn more about the nutritional benefits and research findings on fresh foods from these sources:
The Encyclopedia of Healing Foods by Michael Murray, N.D.
The 150 Healthiest Foods on Earth by Jonny Bowden, Ph.D., C.N.S.
I also wrote about nutrition and fresh foods in Grocery Gardening. You'll find plenty of planting, preparing and preserving advice in this book too.
Meanwhile, what are some of your favorite fall foods? And how do you like to prepare them?