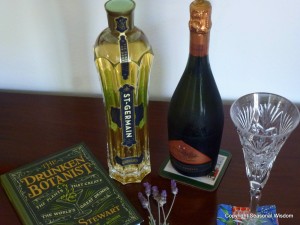 Amy Stewart has done it again. The award-winning author of six critically acclaimed books about the natural world has turned her eye toward botany and booze in her newest book called The Drunken Botanist – and it's a winner.
Learn more about this New York Times-bestselling book on "the plants that create the world's great drinks," and get Amy's recipe for a delicious Lavender-Elderflower Champagne Cocktail.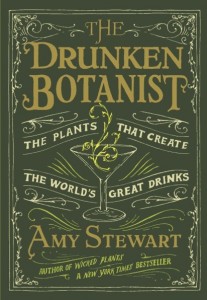 It's pretty easy to love The Drunken Botanist, whether you're a gardener, history lover or just someone who enjoys a spirited drink on occasion.  First off, there are more than 50 drink recipes for making everything from simple syrups to spiked punches to sophisticated cocktails.
But this book is more than just a simple how-to drink guide.
Instead, consider this resource a "spirited toast" to the history, science, entymology and mixology of a wide range of herbs, flowers, trees, fruits and fungi.  Here's your chance to learn how common and rare plants contributed richly to our drinking traditions over the years.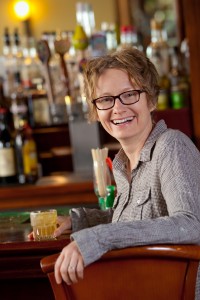 Amy Stewart doing research for The Drunken Botanist.
Photo copyright Delightful Eye Photography
Inside the pages of The Drunken Botanist, you'll learn such intoxicating facts as:
Spruce beer, concocted from tree tips, was popular with Benjamin Franklin and Captain James Cook – as well as the English novelist Jane Austen, who mentioned it in her book Emma.
The perennial Licorice (Glycyrrhiza glabra) is featured in a wide variety of drinks from absinthe and anisette to ouzo and sambuca.
Roses aren't just the queens of the garden. They also have long been used in cocktails. Rose water, rose petals and rose hips add flavor to a wide variety of brandies, schnapps, liquors and more.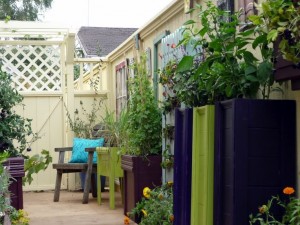 Photo copyright Amy Stewart
You'll find plenty of gardening tips for growing these ingredients, in case you want to make garden-to-table cocktails.  Amy gives ideas for planting success, but also advises whether a plant – such as gentian – is challenging to cultivate. She even describes poisonous look-alike plants, so you can avoid getting into trouble.
Above is Amy 's cocktail garden, designed by San Francisco-area landscape designer Susan Morrison, co-author of Garden Up. (Read more about Susan's vertical gardening advice.)
In the above garden photo, you can see peppers, celery, strawberries, calendula, cucumber and lemongrass – all mentioned as ingredients in Amy's book.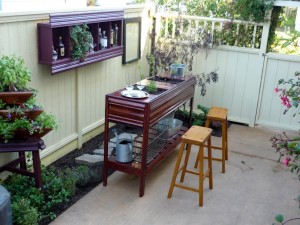 Photo copyright Amy Stewart
In the small-spaced garden, she even managed to squeeze in a little bar area, along with pretty plants such as elder, jasmine and herbs. Talk about garden-fresh ingredients!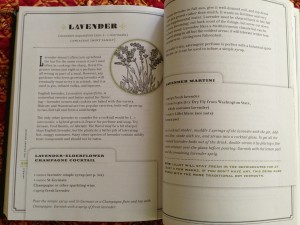 It's no secret that Seasonal Wisdom is passionate about edible flowers and all the fun ways you can eat and drink them. Elders are some of my favorite ingredients for syrups and fritters. So, my mouth started to water when I saw Amy's recipe featuring lavender flowers and an elderflower-flavored liquor.
This champagne cocktail became the perfect excuse to host an impromptu cocktail party with friends one summer evening. It's just one example of the many spirited drinks you'll find in The Drunken Botanist.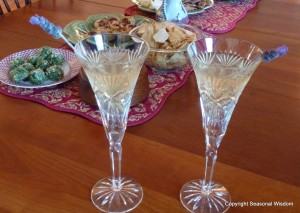 Amy Stewart's Lavender-Elderflower Champagne Cocktail Recipe
Ingredients:
1 ounce lavender simple syrup (see below)
1 ounce St-Germain liquor flavored with elderflowers
Champagne or sparkling wine (we prefer Prosecco and used that instead)
1 sprig fresh lavender
Directions:
Pour the lavender syrup and St-Germain in a champagne glass and top with champagne or sparkling wine. Serve with a sprig of fresh lavender.
Lavender Simple Syrup
Ingredients:
½ cup of lavender flowers and leaves
1 cup water
1 cup sugar
Directions:
Combine ingredients in a saucepan. Bring to a simmer and stir until the sugar is dissolved. Let the syrup cool, and then pour through a fine mesh strainer. Keep refrigerated. The syrup will last for 2 to 3 weeks; and lasts longer in freezer.
Notes:  Instead of lavender, you can substitute botanical ingredients including herbs, lemon peels, spices and flowers. An ounce of vodka added to the finished syrup will serve as a preservative.  Personally I'm not crazy about white sugar, so I'll experiment with local, raw honey the next time I make this syrup.
Even if you don't drink alcohol, a spoonful of this simple syrup taste delicious in sparkling water.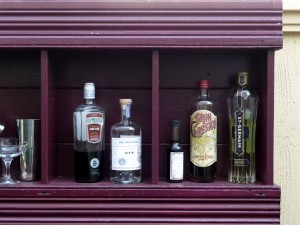 Photo copyright Amy Stewart
The Drunken Botanist is the type of book you'll refer to again and again as you explore the different drink flavors of common and unusual plants in your garden and in the wild.
Whether you're enjoying an Apple Brandy or a Blood Orange Sidecar, you may never look at your garden plants the same way again. Cheers!
Learn more at www.amystewart.com.
Disclosure: A copy of The Drunken Botanist was provided to me at no cost. However, there was no obligation to write about this book, and my opinions are my own.