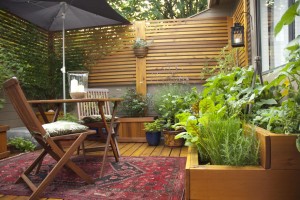 Besides having one of the cutest garden book names in years, Sugar Snaps and Strawberries by Andrea Bellamy offers plenty of simple solutions for creating your own small-space edible garden. I spoke recently with this critically acclaimed author to find out more…
Photo copyright Jackie Connelly.
About This Book: Want to grow food,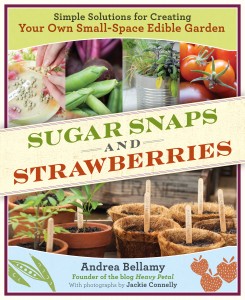 but don't have a lot of space? You're in luck. There are plenty of new books and products on the market these days, which support small-space gardeners. One of the best of the new books is Sugar Snaps and Strawberries.
Featuring delightful color photos from Jackie Connelly, you'll find loads of easy and stylish tips for growing edibles from well-known blogger Andrea Bellamy of the popular blog Heavy Petal.
Her book covers everything from removing turf to building healthy garden beds, including composting and organic insect control ideas. There's also advice for dealing with common urban garden site problems, such as low light conditions, watering challenges, wind, and even the weight of heavy containers on balconies.
A big plus are the growing tips for edibles from A to Z, including how to start, grow, harvest and prevent pest and pathogen problems for each type.
There were many reasons that compelled Andrea to write this book. "Over the past several years, I've watched the explosion of interest and involvement in food gardening," she explains. "People are so excited about growing their own food — with good reason! — but often they run into roadblocks that cause them to become discouraged and give up."
Andrea saw a need for a book that would be "a one-stop resource for aspiring urban farmers; one that would inspire and embolden even those with the smallest of spaces to give food gardening a shot."
Using creative examples, she shows small-space gardeners how they too can grow food … with a little ingenuity.
For those who have already started to grow edibles, Andrea wanted to "provide detailed instructions on how to take their gardens to the next level."
For example, raised beds allow you to grow everything from kale and lettuce to squash and beans in a relatively small space.
'Fortex' beans need only a tiny space to produce with this raised bed and trellis.
You can even grow food in an old canoe as long as you have good drainage, excellent potting soil and appropriate growing conditions.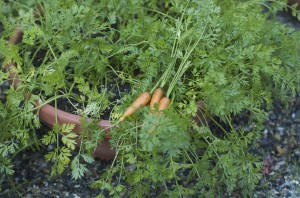 'Mignon' carrots grow well in containers, providing a tasty treat in a small space. When growing carrots, be sure to use deep enough containers.
All in all, Sugar Snaps and Strawberries does an excellent job of helping folks take the leap into growing food. And it may have a lot to do with the author's enthusiasm for the topic.
"I just love growing food," says Andrea. "I want everyone to experience the act of tending a little piece of earth; of planting a seed, nurturing a seedling, and finally, eating the results!"
Her charming book will show you how. Order this book.
Disclosure: Although I was provided with a review copy of this book, my opinions are my own.