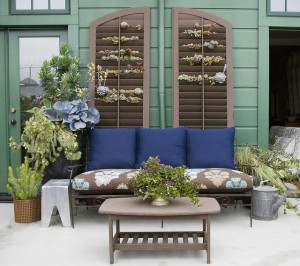 Sponsored Post: Gardeners are "growing up" this summer, as vertical gardening becomes one of the hottest outdoor design trends this year. From living walls to modular hanging solutions, it's never been easier to leverage that growing space above you.
That's why Seasonal Wisdom is delighted to be the Bing Summer of Doing expert on vertical gardening Friday, June 22, 2012. This post takes you on a tour of cool vertical garden solutions across the United States, and shows you clever do-it-yourself (DIY) ideas. You'll also learn how you can enter to win an exciting $1,000 DIY prize package from Bing.  The giveaway is over, but come on in and take a tour of vertical gardens making news.
Photo copyright Sophie deLignerolles, from the book Garden Up! by Rebecca Sweet and Susan Morrison.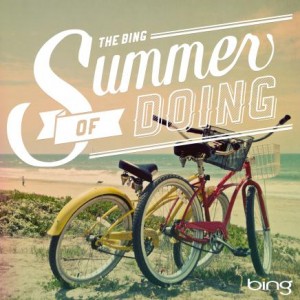 Seasonal Wisdom is delighted to announce that Bing has asked me to be a Summer of Doing expert on vertical gardening this week! Basically, it's part of the company's national campaign to inspire people to get more active this summer and search information they need quickly, so they can actually do something in their free time.
To get you inspired this week, Bing is focusing on DIY projects. Everyday this week (June 18-24, 2012) the search engine giant is spotlighting different experts from canning and cheesemaking to homebrewing. And there is a giveaway! You can win up to $1,000 in DIY prizes, including a vertical gardening set, huge Skillshare credit, homebrew kits and cheese making kit! All you have to do is visit www.bing.com/doing to search the daily word, share it with friends, and enter to win the week's grand prize.
Back to gardening … Anyway, you can see why I was so excited to participate in this national Bing promotion.  But let's get back to talking about vertical gardens — one of the hottest trends in gardening today.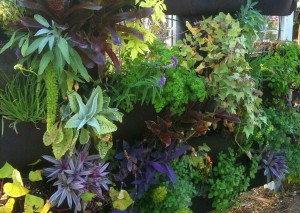 As a national lifestyle writer and speaker, I spend a lot of time watching trends pop up in the horticultural world. And vertical gardening is particularly popular right now, coast to coast.
It's not surprising, according to Rebecca Sweet of Garden Up!
"As houses are getting bigger, gardens are getting smaller," she explains. "Often the only places left to garden are on fences, patios or courtyard walls."
Whether your garden is a cramped city balcony or a spacious suburban lot, vertical gardens can add excitement to your outdoor spaces. Plus, those lovely plants beautify your surroundings, reduce noises and improve air quality, wherever you live.
Above is a lush, colorful, tropical living wall at the Naples (Florida) Botanical Garden. Look carefully and you can see bright bits of purple foliage throughout.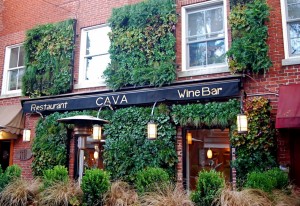 Further north in the historical seaport city of Portsmouth, New Hampshire, living walls are causing a stir — and generating national headlines too.
The 160-square-feet vertical garden at Cava Tapas & Wine Bar (above) features more than a half dozen species of mainly native woodland perennials. The first-of-its-kind in northern New England, the living wall required more than eight months of planning and organizing to come to life.
Charles Hugo and Maya Travaglia of Charles C Hugo Landscape Design planned and executed the groundbreaking garden project, which was sponsored by Coastal Home magazine. But the project was really spearheaded by Lynn Felici-Gallant, former editor of Coastal Home and current associate editor for the hip and relatively new Leaf magazine.
If you're in Portsmouth, grab a drink in the courtyard and enjoy all that luscious leafy greenery in the historic old city. Photo copyright Lynn Felici-Gallant.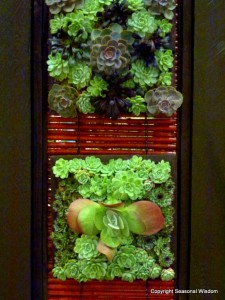 Gorgeous living walls like this succulent planting could be found everywhere on the other coast, at Seattle's 2012 Northwest Flower and Garden Show, the nation's second largest gardening show event.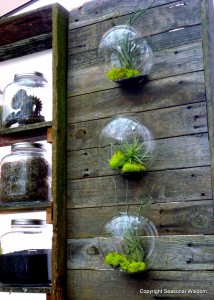 As Susan Morrison of Garden Up! explains, "The number one misconception is that vertical gardening is synonymous with living walls."
"Living walls are great," she says, "but there are all kinds of wonderful ways for innovative gardeners to add vertical elements to their gardens."
An excellent example is the above photo. Look how just a few glass terrariums, lime green moss and air plants created a contemporary touch. Another trend spotted at the 2012 Northwest Flower & Garden Show.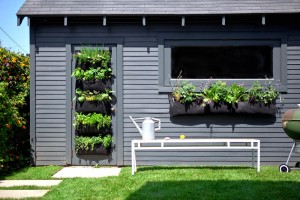 Since this is the Bing Summer of Doing – DIY Week – here are several DIY vertical garden projects to consider.
Woolly Pockets offer convenient ways to easily and effectively hang herbs, leafy greens and other plants to walls, as you can see above.
Be sure to water these types of containers frequently; especially on hot days you may need to water more than once!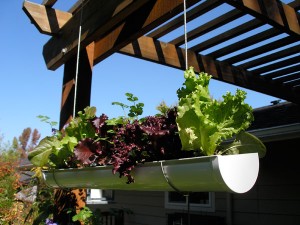 Why not build a gutter garden to leverage that vertical space? My former podcast partner Jayme Jenkins of aHa! Modern Living created this cool hanging container. It's been "pinned" a trillion times on Pinterest by now, but it all started in her backyard.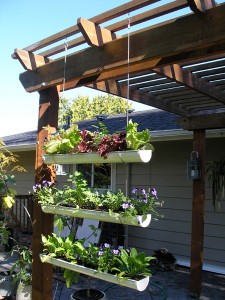 You can make this DIY gutter garden by following Jayme's easy instructions.
Please note: Jayme says to not grow edibles in PVC pipes, in case of possible toxins leaching into the soil. Use these types of pipes for succulents and other ornamental plants. Try copper piping for edibles. Both gutter garden photos copyright Jayme Jenkins.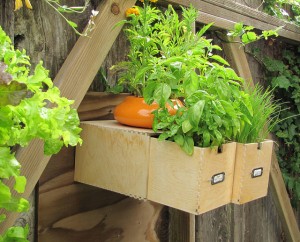 Use your imagination! This clever and cute DIY container from Garden Up! re-purposed old filing boxes for herbs.
No matter what you use, always make sure you allow adequate drainage in your containers. Photo copyright Garden Up!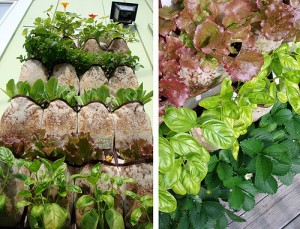 This DIY vertical gardening idea couldn't be easier. Just plant an old shoe bag with herbs, lettuces, strawberries and edible flowers. It may not last many growing seasons, but it's definitely an easy and eye-catching way to create a vertical garden this year.
Photo copyright Phlora on Flickr.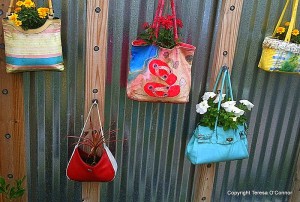 The children's garden at the Naples Botanical Garden shows a whimsical touch to vertical gardening. Old handbags from second-hand stores or garage sales would be perfect for this DIY vertical garden idea.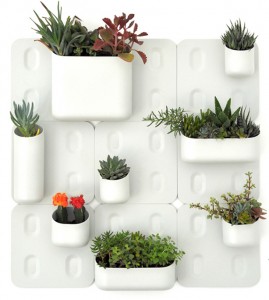 The über-cool Urbio is a modular magnetic design, which features different-sized pots. Neodymium magnets on the pots make them strong enough to hold just about anything. This innovative vertical garden solution is just one of the many featured in this Urban Gardens guest post on living walls for Seasonal Wisdom.
Photo by My Urbio.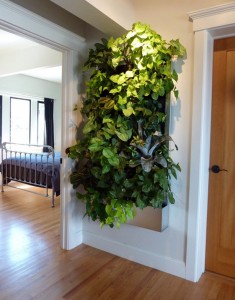 In her typical trend-spotting style, Urban Gardens even provides solutions for growing living walls inside your homes. This Floraframe kit (and photo) came from Plants on Walls.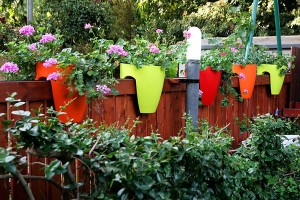 Don't forget to use what's already available for your vertical garden. Greenbo planters adjust securely to railings and fences, whether they are straight or curved. Available in lots of fun colors, they allow gardens to be created even on the smallest balconies, porches and fire escapes.
Prefer to Watch Television?  Vertical gardening and living walls were the topic of a recent episode of the national PBS-TV series, Growing a Greener World with Joe Lamp'l. Watch the episode here. You'll have a chance to see and hear several of the gardening experts mentioned in this Seasonal Wisdom post.
So, whether you want to save space or you're eager to add an element of excitement outdoors, vertical gardening is definitely worth a try. Meanwhile, don't forget to go over to the Bing Summer of Doing, so you can enter to win that $1,000 DIY prize with the vertical gardening kit.
Do you have a  vertical garden? What has worked best for you? Share your ideas. We're all ears.
Disclosure: This is a sponsored post, and Seasonal Wisdom was compensated for researching and writing this post, as well as participating in this national promotion. As always, my opinions are my own.