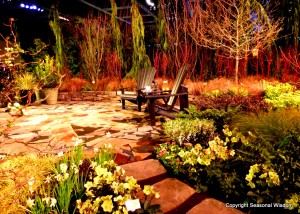 See the latest garden trends with this armchair tour of the 2012 Northwest Flower & Garden Show, recently held in Seattle. The nation's second largest show had lots of clever ideas to incorporate into your own garden, no matter how small.  Above is a gorgeous garden that featured four-season interest, even in late-winter.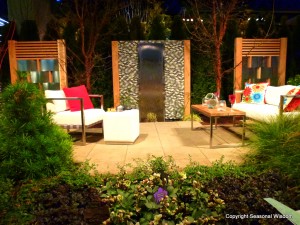 The Northwest Flower & Garden Show is one of Seasonal Wisdom's favorite shows, and I was delighted to be a speaker for another year. From gorgeous display gardens to more than 100 great garden talks, this show is really an amazing way to see what's new in the gardening world.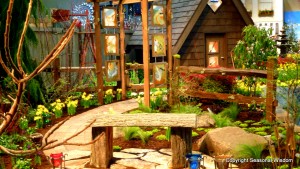 Creative stonework. Living walls. Fountains of all types. Garden sheds to suit every taste. And terrariums in many shapes and sizes. These were a few design highlights of the 2012 Northwest Flower & Garden Show.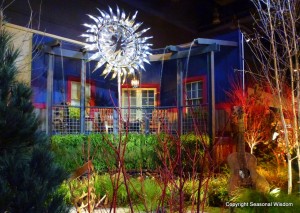 This year the gardens were designed around the theme "A Floral Symphony." So, don't be surprised if you see lots of musical elements as well, such as the guitar in the bottom right of the above photo.
In addition to this cool metallic mobile, the above display garden featured a contemporary approach to fountains as well.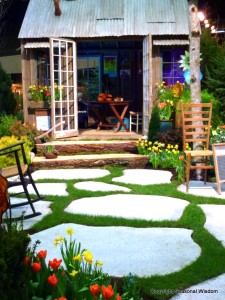 I fell in love with this adorable garden shed, with its large rocks scattered across the mossy lawn.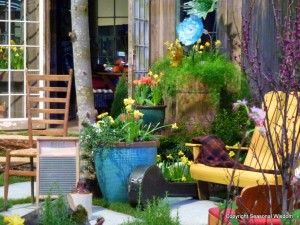 This display garden was packed with details, including potted plants and colorful outdoor accessories.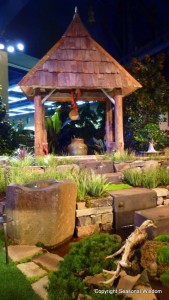 Want something a bit more tropical? How about this Tiki hut, complete with a stone fountain and ornamental grasses?
This setting is easier to picture on an idyllic island than in a modern conference center. And that's one reason why this garden show is so amazing.
The garden designers had only a few days to build their displays at the Washington State Conference Center. Yet, they managed to ensure the flowers were blooming months early — and that these gardens looked like they had been there for years.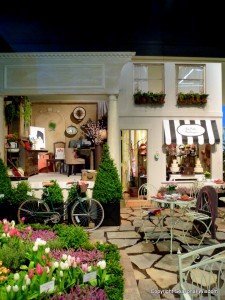 These French buildings are a perfect example of the high level of creative detail that goes into producing these show gardens.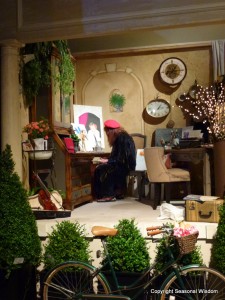 Later, these displays came alive with performers, such as the artist painting in the garden above.
Despite all the music and entertainment, gardening remained at the center stage of the displays.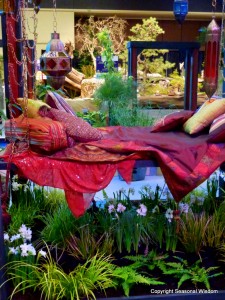 From Paris, you can travel to the Middle East in minutes just by walking across the room. I was charmed by this hanging bed with colorful lanterns, perched above fun ferns and grasses.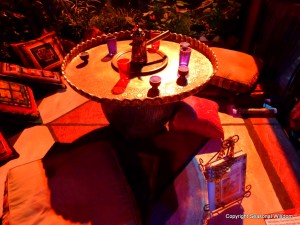 Even your outdoors dining can be inspired by the east, as this clever Middle Eastern garden demonstrates.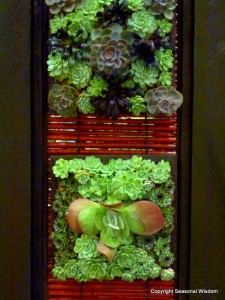 Living walls could be found among the display gardens and exhibitor spaces, such as this vertical succulent garden.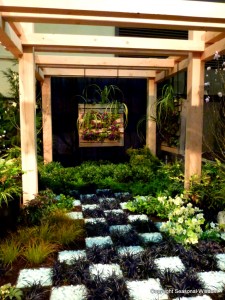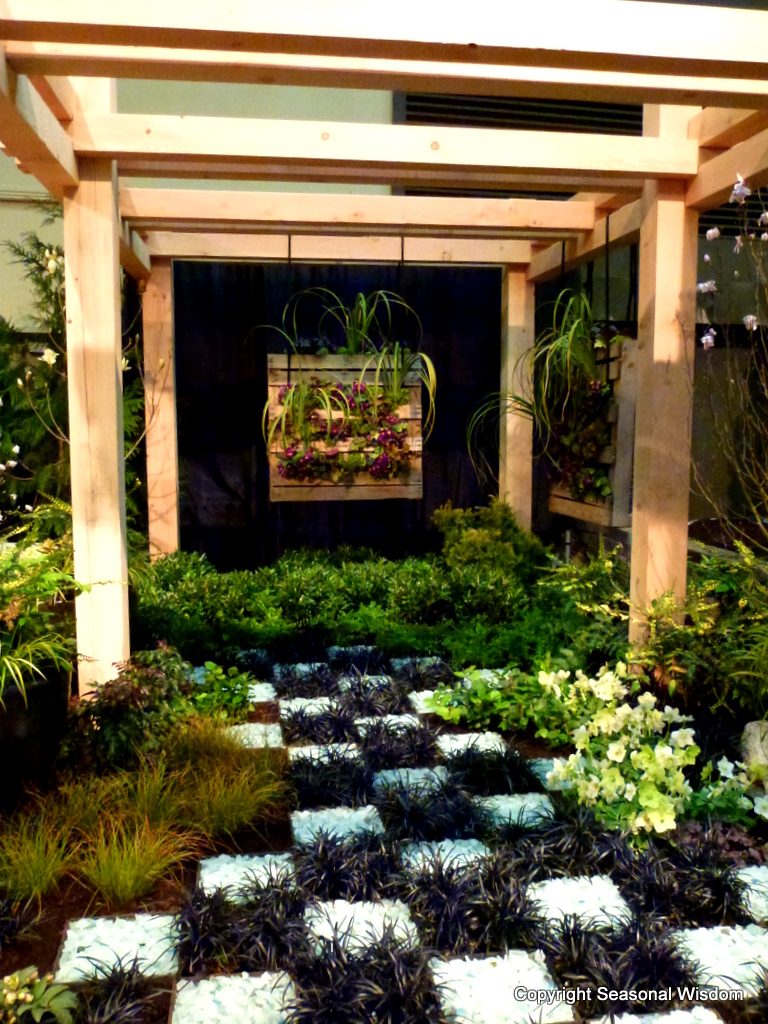 This popular living wall had a dramatic ground cover leading up to it.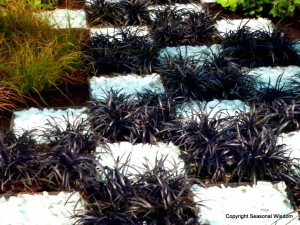 Black mondo grass and white rocks created a checkerboard effect in this clever garden.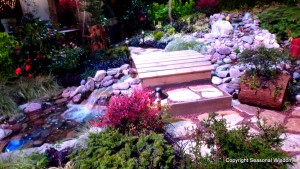 From contemporary fountains to nature-inspired streams, such as this one above, there were plenty of creative approaches to water fixtures in the garden.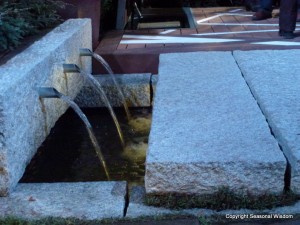 Those with more modern tastes might appreciate this simple, but elegant way to feature water outdoors.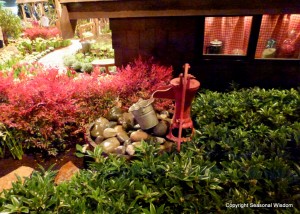 This fountain was ideal for this country-style garden. It brought out the red in the plants, as well as the red-checkered curtains in the rustic garden shed.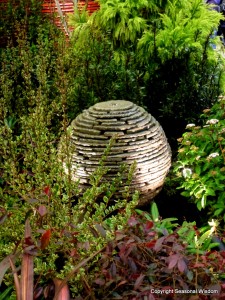 Sleek water features, such as the one above, created a contemporary look when lighted at night, and surrounded by different plants.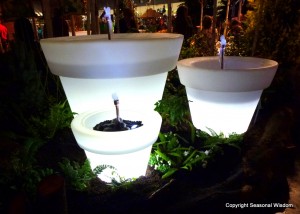 A trio of fountains provided much-needed light, as well as the pleasant sounds of a fountain.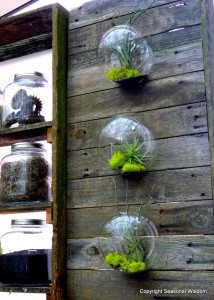 Terrariums were spotted throughout the Northwest Flower & Garden Show, including these cute hanging ones with lime green moss.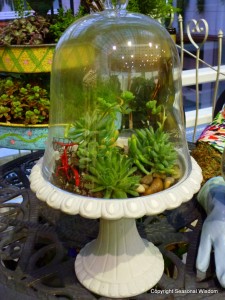 This charming terrarium was filled with succulents, and sat upon a charming white stand.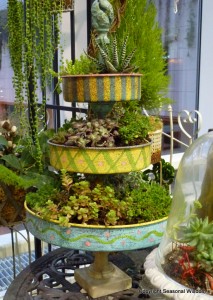 Right next door was this sweetly painted, three-tiered planter with different succulents growing inside.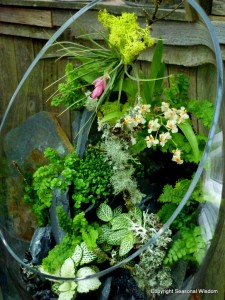 Delicate flowers and pretty foliage filled this attractive terrarium.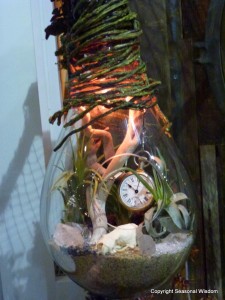 My favorite terrarium was this inventive one, which featured a stop watch, as well as wood and plants.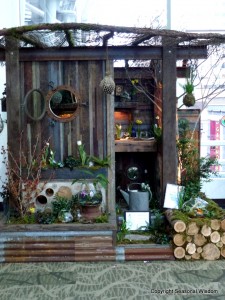 It belonged to this award-winning garden shed, which absolutely won my heart … along with thousands of other people.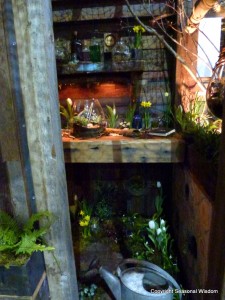 Inside this amazing garden shed, were ferns and tiny bulbs blooming on the ground, window boxes and shelves.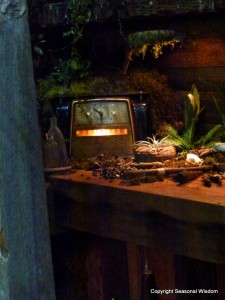 The detail was amazing in this garden shed. It even had a small vintage radio, playing old-time music.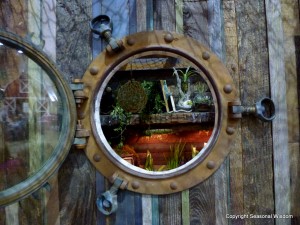 But the coolest thing might have been this porthole into the garden shed.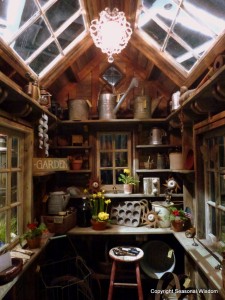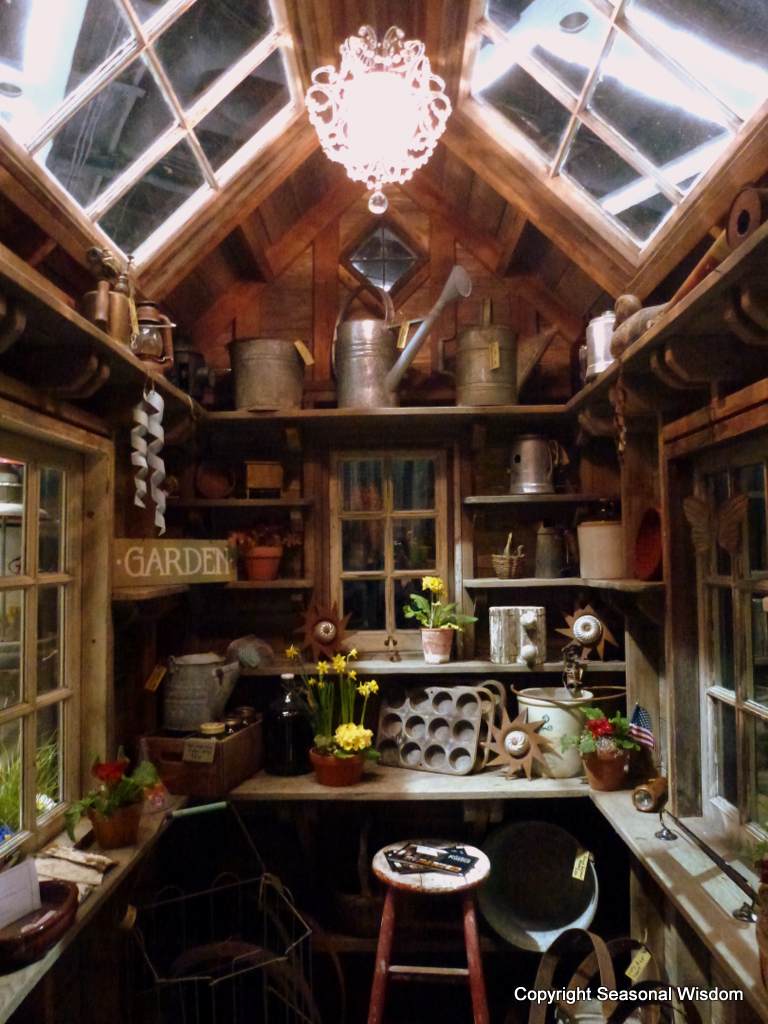 Speaking of garden sheds, here's another magical one that you can actually custom order from a company called Bob Bowling Rustics, which was displaying at the show.  I loved the crystal chandelier that hung in this rustic shed, don't you?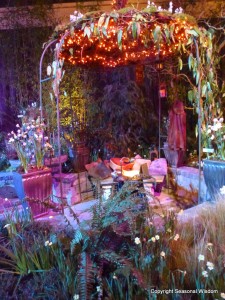 Here's another way to enjoy outdoor structures in the garden. This metal gazebo was covered with little lights and plants, and provided an idyllic spot for evening events.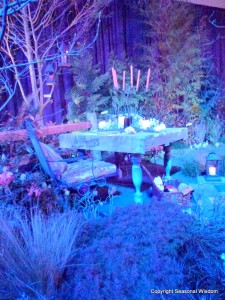 A recycled wooden table made use of old materials, and provided a delightful place for eating outdoors.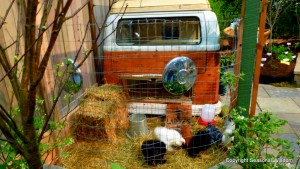 Speaking of eating, here's a mobile chicken coop that travels wherever your VW bus drives.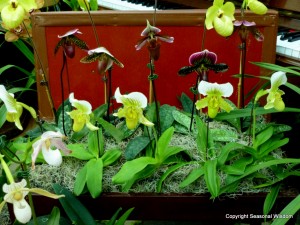 Clever containers could be found throughout the show, including this lovely planting of orchids.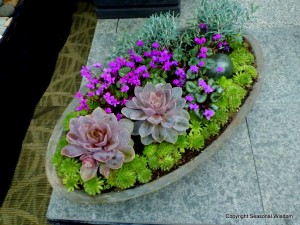 Succulents in different colors were mixed with purple violets to create this clever container.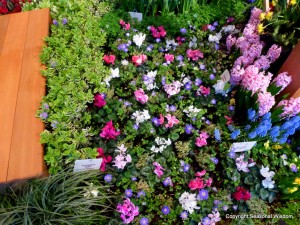 From colorful containers to delightful garden beds, the Northwest Flower & Garden Show was a great source of ideas for my garden.  And, hopefully your garden too. That's why I'm sure you can understand why I simply can't wait until next year!
Learn more about the Northwest Flower & Garden Show