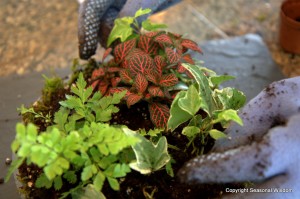 Indoor plants can be challenging. No matter how many hours I spend on my gardens outside, I often forget to water, feed and care for plants growing inside my home. That's why terrariums are ideal. Once established, terrariums need almost no care at all, making them ideal for new gardeners and kids' projects.
This post explains how to make a terrarium — and how to win a free Enviro-Cake™ terrarium of your own.  Note: This giveaway has now ended. Congrats to Jesse of California for winning this drawing.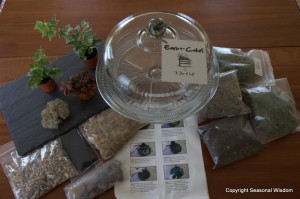 When Enviro-Cakes™ contacted Seasonal Wisdom recently about its new modern take on the terrarium, I was excited. I'd already heard good things about this gardening product from Kylee Baumlee at Our Little Acre.  Plus, I knew terrariums were a HOT gardening trend, as I'd seen many innovative ones at the 2012 Northwest Flower & Garden Show.
Once I tried out the product, I knew Seasonal Wisdom readers would love it too. Just look how easy and fun this terrarium is to build: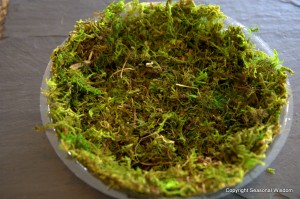 First, you put a layer of moist sheet moss inside the clear saucer, which comes with your Enviro-Cake™ terrarium kit.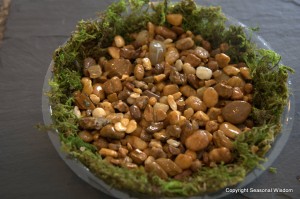 Second, you spread the attached gravel in an even layer across the bottom of the pan. This ensures good drainage.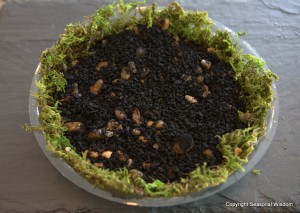 Third, you sprinkle activated charcoal across the gravel. A small bag comes with your Enviro-Cake™ terrarium kit. But you can also purchase activated charcoal at pet stores with aquarium supplies. In closed containers, this layer of charcoal filters the air and keeps it from developing a sour smell. Charcoal isn't, however, necessary for open terrariums.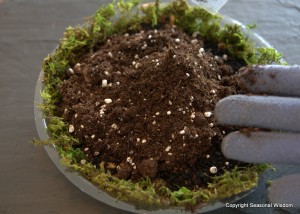 Fourth, you add potting soil and spread evenly. Moisten the soil slightly with a spray bottle, but don't pour water into the tray. You don't want standing water in your terrarium.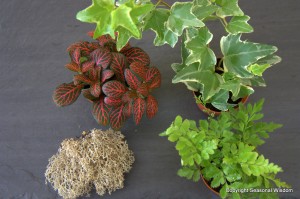 Fifth, you remove the plants from the packaging.  The Enviro-Cake™ terrarium kit comes with three plants, which you can select when ordering the kit. But if you're starting from scratch, select plants that thrive in moist, tropical environments such as this ivy, fern and 'Red Splash' Hypoestes. (If you'd prefer to use succulents, be sure to plant them in an open terrarium with no cover.)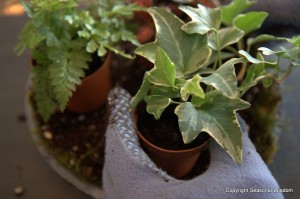 Six, arrange your plants in the soil and start planting. The possibilities are endless, so use your creativity.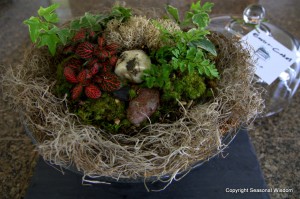 Seven, add moss around your plants and saucer to hold in moisture. You may want to add decorative stones and other objects to your terrarium design, as I've done here.
Then spread Spanish moss around the outer edges to create a little nest for your terrarium. Spritz your moss, rocks and plants with a spray bottle. Cover the lid. Then place in medium to bright indirect light.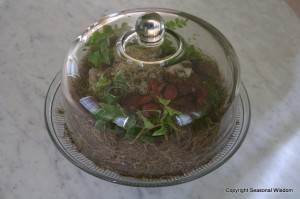 Voilá! You've now created the right conditions for a mini-rainforest. In about a week, your terrarium should have created its own ecosystem.
As Enviro-Cakes™ explains, once your terrarium "reaches a state of equilibrium … the terrarium can more or less sustain itself."  Here's how mine looked after about a week. A couple months later, it's still growing strong … with little to no care from me. It really couldn't be easier!
Win Your Own Enviro-Cake Terrarium!
We'd love if you would follow Seasonal Wisdom and Enviro-Cakes™ on Facebook, but it is NOT a requirement to enter this giveaway:
How To Enter: It's easy to enter this Enviro-Cake™ terrarium kit giveaway, valued at $89.99. Just do the following before midnight on March 9, 2012:
1)      Leave a comment below and tell us why you'd like to win a terrarium. Love home plants, but don't have much time? Want a fun and educational garden project with kids? Always dreamed of growing plants under glass? Whatever the reason, we want to hear.
The winner will be chosen at random on March 10, 2012 and contacted within 24 hours. If the proposed winner forfeits or does not claim the prize by March 15, the prize will be re-awarded based on the sponsor's sole discretion. All prizes will be awarded. Please provide your name and email to enter this contest, so we can contact you promptly if you win. The winner agrees to allow his/her first name to be mentioned in conjunction with this giveaway.
The number of eligible entries will determine the odds of winning. This giveaway is limited to U.S. residents only, who are over the age of 18 years old. NO PURCHASE NECESSARY TO WIN. This sweepstakes is VOID WHERE PROHIBITED BY LAW.  By entering this giveaway, you are agreeing to these conditions.
Disclaimer: This is a sponsored post, and the terrarium was provided at no charge. However, all expressed opinions are my own.
Please be sure to enter this giveaway before midnight on March 9, 2012. Good luck everyone!  Update on March 11, 2012: This giveaway has ended. Congratulations to Jesse of California for winning!
Learn More:
About Enviro-Cakes
About terrariums from Clemson University