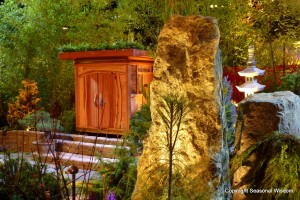 Rocks, natural woods and plants with four-season appeal played starring roles at the recent 2013 Northwest Flower & Garden Show.  This Asian-inspired garden was just one of several naturalistic demonstration gardens that helped visitors forget they were indoors on a chilly February day in Seattle.
Find garden ideas for your home by seeing how these talented landscape designers used stones, woods, evergreens and other natural elements to create a wide variety of garden spaces. Take a tour …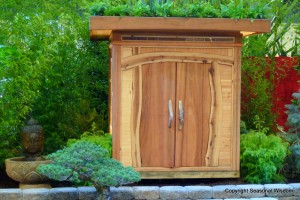 At the 2013 Northwest Flower and Garden Show, I was delighted to speak on vertical gardening, as well as enjoy all the great demonstration gardens and presentations. Here are several clever uses of rocks, natural woods and plantings from the show.
The quiet beauty of this IP Man garden, designed by Iftikhar Ahmed of TreeLine Designz International, creates a Zen-like setting worthy of a legendary martial arts master.  (Click on photos to enlarge them.)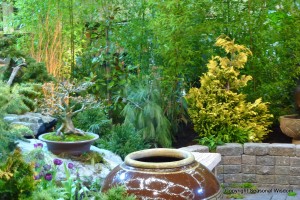 Bonsai, bamboo and even tulips are combined with rocks, boulders and stones to create a serene place for meditation and quiet conversation.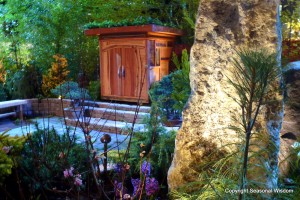 A living roof adorns the master's wooden building, while stone benches provide seating for contemplation. A giant boulder adds a dramatic focal point, especially when uplit at night.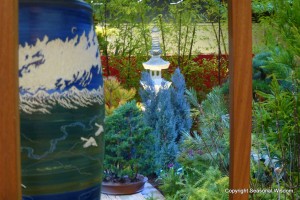 Conifers, bamboos and bonsais bring different shades of green and gold to the four-season garden.  A variety of decorative art compliment the Asian design.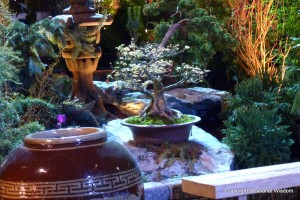 From pots and sculptures to boulders and bonsais, each item is placed to provide the best view from different spots in the garden.
Rare, wild and little-seen plant species are treasured and protected in The Lost Gardener, an exotic garden design by RHR Horticulture – Landwave Gardens.
Rocks and boulders of all sizes create a wild, natural setting reminiscent of movies like Jurassic Park and Raiders of the Last Ark.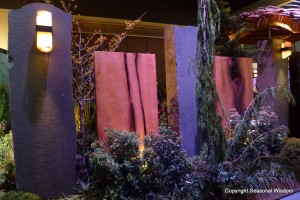 A contemporary garden wall is created with large slabs of rock in gray-purple and mauve.  Shrubs and plants with four-season interest soften the overall effect.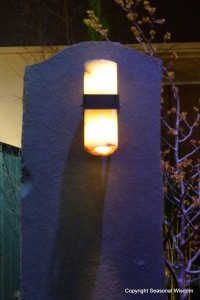 Even the light fixtures look like giant, uncut crystals. Don't you think?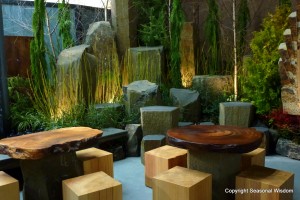 Behind that cool privacy wall is a cozy wine garden.
A trio of majestic boulders create a focal point with smaller boulders underneath, and evergreens and shrubs scattered around.  Giant slabs of wood make tables well suited in this nature-based wine bar, while square wooden chairs add a modern touch to the overall look.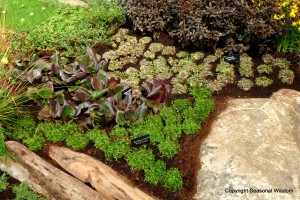 Bergenia 'Abendglut' and other beach-hardy plants snuggle up to boulders, rocks and driftwood in this private Beach Garden designed by Plantswoman Design.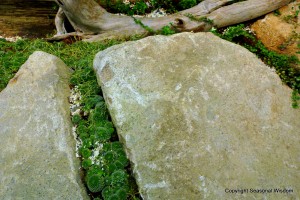 Although this garden was created in just a few days, these succulents look like they have grown next to these massive boulders for years.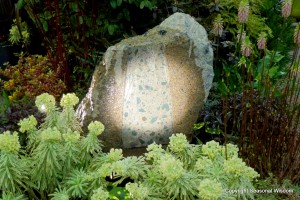 A giant rock becomes the inspiration for this fountain by Butchart Gardens. The natural setting makes it hard to believe this pretty little garden is located inside a busy convention center.
Speaking of fountains, I spotted lots of diverse ones at the Northwest Flower & Garden Show this year. I'll share those with you next … And I found a bunch of clever design ideas that will help you create great outdoor spaces at home. I'll share those soon too.
How are you using rocks, woods and plants with four-season interest in your garden?
See garden trends from 2012 Northwest Flower & Garden Show.
 All photos and content copyright Seasonal Wisdom.