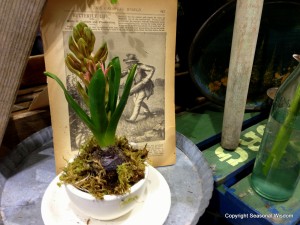 From old prints and antiques to charming spring bulbs, the Vintage Garden Market at the Northwest Flower & Garden Show was packed with imaginative gifts for the home.
This post features two years of vintage garden goodness at the annual Seattle garden event. Come see some of the vintage finds spotted at this popular garden show in 2013 and 2014.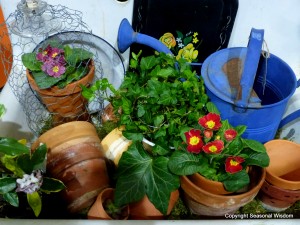 If you can tear yourself away from the display gardens at the Northwest Flower and Garden Show in Seattle, you'll find they have a fun Vintage Garden Market too.
I've spoken at the garden show several years now, and it's always a pleasure to head over to the shopping aisles stuffed with unusual, old things for the home. Click on photos to make larger.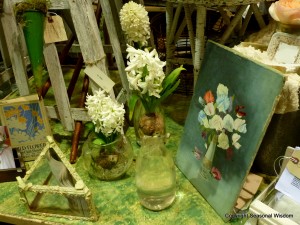 Scattered among the vintage garden items and aromatic bulbs were paintings for flower lovers, as you can see above.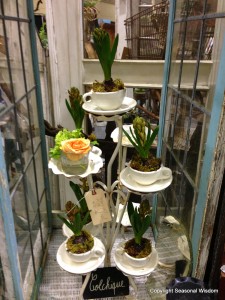 Even if you didn't buy anything, you could find decorating and gardening ideas for your home.
For instance, these fragrant hyacinths are planted in individual tea cups to provide "spring in a cup." This would make a nice gift for anyone truly sick of winter.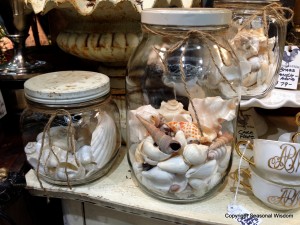 Here's a clever way to save last summer vacation's sea shells in giant glass jars.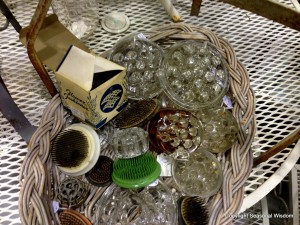 Flower arranging is much easier with these flower frogs, sold in different styles and shapes.
Classic blue and white china was sold alongside vintage garden items, making a pretty display shelf.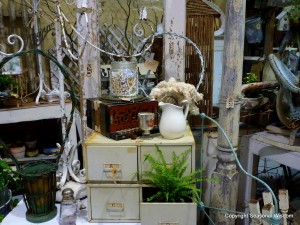 Also spotted were plenty of repurposed and upcycled items, such as vintage file cabinets that served as clever plant containers.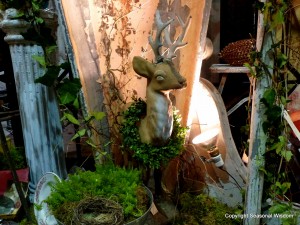 And you never know when you'll need a vintage deer head for a prominent place in your home or garden.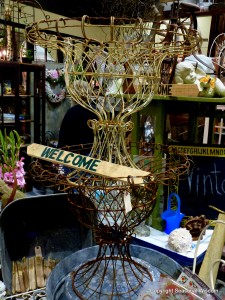 Personally, I fell in love with these vintage garden urns, which I would paint black.
But I wasn't certain how to take them home on the plane, so I left them for another lucky shopper.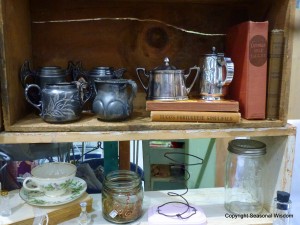 The lessons here are to 1) always bring larger carry-on bags; and 2) allow enough time to wander down the aisles of the Vintage Garden Market. You just never know what you might find…
Start planning now so you don't miss the 2015 Northwest Flower & Garden Show!
You Might Like:
Garden Trends from Northwest Flower & Garden Show
Fountains Make a Splash at Northwest Flower & Garden Show
Naturalistic Plantings at Northwest Flower & Garden Show