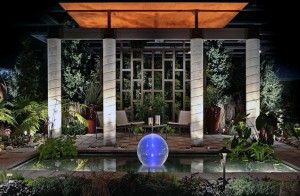 The 2012 Northwest Flower & Garden Show is not only the nation's second largest garden show it's also the third largest show in the world.
As Seattle plans its 23rd annual event, Feb. 8-12, Seasonal Wisdom is providing a "behind-the-scenes" look at this top-rated source of gardening ideas, exhibitors and presentations, including two upcoming talks by yours truly. Don't miss this special podcast interview with Northwest Flower & Garden Show organizers!
All images copyright Northwest Flower & Garden Show.
If you are lucky enough to be near Seattle on Feb. 8-12, 2012, mark your calendar to attend the 2012 Northwest Flower & Garden Show (NWFGS), at the Washington State Convention Center. Whether you're a beginner or advanced gardener, you'll find plenty to entertain you – regardless of your gardening style.  Highlights:
100,000+ plants brought to the show, many blooming in the middle of winter
26 fantastic show gardens in all different styles. These images show several award-winning 2011 gardens
34 musical acts at the show
101 free seminars and presentations from landscape designers, gardening authors and TV personalities
Listen to Behind-The-Scenes Stories: Hear "insider's secrets" about the show from Janet Endsley, NWFGS seminar manager and social media manager. She explains how these gorgeous gardens are created from scratch in record time, and what to expect for 2012. You wouldn't believe how much work goes on to make these huge shows work!
Listen to this special podcast report with Janet Endsley of the Northwest Flower and Garden Show.
Meet Seasonal Wisdom! Included among the free seminars and presentations, are two by me:
Thursday, Feb. 9, 9:30 AM (Hood Room): The Allure of Edible Flowers: How to Grow, Harvest, Cook and Enjoy Edible Flowers
Friday, Feb. 10, 5:30 PM (Rainier Room) : Growing Food in Small Spaces: Tips & Techniques to Maximize Your Garden Harvest
Want DIY garden advice? Don't miss these demonstrations by my partner on this special podcast report: Jayme Jenkins of aHa! Modern Living:
Wednesday, Feb. 8, 5:15 PM (DIY Stage): Edibles Cubed: Create a Living, Edible Cocktail Table
Thurs, Feb. 9, 5:15 PM (DIY Stage): No Space. No Problem: Grow a Gutter Garden With Function & Style
If you have a chance to attend, please stop by and say hello. We'd love to meet you.
Get more information about this show:
Northwest Flower and Garden Show   Website   Blog   Facebook Page
Plus, learn how to get the most out of any garden show:
Boost Your Garden Design Skills and Save Money at a Garden Show (Billy Goodnick at Fine Gardening)
Getting the Most from Garden Shows (Laura Schaub of San Francisco Flower and Garden Show)