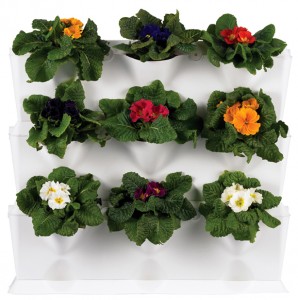 Guest Post: Grow living walls in your home – no matter how small that home may be – with tips in this guest post from Robin Horton of Urban Gardens. It's the second blog exchange between Urban Gardens and Seasonal Wisdom, exploring the latest in gardening, green living and design. Photo by Minigarden.
Winter's approaching. Feel like you may soon be climbing the walls? Instead, have your plants do just that. Even with limited space, you can bring the garden indoors with an indoor living wall. A vertical garden or green wall inside your home not only utilizes this otherwise unusable space, it helps remove toxins and purify the air, insulates to reduce energy bills (and some of your neighbor's noise) and, if you grow some of your own food, saves you money on your grocery bills. Studies have shown that gardens–indoors and out–have a calming effect. So planting an interior living wall can potentially help you enjoy life more–in any season.
People have been growing vertically since the Hanging Walls of Babylon in 600 B.C. Historians report that the gardens may have contained a sophisticated watering system, perhaps hydroponic, to irrigate the cascading terraces of plants and exotic blossoms.
But let's get back inside. If you're crafty, you can go the DIY route. Alternatively, if comfortable with a hammer and screwdriver, there are a number of great commercially available kits and systems of varying materials, and designs. Ready to climb?
Go Configure
Modular kits, like the ELT Easy Green or GLT systems, offer many advantages to space-deprived or DIY-challenged dwellers. They are lightweight, easily mounted and can be easily moved. As they usually contain an integrated watering system, you don't need to have a green thumb to maintain them so, for those in offices all day, they pretty much take care of themselves. They are scalable–you can choose a size that works for your space and configure them as you like. And the ultimate in green thinking: they are re-usable.
Mod Modular
The Urbio is a modular magnetic design that utilizes various sized pots with neodymium magnets that make them strong enough to hold just about anything. The pots adhere to wall plates that can be easily mounted anywhere. With the Urbio, you can design your green wall to work with your particular space challenges. Use one or several pots, and go wide or narrow, it depends on you and your wall.
Is that a Plant in Your Pocket Or…
Who's the clever individual who figured out how to recycle water bottles into felt, then use them for planter pockets? Otherwise known as PET felt, or polyethylene terephthalate felt, it's a form of polyester and the type of plastic labeled with the #1 code on the bottom of bottles and containers. PET has been deemed non-toxic, therefore it's safe for growing edibles.
Besides being lightweight, the high- tensile PET felt is strong and resilient, offers good thermal and acoustical insulation (so you don't have to endure your neighbor's bad music), will not break down or bottom out, is moth and mildew-proof, and contains no carcinogens. Plants on Walls's Florafelt Wall panels are a great example of ready-to-hang wall systems. The company refers to them as "hybrid-ponic"– they're watered from above, so the felt wicks moisture to the plants. Excess water is either re-circulated or drained into trays at the base. The system includes a lightweight backing board of sturdy plastic sheeting extruded from polypropylene (HDPE). Its fluted ribs support and protect both surfaces, and while it's also chemical and water resistant, it too is recyclable.
When Size Matters
There are small spaces, and then there are really small spaces. For those ultra-compact environments I love the Minigarden, above, which is exactly what its name says it is. The eco-friendly pocket system is made from a rigid material that you can try to pronounce–copolymer polypropylene–another strong plastic material that's safe for your edibles.
Mother Please, I Can Do It Myself
With some commonly found household items, you can make your own living wall. It may not have all the built-in goodies like the ones you can buy, but with a bit of ingenuity you can get pretty close. One of my favorites: Ordinary hanging shoe bags, with a couple of added drainage hole,s can be transformed into ornamental indoor vertical gardens. Caveat: If you are planning to plant edibles, make sure the material you are using does not leach toxins. For indoor use, consider using a water-repellent backing between the wall and the pockets, and place a rectangular plastic container at the base to collect excess water.
If you want to try your hand at sewing up some of your own hanging pockets, you can buy PET felt at craft shops. Scout the garage sales and flea markets for an old wooden soda crate that you can make into a planted wall painting–perhaps one that looks good enough to eat. Hang a bunch of small terracotta planters on hooks in multiple rows–varying the length of each row to create an asymmetrical pattern. Set up some good grow lights if your green wall does not receive enough sunlight.
Have fun. It's never too late to grow up!
Author's Note
Robin Plaskoff Horton is the publisher of Urban Gardens: Unlimited Thinking for Limited Spaces, the award-winning green lifestyle and design blog showcasing fresh, innovative, and eco-friendly designs, trends, and ideas. Urban Gardens received a 2010 Webby nomination, hailed by The New York Times as "the Internet's highest honor," as well as an International Creativity Award and both Silver and Gold awards from The Garden Writers Association. Robin is Principal and Creative Director of Robin Hortin Design, a strategic and creative print and web design consultancy, and is also co-facilitator of The Blog Workshops, creative writing/social media workshops. You can follow Urban Gardens on Facebook and on Twitter.
More resources mentioned in Robin's guest post:
Instructables (Shoe Pocket Planter)
Urban Gardens Creative Garden Retreat at Shippan Designer Showhouse
Don't forget to catch my guest post this week on Urban Gardens. I'm sharing easy ways to bring nature inside your home with some of my favorite indoor plants. These classic plants have brought color, charm, scent and even flavor to homes for centuries.