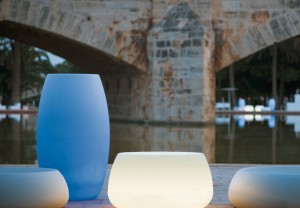 This is a debut of a series of exchanges between Urban Gardens and Seasonal Wisdom, exploring the latest in gardening, green living and design. Robin Horton of Urban Gardens shares her five favorite container types for gardens, wherever you are…
A garden container can be anything really. What you choose depends on your needs, what you are planting, personal style, and of course, your budget. Containers run the gamut — from sleek contemporary to ornate traditional styles to upcycled planters made from old bathtubs, barrels, boats, and even bras. Shown above is the contemporary Sahara line from Gandia Blasco.

Garden planters come in many sizes and materials, including cast stone and clay, lightweight fiberglass and resin, reclaimed wood, metal, and even a breathable soft felt-like polypropylene that promotes aeration and works well vertically. (Note: Always make sure you have good drainage, healthy potting soil and proper growing conditions.)
What's your lifestyle? If you are not prepared to water often or you travel frequently, you may want to consider one of the self-irrigating planters described below. If effortlessly moving your containers is important, than lightweight woven planters (see above), soft pots or those on casters might be the way to go.
Five of Robin's Faves to Consider
1) While You Were Out: Self-Watering Pots
Great for those who travel or may forget to water enough. I like the sleek lines of Lechuza's containers with self-watering sub-irrigation system. The Trio Cottage has a durable UV resistant woven finish that works well in a variety of gardens or even on a city balcony, and the recessed carrying handles make it simple to transport.
2) Illuminating Experiences
When the sun goes down, cast a warm glow from a container that illuminates your garden or terrace. Light up your space with electric, battery operated, or solar models, such as the contemporary Sahara line from Gandia Blasco (shown at the top) or the more traditional look from GardenGlo (shown above).
3) Go Lightly and Be Moved
Weightless, flexible, and modular soft containers move with you, and also address weight issues associated with planting on rooftops. The extremely durable containers from Bacsac are made from woven and non-woven recycled geotextile fabric, which is permeable and UV- resistant.
Many containers, like this one from Wooly Pockets, are pouches that consist of a breathable, felted material made from 100% recycled plastic bottles, with an additional built-in moisture barrier.
A readily available soft container, the Smart Pot is one of my favorites for its utter simplicity and great price point. Peppers grow in the Smart Pots above.
4) Plant Yourself and Your Veggies
When space is scarce, I go for designs that can multi-task like planters that also function as seating.
Planter seating has come a long way since the classic, old teak planter benches that connected several containers.
We now have more modern solutions like Offect's Green Islands, Juampi Sammartinoor's bench with planter (shown above), Plywood Office's Hammy — a hammock/planter, and the new planter seating by Jory Brigham, unveiled recently at Dwell on Design.
5) Portable Potting
Gardens on wheels are great for small spaces, where you want to follow the sun for maximum exposure. They can also come in handy on balconies or patios, where moving them out of the way makes room for extra seating once your guests arrive.
Garden 365 is a well-designed and eco-friendly choice for a portable container garden. Made of 100% recyclable polyethylene plastic, the durable container is weather, ultraviolet, and chemically resistant. Its raised design allows airflow underneath, which also prevents moisture damage on a deck or patio.
Author's Note
Robin Plaskoff Horton is the publisher of Urban Gardens: Unlimited Thinking for Limited Spaces, the award-winning green lifestyle and design blog showcasing fresh, innovative, and eco-friendly designs, trends, and ideas. Urban Gardens received a 2010 Webby nomination, hailed by The New York Times as "the Internet's highest honor," as well as an International Creativity Award and both Silver and Gold awards from The Garden Writers Association. Robin is Principal and Creative Director of Robin Hortin Design, a strategic and creative print and web design consultancy, and is also co-facilitator of The Blog Workshops, creative writing/social media workshops. You can follow Urban Gardens on Facebook and on Twitter.