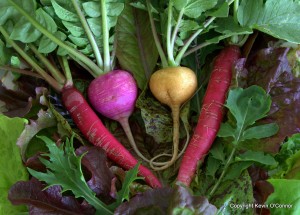 It's that time of year again … when the cool-season radishes, spicy greens and lettuces are growing wildly.  Here's a recent harvest of different greens from my garden, as well as three types of radishes. There are 'Long Scarlets' that look like red carrots; round 'Purple Plum' radishes; and pale yellow 'Helios' radishes from a village near where my grandfather grew up in Slovakia. But that's not all…
Lettuces and salad greens were started from seed in containers, garden beds and empty spaces around my garden. As they like rich soil, lots of compost and well-aged manure were added a few weeks before.
By planting these greens every couple weeks in early spring, you can have a longer season to enjoy them. I do the same thing with carrots, sowing seeds every couple weeks throughout the growing season, until about a month before the first frost date.
Eventually this cooler-than-normal weather will end, and my heat-sensitive lettuces and radishes will die back. Meanwhile, I'm eating huge salads nightly straight from the garden.
Among arugula and mustard flowers are radishes and 'Chef's Gourmet Spicy Mix' lettuce from Botanical Interest, combined with 'Wine Country Mesclun,' 'Heirloom Cutting Mix' and 'Sea of Red' lettuces from Renee's Garden Seeds.
I'm already thinking about vegetables that love the hot, long days of summer, because eventually these cooler days are going to end. I don't have much room, especially if I want to practice crop rotation methods. That's why I'm selective in my choices of tomatoes, peppers, eggplants, and more.
Here what I'm about to plant now:
TOMATOES:
To get tomatoes throughout the growing season, I pick varieties that ripen at different times. Here are nine I'm growing in 2011:
 'Stupice' (50-55 days from transplant) – A native of the former Czechoslovakia, this early-season variety produces small, sweet red fruit quickly and abundantly. I saw great results last year in my Zone 6b garden, so I had to grow it again. Recommended for northern climates and short growing seasons.
'Sun Gold' (57 days) – Bright orange cherry tomatoes that taste fruity. Prolific plants produce clusters of sweet fruit. I've grown this one before, and it's worth repeating.
'Chocolate Cherry' (70 days) – Brownish-purplish cherry tomatoes grow in clusters on this compact variety. Tasted at a friend's house last year, and swore I needed to grow myself.  Crack resistant variety.
'Anna Russian' (65 days) – A Russian immigrant brought this flavorful variety to Oregon years ago. Pinkish-red fruit shaped like a heart and weighing up to a pound. Eager to try this year.
'Cherokee Chocolate' (75 days) – You may have heard of 'Cherokee Purple.' Well, 'Cherokee Chocolate' is a stablized version of that popular variety. This mahogany-colored beefsteak tomato is popular with chefs.
'Flamme' (70 days) – These beautiful orange tomatoes are also called 'Jaune Flamme.' Juicy and sweet, the fruit on this French heirloom has a persimmon orange color inside and out.
'Lemon Boy' (72 days) – Large, lemon yellow fruit on prolific plants. This was a favorite at the 70-acre Peaceful Belly Farm in Boise, where I bought these transplants.
'Virginia Sweets' (80 days) – Despite the fact that I grew up in Virginia, I was attracted to this variety because of the wild colors. The large fruits are golden yellow beefsteaks with red stripes that turn into a ruby blush. Called the "best tasting, best producing gold-red bicolors we have ever grown," by the Peaceful Belly Farm staff, who grow and sell more than 100 different heirlooms.
'San Marzano' (80 days) – Another favorite of mine, which I just had to grow again this year. The red Italian heirlooms are ideal for cooking, drying and preserving.
PEPPERS: More great peppers I picked up at the Peaceful Belly Farm…
'Alma Paprika' (80 days) - With a hint of warmth, these sweet peppers are one of the best paprika-style varieties for drying. Round sweet fruit start out white, turn orange, and end up shiny red.
'Bianca' (70 days) – Premium bell pepper that begins creamy white, then peach, orange and finally light red. Resistant to tobacco mosaic virus, these plants are prolific.
'Giant Aconcagua' (75 days) – Peaceful Belly calls this variety "the longest, sweetest pepper" with a "flavor of a sweet apple." How could I resist that? Harvest when light green.
'Gourmet' (85 days) – This sweet orange bell pepper is early and sweet.  Compact plants produce well in a variety of conditions. Tobacco mosaic virus resistant.
'Italia' – Long Italian-type peppers turn from green to red. Early, productive plants.
'Romanian Rainbow' – (60 days) – Short compact plants with very early colorful bell peppers. They start ivory, turn orange and eventually red. Plants can have all three colors of fruit at once.
EGGPLANTS … and then there are those yummy plant siblings, eggplants. I like the ones that ripen quickly, and come in wonderful colors. Here's what I'm growing:
'Beatrice'  – (62 days) – Round, bright violet fruit on high-yielding plants.
'Dancer' - (65 days) Semi-cylindrical fruits that are dark pinkish-purple with green calyx. Supposedly popular in Puerto Rico.
'Rosa Bianca' (75 days) This is my third year to plant this beautiful Italian heirloom. I'm in love with the round white and violet striped fruit that nevers turn bitter and is ideal for cooking.  This eggplant is as pretty as it is delicious, and certainly worth squeezing into any edible or ornamental garden.
Coming: Look for more photos as they begin growing and producing. Meanwhile, I'm off to start a bean teepee with purple, green, yellow and spotted beans. What's growing in your garden? Have you had success with these varieties in your area?