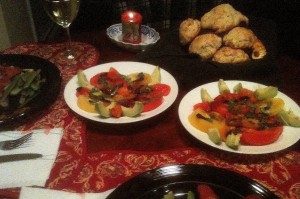 Cheerful calendula flowers have been featured in culinary dishes of all types, since at least the Middle Ages.  In my own fall garden, these cool-season annuals are thriving now. So, I created a yummy biscuit recipe that makes the most of these colorful petals and fresh flavors. Come take a peek and learn more about these historic edible flowers.
Photo copyright Teresa O'Connor.
Calendula officinalis (also known as pot marigold) grows about a foot or two tall (depending on the variety) and mixes well with perennials such as mums, sedum, Nicotiana alata and Cerastium tomentosum (also known as snow in summer).
The above picture was taken of my garden the last week in September, when many flowers were starting to die back. Fortunately, calendula thrives in cooler weather, and stays hardy to 25 degrees F. These annual flowers are easy to grow from seeds, and often reseed to deliver flowers year after year. Learn more about growing calendula from the Utah State University Extension Service.
A Flower With A Past: In the Middle Ages, this cheerful flower was a highly popular culinary bitter herb. Considered a cheap alternative to saffron, dried calendula petals were used in stews and pottages; rubbed into cheese to keep the color bright; and sugared into a conserve.
In honor of the Virgin Mary, calendula was called "Saint Mary's Gold," which later became "Marigold."  The flower's common name (pot marigold) was derived by its popularity in the medieval cooking pot. The herb was used for different medicinal uses too, as this fourteenth-century physician advised:
"Gold is bitter in savor,
Fair and yellow is his flower . . .
Draweth out of ye head wicked horrors."
While I can't guarantee this edible flower will draw out "wicked horrors," I do know these colorful petals taste great in salads, soups, dips, casseroles, herb butters and infused vinegar recipes.  Safety Advice: Always know exactly what type of flower you are eating, and make sure it is edible. Wash calendula petals carefully, and never eat flowers that have been sprayed. For best results, grow your own.
Here's one of my favorite ways to enjoy these historic and colorful flowers in the kitchen:
Calendula-Orange Biscuit Recipe
makes approximately 10 biscuits
active time: 15 min
2 cups unbleached flour
1 tablespoon baking powder
2 tablespoons sugar
1/4 teaspoon salt
petals from 8 calendula flowers (2 tablespoons)
1/4 cup unsalted butter
1/2 cup organic milk
1/4 cup fresh-squeezed orange juice
1 teaspoon freshly grated orange rind
Step 1: Preheat oven to 450 degrees.
Step 2: Combine dry ingredients, making sure calendula petals are mixed throughout.
Step 3: Using two knifes, cut in butter until flour mixture looks like coarse crumbs.
Step 4: Stir in milk, orange juice and orange rind until well blended.
Step 5: Drop by spoonfuls onto lightly greased cookie sheet. Bake about 10 minutes until golden; brush butter on tops of biscuits a minute or two before taking out of oven. Let biscuits cool a few minute before eating.
Enjoy these flavorful muffins with vegetable casseroles or homemade chicken soup. The muffin's orange flavor also tastes wonderful with breakfast eggs and bacon.  Learn more about edible flowers.
PQND9Q28C5P3