Happy New Year!  Before you know it, spring will be here and you'll be able to garden outdoors again. In celebration of this new beginning, Seasonal Wisdom has teamed up with Peaceful Valley/GrowOrganic.com for a fun gardening giveaway to get you off to a great start!
Why not grow edible flowers this year, along with fruit and vegetables? This giveaway makes it easy. Learn how you can win three garden-inspired products (valued at approximately $35) from this industry leader in organic gardening. It's easy, but hurry! The giveaway ends at midnight on Jan. 7, 2013. Congratulations to Jennifer of Winter Park, Florida for winning this prize!
Edible Flowers: If you read this blog regularly, you know Seasonal Wisdom is a huge fan of edible flowers, and has given presentations about them at different venues, from the Northwest Flower & Garden Show to the Mother Earth News Fair. I also hosted a Twitter #gardenchat about edible flowers.
But I'm especially excited about this new video of me talking with the great folks at Peaceful Valley/GrowOrganic.com about edible flowers.  Go check it out, and let me know what you think!
Edible Flower-Garden Lovers Giveaway: So, when Peaceful Valley/GrowOrganic.com approached me about kicking off the gardening year with an Edible Flowers-Garden Lovers Giveaway for Seasonal Wisdom readers, I could not wait to get started.
You may know Peaceful Valley/GrowOrganic.com from its instructive and interesting gardening videos on various gardening subjects. The company has long been a leader in the organic gardening movement, and has supported sustainable agriculture since 1976.
Today, the company sells everything from organic seeds and bare root fruit trees to a wide variety of sustainable gardening supplies, from its headquarters in scenic Grass Valley, California.
The Prize:
Here's what you can win in this Edible Flowers-Garden Lovers Giveaway…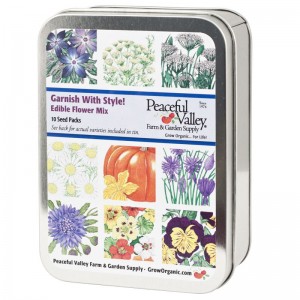 One Gift Seed Tin — Garnish With Style Collection — Edible Flowers (valued at $24.99): Grow 10 different types of edible flowers with these seeds from Peaceful Valley/GrowOrganic.com.  The seed packages fit inside this colorful metal tin, which lasts long after the seeds are sowed in the garden.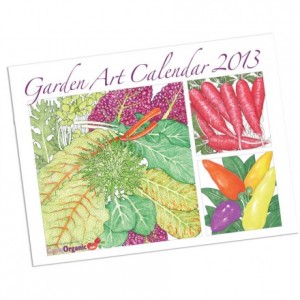 One 2013 Garden Art Calendar (valued at $4.99): This award-winning calendar is packed with color illustrations by local Nevada County, California artist, Randy Griffis.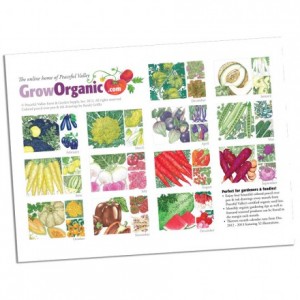 Along with delightful artwork, the Peaceful Valley calendar has seasonal gardening tips and links to gardening videos. The calendar was awarded a prestigious silver medal from the national Garden Writers Association in 2012.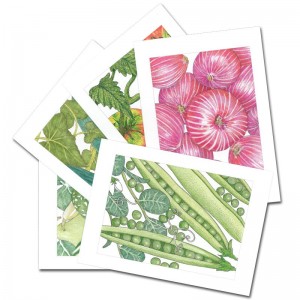 One Package of Garden Art Notecards (valued at $4.99): These five greeting cards feature charming color drawings by Randy Griffis of gorgeous vegetables – some with edible flowers, such as the peas. The cards are blank, so you can use them throughout the year.
Enter to Win:
Disclosure: This prize package was provided at no charge to Seasonal Wisdom. However, I was not paid to run this promotion, and my opinions are strictly my own.
Good luck everyone! Don't forget to enter before midnight on Jan. 7.  Please note this giveaway is only available to U.S. residents. Don't forget to check your spam folders, in case you win!
Want to learn more about edible flowers?
Eight of my favorite edible flowers to grow and enjoy. Here are edible flower recipes: