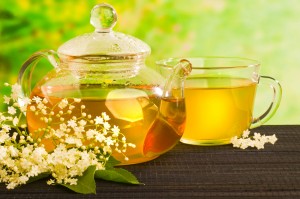 If you missed Seasonal Wisdom's talk on edible flowers at the 2012 Mother Earth News Fair, here's another chance to learn more about this fascinating culinary tradition.
Seasonal Wisdom will host Twitter's popular #gardenchat on Monday, June 11, 2012 at 9 p.m. EST. Learn more about the #gardenchat event and register to win an über-cool Softgrip® Garden Multi-Snip from Fiskars®.  Elderflower tea photo courtesy of Shutterstock. Congratulations to Kerrie of Chicago for winning this Fiskars® garden tool.
#Gardenchat – If you've never participated in a Twitter discussion called #gardenchat, you don't know what you're missing.
Every Monday evening from 9 to 10 p.m. EST, gardeners from around the world sit down in front of their computers and use #gardenchat to share advice, photos and remedies for a wide range of horticultural issues.  Learn more about #gardenchat and see past topics.
This Monday, June 11, 2012, I'm hosting a #gardenchat about edible flowers, including how to grow, harvest and eat some of my favorites. There will be serving ideas, as well as nutritional information and online resources.
In true Seasonal Wisdom-fashion, there will also be old folklore and historical traditions too. Gardeners from all over will share their edible flower tips during the hour, and you are encouraged to interact too. Best of all, I'm giving away a special Fiskars® multi-use tool. To win, keep reading …
How to Participate: First, sign up for a Twitter account. Here is information about setting up an account.
If you already have a Twitter account, you can participate by entering #gardenchat in the search box located on the HOME page of your account, or on your Twitter browser. You'll need to refresh the page regularly during the hour to see the latest status. Always include #gardenchat in your tweets, so others can read your tweets too.

#Gardenchat Giveaway: Those who participate in my #gardenchat are eligible to win a Fiskars® Softgrip Garden Multi-Snip tool, valued at $18.99.  This tool does everything from snip off flowers to rip open fertilizer bags to cut metal wire. You'll be surprised how convenient this multi-snip clipper will be out in the garden.
Disclosure: This random drawing is being sponsored by Fiskars.
Recently, Seasonal Wisdom was honored to become one of the newest members of the Fiskars national garden experts team. It's a privilege to write for such a well-respected global company — alongside such well-known garden writers, designers and TV personalities as Joe Lamp'l, Erica Glasener, Marty Ross, Robin Haglund and Dee Nash.
So, to celebrate, Fiskars provided me with this cool multi-snip tool (free of charge) to pass along to one of you.
How to Enter:
As always, we'd be delighted if you would follow us on Facebook, but this is NOT a criteria to win:
What to do …
1) Leave a comment below telling us why sharing gardening information — whether over the fence with friends or using Twitter for #gardenchat — is a valuable way to learn new skills.
2) Include your Twitter handle (e.g., @SeasonalWisdom) in your comment. Then …
3) Tweet at least once during the #gardenchat on edible flowers on June 11, 2012 at 9 to 10 p.m. EST.
The winner will be chosen at random after midnight on June 11, 2012 by the organizers of #gardenchat, and contacted within 24 hours. If the proposed winner forfeits or does not claim the prize by June 13, the prize will be re-awarded based on the sponsor's sole discretion.
All prizes will be awarded. Please provide your name and email to enter this contest, so we can contact you promptly if you win. The winner agrees to allow his/her first name and town to be mentioned in conjunction with this giveaway. Please check your spam folder after this giveaway to make sure you receive notice if you win.
The number of eligible entries will determine the odds of winning. This giveaway is limited to U.S. residents only, who are over the age of 18 years old. NO PURCHASE NECESSARY TO WIN. This sweepstakes is VOID WHERE PROHIBITED BY LAW.  By entering this giveaway, you are agreeing to these conditions.
Please be sure to enter this giveaway before midnight on June 11, 2012, and don't forget to attend #gardenchat. Congratulations to Kerrie of Chicago for winning this prize.
Good luck everyone, and see you at #gardenchat at 9 to 10 p.m. EST on Monday, June 11!
Meanwhile, stay tuned for edible flower recipes, historic garden tours, inspiring interviews and much more.