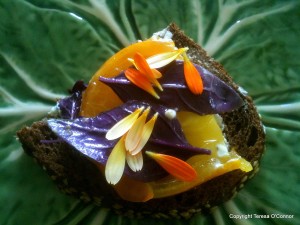 Edible flowers aren't a new culinary trend, they've been enjoyed since ancient times. This summer, Seasonal Wisdom is sharing lots of old and new information about enjoying edible flowers safely. Come learn about my upcoming presentation at the 2012 Mother Earth News Fair in Puyallup, Washington, along with other edible flower tips and resources that you can use now. Above, black bread is topped with 'Amethyst' purple basil, Calendula officinalis, 'Jaune Flamme' tomato and goat cheese. Photo copyright Teresa O'Connor.
Over the next few months, Seasonal Wisdom will celebrate edible flowers in foods of all types — from garden-fresh drinks to show-stopping desserts. If you're in the Northwest, drop by the upcoming Mother Earth News Fair in Puyallup, Washington on Saturday, June 2, 2012.
I'll be speaking about The Allure of Edible Flowers on the Real Food Stage at 11:30 a.m. — just in time to get you hungry for lunch. In true Seasonal Wisdom-style, my talk will mix history and folklore with contemporary culinary and gardening advice.
In my talk, you'll learn:
How to grow some of my favorite edible flowers
How to harvest these flowers properly, and store them until use
How to enjoy edible flowers safely
How to create salads, soups, drinks, desserts, breakfasts and more using these lovely ingredients
If you've never been to this event, there's still time to plan a trip. Mother Earth News Fair will feature fun, family-oriented lifestyle events that cover organic gardening, healthy foods, renewable energy, green building and all the other sustainable topics that Mother Earth News magazine has covered for years before they were hip. You'll find hands-on demonstrations, lots of wonderful workshops and some of your favorite exhibitors there.
It's a big honor to be presenting alongside such notables as Ed Begley Jr., Jessi Bloom, Lisa Kivirist, Bill McDorman and Ivette Soler.  As you can tell, it's a diverse group of folks. Here's the complete action-packed schedule.
I'd love to see you at the 2012 Mother Earth News Fair. But if you can't attend the event, here are several Seasonal Wisdom articles and recipes to get you started with edible flowers.
Eight Easy-to-Grow Edible Flowers
Respect Your Elders and How to Make Elder Fritters
Strawberry Semifreddo with Pansies
Look for more recipes coming soon with roses, lavender and nasturtiums, among other flowers.
That's not all! I'm guest-hosting #Gardenchat on Twitter June 11, 2012 at 9 p.m. EST.  We'll be tweeting all kinds of interesting stuff about edible flowers. So, come join the fun.
In the meantime, be safe. Never eat anything that you're not 100 percent certain is edible. Never eat flowers that have been sprayed. And always eat flowers intended for edible use; flowering plants bought at nurseries and garden centers are often sprayed with systemic pesticides not intended for human consumption. The best is always to grow your own — which is one of the topics I'll be discussing at the Mother Earth News Fair. Learn more at the fair's Facebook page.
Hope to see you there!