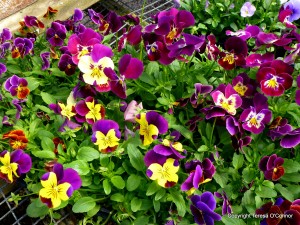 Pansies and violets are charming and delicious edible flowers that thrive in spring's cool weather. This post features pretty pansies in a special dessert recipe for Strawberry Semifreddo with Edible Pansies, developed for Seasonal Wisdom readers by Victoria Williams of the blog Our Life in Idaho.  Check it out! Photo copyright Teresa O'Connor.
Edible flowers have been on my mind a lot lately, after speaking on the topic at the 2012 Northwest Flower & Garden Show — and preparing to speak on the topic at the 2012 Mother Earth News Fair in Puyallup, Washington. So, my friend Victoria Williams of Our Life In Idaho — who is also a professional baker at the Boise Co-Op — offered to help me out by creating a special edible flower dessert for Seasonal Wisdom readers.
This Strawberry Semifreddo with Edible Pansies recipe has a light and creamy texture that is accented by fruit and flowers. So, what's semifreddo? It's not quite gelato or sorbetto, but it's easy to make and tastes delicious. You don't need an ice cream machine to make it, and semifreddo will last in your freezer for about a week.
To create her masterpiece, Victoria revised a recipe from the book The Tuscan Sun Cookbook by Frances Mayes and Edward Mayes. As you'll see, she added organic pansies to her dessert, and then served them in small muffin pan sizes — instead of a loaf pan. "That way everyone gets their own little flower to eat," explains Victoria.
Victoria's Strawberry Semifreddo with Edible Pansies
Ingredients
12 to 16 non-sprayed pansy flowers
1 1/2 pints strawberries, stems removed
1 1/4 cups sugar, divided
4 eggs
1/4 cup whole milk
1 teaspoon vanilla extract
1/2 cup mascarpone
1 1/2 cups heavy cream
Instructions:
Step 1: Select organic pansy flowers that had not been sprayed. That's a very important step. Don't eat flowers purchased in a garden center, as many have been sprayed with a systemic pesticide not intended for human consumption. Grow your own flowers, or pick those grown especially for edible use.
Step 2:  Snip pansies off the stems and bathe them gently in a salt bath. Afterwards, put them into ice water for a minute and allow flowers to dry on paper towels.
Step 3: Line a muffin pan with plastic wrap, leaving plenty of extra wrap for the sides. Place a pansy upside down in the pan. Set aside.
Step 4: Purée strawberries with the orange juice and 2 tablespoons of sugar. Chill until ready to use, but save a few pretty strawberries to garnish your finished desserts.
Step 5: Using a double boiler, fill the bottom portion with water and heat to almost a boil. In the top pan, add the remaining sugar, milk and vanilla to the eggs and beat well. Place pan over simmering water while wisking constantly, until the mixture thickens and forms trailing ribbons. This will take about 10 minutes. Then cool in the refrigerator for approximately 1 1/2 hours.
Step 6: Whisk the mascarpone and all but 1/4 of the strawberry purée into the cooled egg mixture.
Step 7: Then whip the cream in a separate bowl until it forms firm peaks. Fold this cream into the strawberry-and-mascarpone mixture.
Step 8: Pour the semifreddo into your muffin pan. Then place the pan in a freezer for at least 4 hours. Any unused purée should be refrigerated.
Step 9: Remove semifreddo from freezer and loosen the plastic wrap. Invert the muffin pan over a serving dish. Cut each piece in half horizontally and place some reserved strawberry purée in the middle. Decorate each serving with a fresh strawberry.  And enjoy!
Victoria recommends you consider other fruits like blackberries and peaches, later in the season. Also try other edible flowers such as rose petals and calendula. Use your imagination, but also use common sense and caution when eating edible flowers. Learn more about edible flowers.
Meanwhile, be sure to stop by Victoria's blog Our Life in Idaho and say hello. And check out her incredible garden too, which she created with her husband. These two are serious DIYers; not just great cooks.
So, what's your favorite edible flower to eat in desserts? We'd love to hear.