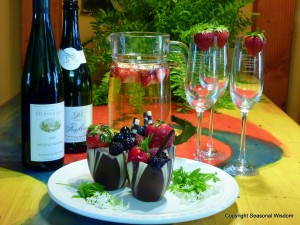 Celebrate the start to May with this old-fashioned recipe for May Wine, which features hints of the herb sweet woodruff and organic strawberries. This delicious drink has long been enjoyed on May Day and was one of many charming traditions celebrated in Germany on the first of May. Learn more about this historic drink, and enjoy this easy, old-fashioned recipe.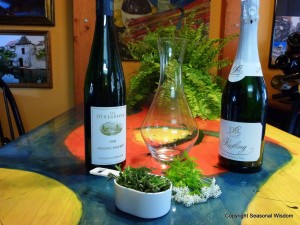 Right around late-April and early-May, the ground cover sweet woodruff (Galium odoratum) starts to bloom with delicate, star-shaped white flowers in shady spots. In Germany, the herb grows wild in forests, and is called "Waldmeister."
Beloved for centuries, sweet woodruff is used to concoct May Wine (aka Maiwein) with a young Riesling wine (ideally from the Mosel region of Germany). This wine is often enjoyed on May Day, along with other German traditions such as dancing around giant May Poles decorated with ribbons and flowers.  These customs survive still in certain places, and I've had the good fortune to not only see a May Pole in Bavaria, but also drink a glass of chilled May Wine.
My friend Victoria Williams of Our Life In Idaho has sweet woodruff growing in her garden.  She offered to help me make this pitcher of May Wine at her home. You may remember her delicious Strawberry Semifreddo with Edible Pansies. That frozen dessert would have been perfect to serve with this drink.
May Wine
Ingredients
1/2 cup of dried sweet woodruff leaves (Galium odoratum) – grown organically
1 bottle of Riesling wine
1 bottle of Sekt (German sparkling wine); or champagne
3/4 cups organic strawberries, chopped
A pinch of fresh sweet woodruff flowers for garnish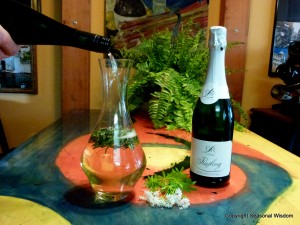 Step One: Infuse your dried sweet woodruff leaves in the Riesling wine for an hour or so.  You can use fresh herbs, but the flavor and aroma is more intense when dried. Some recipes recommend you infuse the herb overnight. But if you're not familiar with the herb's taste, you may want to start slow. We had enough flavor after only an hour when we infused our wine.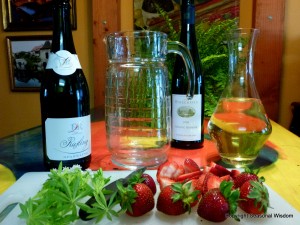 Step 2: After infusing the wine with this fresh-smelling herb for approximately an hour, strain the herbs from the drink. Then, gather up your ingredients and start mixing.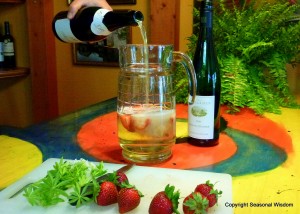 Step 3: Pour the infused wine into a glass pitcher. Then, add your sparking wine or champagne. Bubbles will form immediately, so pour slowly.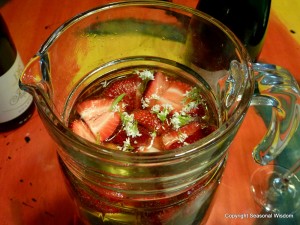 Step 4: Add strawberries and a big pinch of sweet woodruff flowers to the top, and stir gently. The result is a lovely and refreshing drink suitable for a real celebration.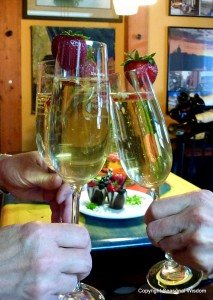 We toasted ourselves for the wise decision to make May Wine this year, before eating those decadent-looking desserts you see behind our glasses. This drink also nicely complimented a delicious Smoked Salmon and Artichoke Quiche that Victoria whipped up for us too.
Hope you have a wonderful start to your May, and that we'll see you back at Seasonal Wisdom soon!
A Few Notes:
Sugar: Some recipes called for adding sugar to May Wine. We say, "Skip the sugar!"
Sweet Woodruff (Galium odoratum): Use moderation when eating this herb. Although it is safe in this recipe's quantities, large amounts of the plant can cause dizziness and vomiting. Learn more about sweet woodruff from The Herb Companion. Always know exactly how your herbs were grown. Do not eat plants that have been sprayed.
May Day Customs: The first day of May is "rich in customs, perhaps more so than any other day of the year," writes The Oxford Book of Days.  Learn some fun and unusual May Day customs from Seasonal Wisdom, as well as  German traditions for this day.