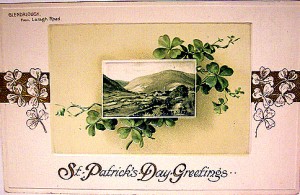 Enjoy your St. Patrick's Day on March 17 with these fun historical facts, gardening tips and old vintage greeting cards that reveal a bit about this popular Irish holiday. Come take a peek…
St. Patrick's Day is an Irish holiday, dedicated to Ireland's apostle, Patrick son of Clapurnis, who helped to usher in Christianity into Early Ireland.
Although Patrick lived c. 390-461, it wasn't until nearly 700 AD that the Catholic saint "surpassed St. Brigid as a focus for devotion in Ireland," reports the Oxford Book of Days.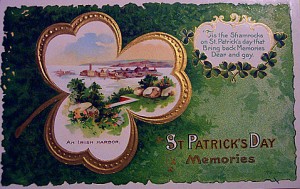 St. Patrick enjoys many legends today. One of my favorites is how he got rid of all the snakes in Ireland, which is a pretty nifty miracle that I think would work well with mosquitoes in my backyard. The popular saint also explained the holy Trinity as a shamrock. These days, it's no secret that shamrocks continue to be closely associated with Ireland and St. Patrick's Day.
In fact, you'll often find clover growing in your own spring garden around this time. Look for a four-leaf clover for good luck!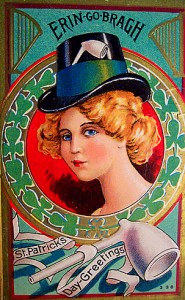 Today, the Irish holiday often feels more like an excuse to celebrate and over-indulge. This isn't a new trend. St. Patrick's Day has long been considered a good time for a cheerful feast:
"A jolly group of us drank our 'Patrick's Pot' at the parish priests's. … We had for dinner fresh cod's head, salt ling softened by steeping, smoke-dried salmon and fresh trout, with fragrant cheese and green cabbage. We had sherry and port wine, whiskey and punch enough," wrote Humphrey O'Sullivan in 1829.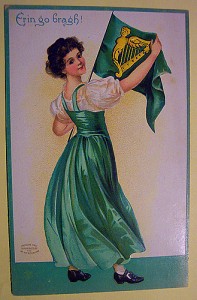 In the garden, keep in mind these tips:
Around St. Patrick's Day is traditionally a good time to plant your peas in much of the country.
Often, the forsythia is blooming now too. In many regions, that means it's time to prune your roses.
If you're lucky enough to live among horses, remember this old Irish proverb:
"On Saint Patrick's day
Let all your horses play."
And here's a delightful Irish blessing for all Seasonal Wisdom readers:
"May you have warm words on a cold evening, a full moon on a dark night, and the road downhill all the way to your door."
Image Credit: All these lovely vintage cards came from the amazing riptheskull on Flickr.