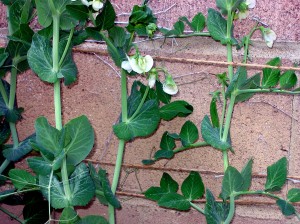 Few vegetables taste better than freshly picked peas. But not everyone has the room to grow and support peas in their gardens.  If you have a small, sunny garden, all is not lost, however. There is an heirloom pea that thrives in small spaces like balconies and porches. Come take a peek…
Photo by Isabel Gomes of climbing peas from my California garden.
Growing peas in smaller spaces is easier with the right varieties. Meet 'Tom Thumb' … a charming English heirloom introduced to the United States in the 1800s. One of the best dwarf peas for containers, 'Tom Thumb' grows only 8 inches tall. He may be small, but he makes up for it in performance.
These handsome peas come in 50 to 55 days, and can withstand hard frosts. This makes 'Tom Thumb' even more attractive to gardeners with short growing seasons, or for those regions where winter seems to skip right to summer.
Grow a pot of these peas on a porch table, and let folks nibble right from the plant. With peas this ripe, you don't even need to cook them.
Learn more about growing peas and eating peas. Visit Seed Savers Exchange.