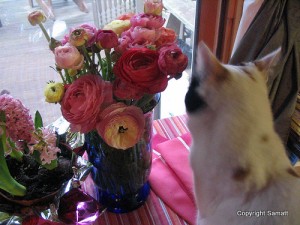 Contributor: Learn how to jump-start your spring with these expert Feng Shui tips by NYC-based consultant Ann Bingley Gallops of Open Spaces Feng Shui. You may remember Ann's excellent winter feng shui tips last year. Now — just in time for spring — Ann provides spring Feng Shui advice to get your season off to a great new beginning. Here's what she has to say…
Photo copyright Samatt of Flickr.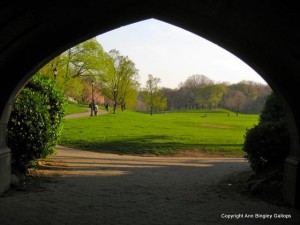 Entering the new beginnings of spring through a beautiful archway.
Photo copyright Ann Bingley Gallops.
Spring is finally here in all its beautiful glory!  Doesn't it feel as though things start afresh every year at this time?  Not-so-coincidentally, perhaps, in Feng Shui spring is considered the season of New Beginnings, symbolized by young plants pushing their way up through the ground.
Feng Shui also associates spring with the idea of Family – your immediate family and close friends, as well as close colleagues at work.  You can think of your family as the roots of your being, your DNA, your very own New Beginnings.
Using these rich ideas, there are many wonderful ways to celebrate the arrival of spring with Feng Shui.  Here are a few of my favorite spring Feng Shui tips: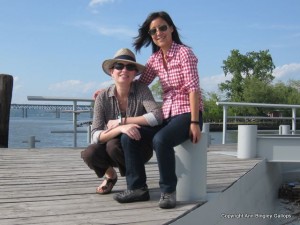 Update your snapshots of friends & family! Photo copyright Ann Bingley Gallops.
Honor your most important relationships by updating the personal photos you have around your home.  You'll bring fresh energy to your bonds with family and friends while reminding yourself of recent good times you've shared.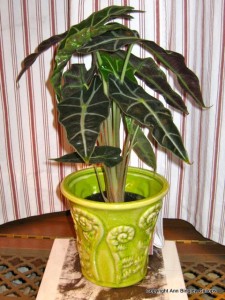 A healthy plant symbolizes the vitality of an important relationship. Photo copyright Ann Bingley Gallops.
Energize new projects with a healthy young plant.  Its growth and vitality activates the "New Beginnings" associated with this season, and the hoped-for success of your projects.  One recent client was in the midst of healing her relationship with her daughter – a particularly apropos undertaking at this time of year.  Caring for the plant she bought to symbolize the rebirth of this relationship helped her cope and take the time she needed on her emotional journey.
Declutter and organize the "New Beginnings" area of the Feng Shui Bagua (learn more about the Bagua here), which is in the center left-hand side of your space.  This is the location where we often start to clear clutter in Feng Shui, for the very reason that it symbolizes fresh starts.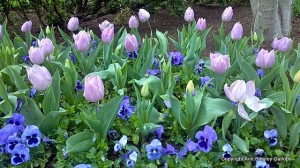 Plant a beautiful border in the New Beginnings area of your garden. Photo copyright Ann Bingley Gallops.
Feng Shui also applies to your outdoor spaces, so I recommend that you attend to the New Beginnings section of your garden as well. Here is more information about Garden Feng Shui. (Also, don't forget to check out Seasonal Wisdom's guest post for Open Spaces Feng Shui on three sensational spring flowers that celebrate this lovely season.)
Hope you've enjoyed these spring Feng Shui tips. I wish you the very best this season.  Here's to good Chi!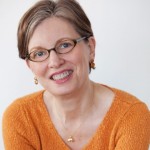 About the Author:  Ann Bingley Gallops is a Feng Shui consultant and speaker in New York City.  Her company Open Spaces Feng Shui offers on-site and long-distance Feng Shui consultations, space-clearing and blessing ceremonies, and modern, practical Feng Shui design for homes and offices.
Ann practices Feng Shui with an MBA from Columbia University, a Practitioner's Certificate from the Western School of Feng Shui, and Red Ribbon Professional membership in the International Feng Shui Guild.
Follow Ann on Facebook, Twitter and Pinterest, and on her blog, Feng Shui Tips & Insights.
See the other part of this blog exchange at Open Spaces Feng Shui, where Seasonal Wisdom celebrates spring with three favorite flowering plants.
Learn More: See Ann's Feng Shui tips for Winter, created for Seasonal Wisdom readers.