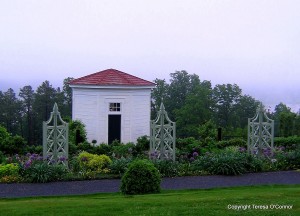 My mother used to say that when she died, she imagined heaven would look like Charlottesville, Virginia. She really meant Monticello, the famous country estate that belonged to Thomas Jefferson, with its Neoclassic architecture, orderly kitchen gardens and Southern charm.
I thought about her often, while touring P. Allen Smith's 650-acre Moss Mountain Farm, outside of Little Rock, Arkansas, during the Garden2Blog event.  My mom would have thought she was in heaven here too.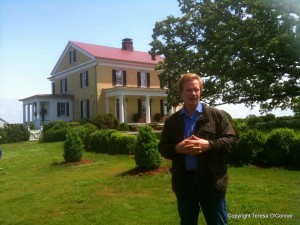 P. Allen Smith's Greek-Revival-inspired estate at the Moss Mountain Farm looks like it has been there for generations. Yet it was built just a few years ago. The well-known tastemaker, book author and TV gardening personality is recreating his own version of a garden retreat. Overlooking the picturesque Arkansas River Valley, this extensive estate also serves as an updated example of gracious garden living.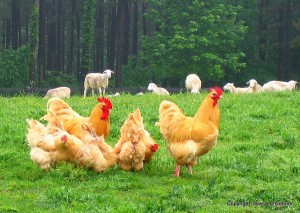 Buff Orpingtons chickens and White Dorper lambs graze on green pastures across from the farmhouse, creating a pastoral scene. This particular breed of lamb doesn't have to be sheared annually. The week we visited, they witnessed the birth of more than 20 little baby lambs at the farm.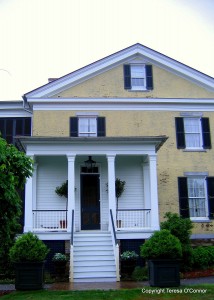 From historically accurate architectural details to aged paint finishes, the entire look and soul of P. Allen Smith's Moss Mountain Farm is one of an old, established country estate, inspired by 18th century horticultural legends such as Jefferson.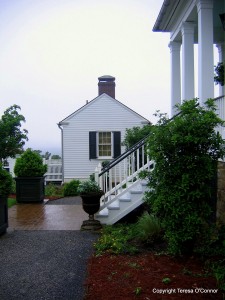 Exacting attention to details is evident throughout the property, with visual delights around each corner.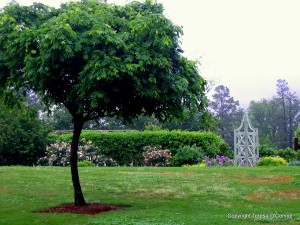 Despite grey skies and threatening tornadoes, the garden's beauty shines through.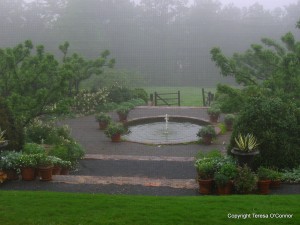 In the backyard, a croquet lawn looks out on a circular pond, and is bookended with twin clapboard structures. One serves as an art studio, the other as a summer kitchen.
Outside the art studio are different varieties of evergreens for four-season garden interest.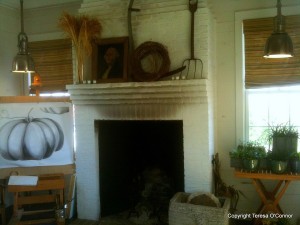 A relaxed charm reigns at P. Allen Smith's art studio. Large windows and a four-panel sliding glass door offer endless garden views.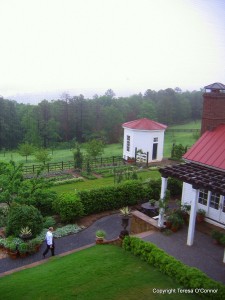 On the right of the croquet lawn is his summer kitchen with a Rumford fireplace and four-panel sliding glass door. On a pleasant summer evening, the lawn is transformed into an unforgettable dining experience under the stars.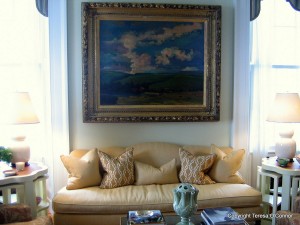 Journey inside P. Allen Smith's home, and you'll find the interiors just as tastefully designed as his gardens.  The attractive painting over the couch was painted by Allen himself of his family farm, where he spent his early years. "I come from a long history of proud nurserymen and mediocre artists," he says with a modest laugh.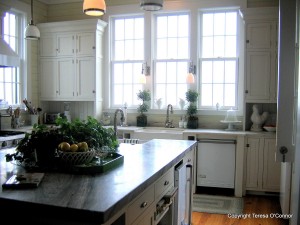 His bright kitchen has garden views and plenty of practical room for cooking and baking. Many of the recipes from Allen's new book Seasonal Recipes From The Garden were cooked in this delightful space.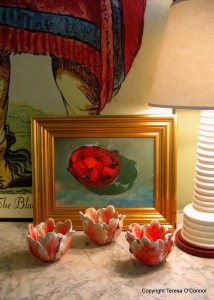 A still life of art and home accessories, scattered around his home.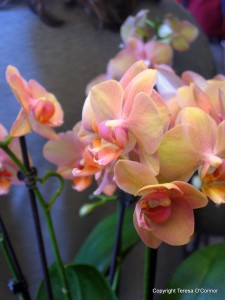 An orchid bursts with blooms near the kitchen, helping to blur the lines between nature and indoors.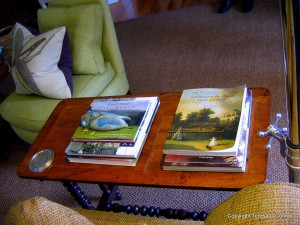 Allen's love of history and landscape design is apparent in his extensive library. In fact, he's not comfortable being called a celebrity, he'd much rather be known "as an educator."
Books are everywhere in his home, and the well-read gardener can rattle off Latin names of dozens of plant varieties as well as late-18th century landscape designers at the drop of a hat.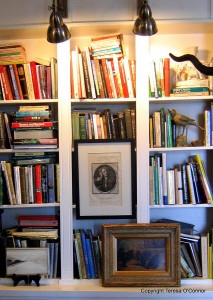 More books, paintings and etchings, everywhere you look.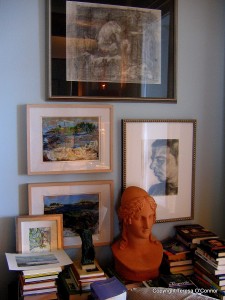 Personally, I could get lost looking through all these rare and wonderful books, particularly about the historic gardens of England and Colonial America. But that's no surprise to anyone who has read this blog for very long.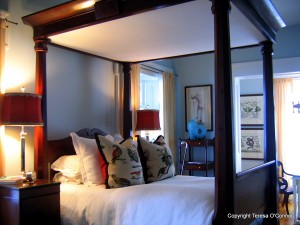 In fact, here's the perfect place to grab a book and relax. It is Allen's master suite, built for comfort after a long day of work.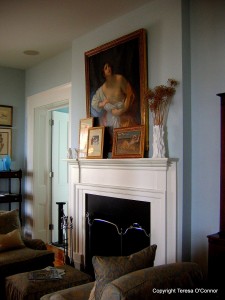 I don't know about you, but I could sleep very well in this room. Especially on a cold, rainy night…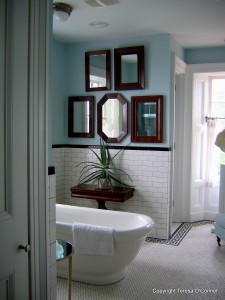 And I could enjoy myself in this classic bathroom as well. After a couple hours of gardening, this tub would call my name softly …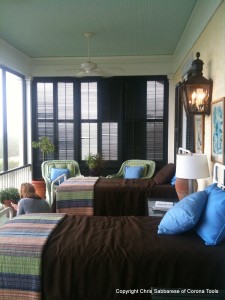 Some lucky guests have spent the night on his authentic sleeping porch, listening to the crickets sing.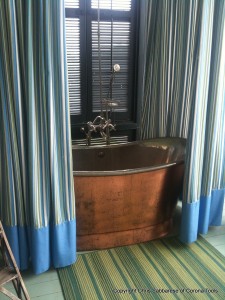 And there's even a pretty terrific bathtub on that sleeping porch, so you can soak away your worries too.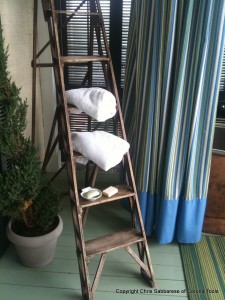 A vintage ladder serves as a towel rack on the sleeping porch.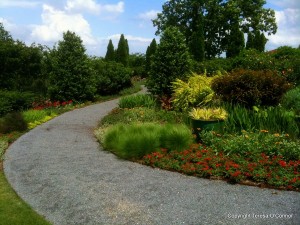 The sun starts to appear again, as we walk along a garden path at Moss Mountain Farm.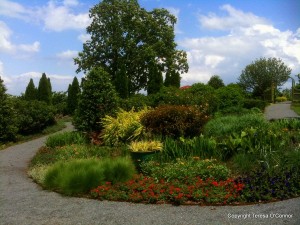 In late-April, the gardens are already popping with color.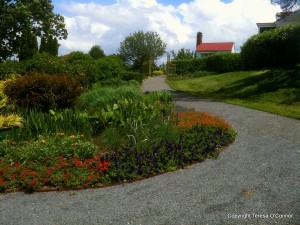 On the way up to the house, art studio and summer kitchen.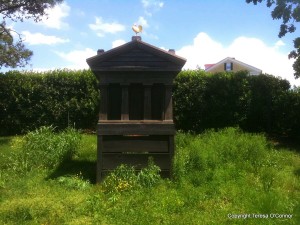 Even the chickens live well at Moss Mountain Farm.
These Silver Laced Wyandotte chickens not only live in style, but they're attractive too.
P. Allen Smith isn't resting yet. His next plans for Moss Mountain Farm include a new 25,000 square foot rose garden, complete with a hand-forged, wrought-iron gate. Opening in May 2011, the rose garden will feature one of the largest collections of Noisette roses in the United States.
Noisettes were first bred in Charleston, South Carolina during the early 1800s, and are the first class of American roses.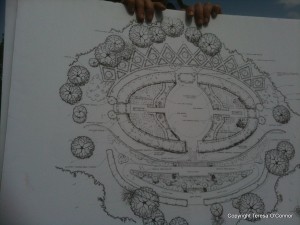 The garden design was inspired by two distinguished Charleston estates: the Aiken-Rhett house and Boone Hall Plantation. From antique garden ornaments to two reflecting ponds, the garden will feature plenty to see, including Knock Out and Drift roses, along with other classic varieties. It promises to be a popular spot for rosarians, and an exciting new chapter for the Moss Mountain Farm.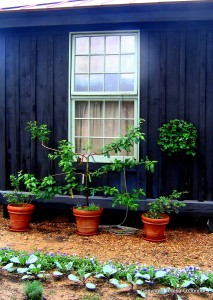 Disclosure: As discussed in this post, I was invited to attend the first Garden2Blog event with 20 bloggers and writers from across the nation. Although our expenses were paid on this trip, my opinions are my own and aren't for sale. Meanwhile, I hope you've enjoyed this visit with one of America's most well-known gardeners.
But first … before I finish, here's a photo of several writers from the Garden2Blog event: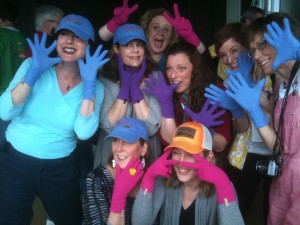 Moving clockwise from left to right, me, Robin Horton, Brenda Haas, Shawna Coronado, Laura Matthews, Kylee Baumle, Fern Richardson and Helen Yoest.
Learn more about P. Allen Smith.