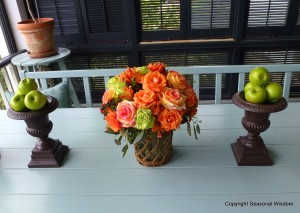 Entering P. Allen Smith's home at Moss Mountain is a delight worth sharing. After all, the TV personality, book author and lifestyle spokesperson has built a national reputation for his Greek Revival-style house and 600+ acre garden retreat outside Little Rock, Arkansas.
Come join Seasonal Wisdom as we take another tour of this amazing home…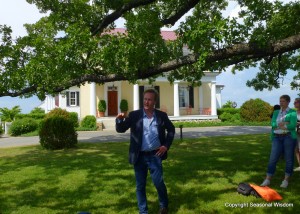 Seasonal Wisdom was honored to be invited – along with 23 other bloggers from across the nation — to attend the recent Garden2Blog event hosted by P. Allen Smith at Moss Mountain. I first visited this incredible garden retreat during the inaugural annual event in 2011. So, you can imagine my delight at receiving another invitation this year.
This well-known gardener is famous for his amazing landscapes, but he has a particularly lovely, historically inspired home. So, I'll focus indoors first, and save the outdoors for my next post. Meanwhile, you can see more photos of P. Allen Smith's home in this 2011 post too.
P. Allen Smith's home is a relatively new house, but you wouldn't know it.  The location of his house was selected because of that 300-year-old tree you can see above.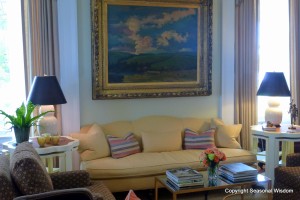 One reason that the house feels so authentic, is because of P. Allen Smith's design approach. Before building the house, he studied the details of several Greek Revival homes, built in the 1840s-1850s, within a 150-mile radius of the property.
This research inspired his decorating choices. For example, he did not add crown molding to the house, because it wasn't done to homes in this region of the country.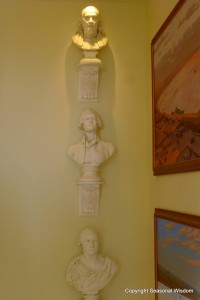 Once you visit Moss Mountain, you see right away that P. Allen Smith's home – and gardens – were greatly influenced by the Founding Fathers, particularly George Washington, Thomas Jefferson and Benjamin Franklin. The busts of these three gentlemen watch over the stairway in this lovely home.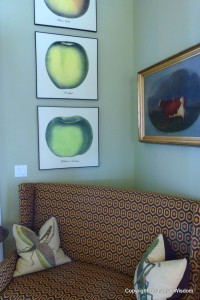 But he welcomes modern comfort in his home too. That's why many of his upholstered furniture aren't antique.
The contemporary furnishings and artwork still work wonderfully with the historic atmosphere of the home. This shows once again the beauty of "mixing the old with the new" in interior design.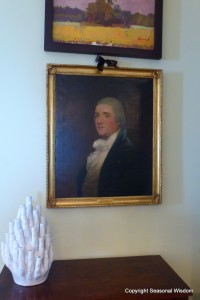 That's not to say there aren't plenty of antiques in this charming house.
This portrait dates back to 1793, and was painted by Gilbert Stuart, one of the most prominent artists of his time. The artist's portrait of George Washington in 1796 would later become world renowned.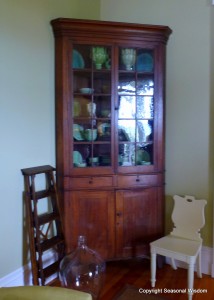 The oldest piece of furniture in P. Allen Smith's home is this wooden cabinet, which dates to 1794. Standing before the wooden piece, you can sense that George Washington would definitely approve of his choice.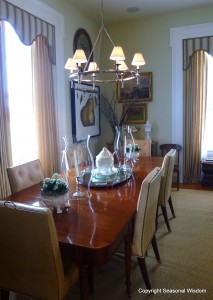 Entertaining is important to this Southern gentleman. After spending several days with P. Allen Smith in 2011 and 2013, I can truly say that he represents the best of old-fashioned Southern hospitality.
Not only was he welcoming to everyone. But he never  put "on airs" with the bloggers, sponsors or his staff. He always seemed geniune and gracious, even while dealing with dozens of guests asking different questions and wandering through his home.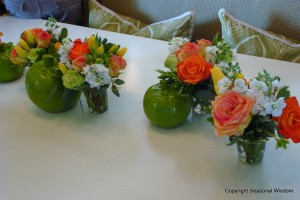 P. Allen Smith may be a national lifestyle celebrity, who is an author of seven books, host of two PBS Television shows and two YouTube video channels.
But he'd much rather you considered him an educator of the "old hand arts" of gardening, entertaining, raising chickens, growing food and enjoying a good meal.
Speaking of meals, don't miss seeing his gorgeous kitchen in this post.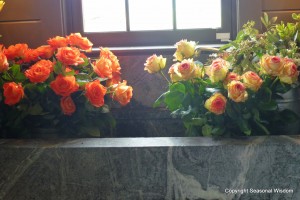 Good parties need great flower arrangements. Just look at these lovely roses in the sink of his mudroom! Yep, you heard that right.  In P. Allen Smith's home, even the mudroom is lovely.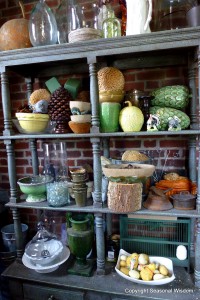 Don't believe me? Here's another photo of the gorgeous mudroom.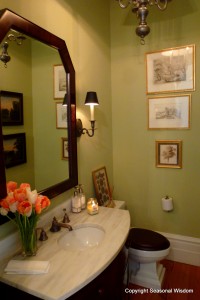 Even the "necessary" – as they used to call bathrooms during our Founding Fathers' time – is beautiful.  Here is the guest bathroom right outside of the mudroom.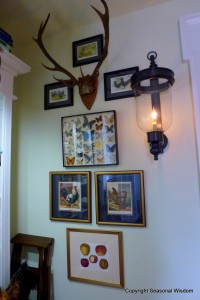 Moving upstairs, you'll see piles of books and collections of butterflies, botanical prints and more. It's clear that history and knowledge inspire this book author and TV personality.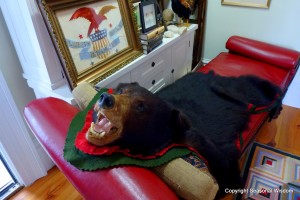 There's even a bearskin lounging luxuriously on this couch in P. Allen Smith's home. I never did hear the real story of how that bear became a decorative object.  But when I find out, I'll let you know.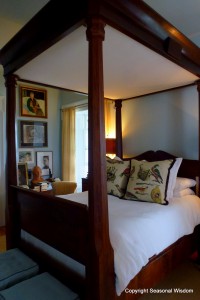 This authentic Tester Bed dates back to 1820s New Orleans.  The entire bedroom has a serene, elegant and relaxing feel, which I imagine leads to restful sleep.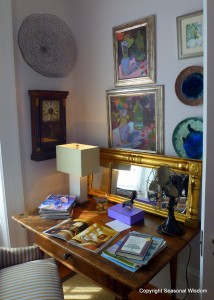 P. Allen Smith's home has plenty of multi-use spaces. This delightful desk area is located in a section of the master bedroom, where there is plenty of natural light.
Don't miss the fireplace sitting area or the master bathroom with a vintage bathtub in this earlier article.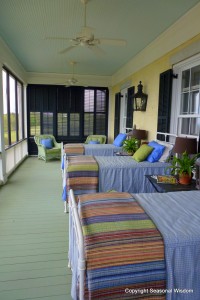 What could be better than listening to the crickets sing on a summer evening? This charming sleeping porch at P. Allen Smith's home is the perfect place to do it.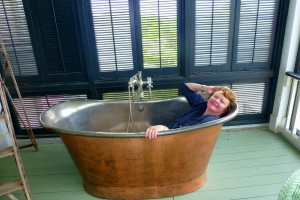 There also is a copper bathtub out on the porch for summer soaks. It's so inviting, you can't really blame Mary Ann Newcomer of Gardens of the Wild Wild West for wanting to try it out.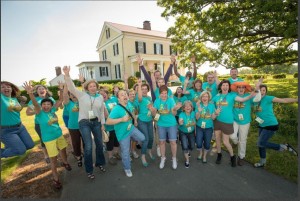 Other Bloggers: It was a pleasure to enjoy this educational and enjoyable trip with the following excellent bloggers – Our Everyday Dinners, Bwisegardening.blogspot.com, Cowlick Cottage Farm, Read Between the Limes, From the Soil, Redneck Rosarian, Home Garden Life, Arkansas Home and Garden, J. Peterson Garden Design, HGTV Gardens, Veggie Gardening Tips, About.com/Container Gardens, Durable Gardening, Punk Rock Gardens, Good Seed for Home Depot Garden Club, Gardens of the Wild Wild West, Bumble Bee Blog, The Garden Buzz, The Rainforest Garden and The Garden Diary.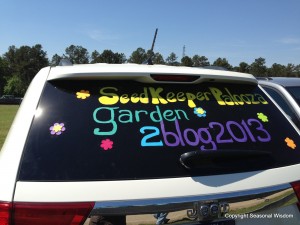 Full Disclosure:  Our Garden2Blog trip expenses were generously sponsored by the following well-known and respected companies: Berry Nurseries, Bonnie Plants, Star Roses & Plants, Easy Gardener, Laguna Ponds, Le Creuset, The Seed Keeper Company and Troy-Bilt.
I'm grateful for everyone's wonderful hospitality. However, please know Seasonal Wisdom readers that my opinions are my own, and I was not pressured to write anything about the trip.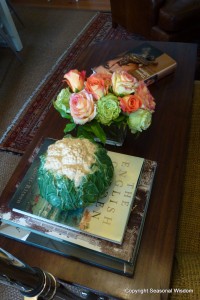 Coming Next! Don't miss seeing P. Allen Smith's gardens and heritage poultry, among other things.  This Southern gentleman is working hard to keep the old household traditions alive and well.
More Photos of P. Allen Smith's Home can be found in this post.