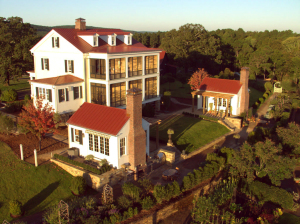 Recently, Seasonal Wisdom was honored to attend the 5 year reunion of Garden2Blog with P. Allen Smith and a couple dozen well-known garden bloggers from across the nation. This is the third time I've had the pleasure to attend this invitation-only event, and I always bring home plenty of new creative ideas for my home.
Come along on this armchair tour, and grab some clever design ideas for your garden too.
Photo copyright P. Allen Smith
Moss Mountain Farm photo copyright P. Allen Smith
You probably already know P. Allen Smith from his two PBS-TV shows, P. Allen Smith's Garden Home and P. Allen Smith's Garden to Table, or his syndicated 30-minute show P. Allen Smith Gardens. He also has written a number of successful books, including Seasonal Recipes from the Garden.
This stylish tastemaker is renowned for his historically inspired Moss Mountain Farm (shown above). Here are just a few design tips I took away from his gardens during the 2015 Garden2Blog reunion:
Pick Plants with Lasting Beauty
Your gardens will have long-lasting beauty if you select flowering plants that look good, even after blooming.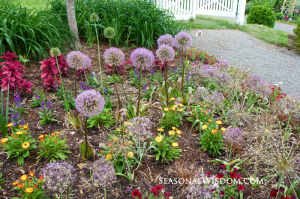 For instance, these purple ornamental alliums are just starting to fade, but they continue to look good.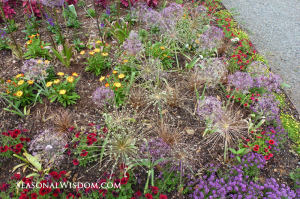 As ornamental alliums age so beautifully, they retain their charm even after they've lost their flower petals. (Click on this or other photos to make larger.)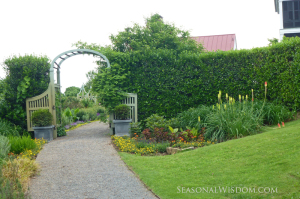 Create Focal Points
Wandering around P. Allen Smith's gardens, you'll  see attractive focal points that lead the eye to the background. See the picturesque trellises through the above garden gate?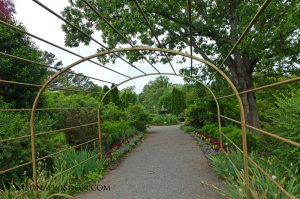 Here, a rustic cattle pen gets new life in this Moss Mountain Farm garden pathway. In the far distance is a lovely urn surrounded by irises, coleuses and other flowers.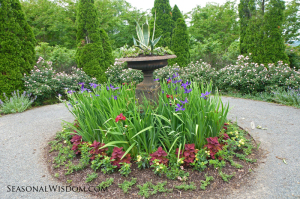 Here is that focal point, up close. The roundness of the garden bed mirrors the urn's round shape.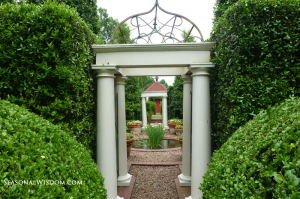 At his 1904 Colonial Revival Cottage in Little Rock, Arkansas, these focal points – white columns, green foliage and red shed door – help to create separate "garden rooms."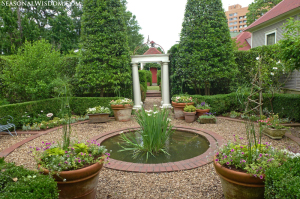 Walk through the first set of white columns and you enter this delightful garden courtyard with containers and seating. Walk through the next set of white columns and you'll come to a charming kitchen garden.
Embrace Color
Don't be afraid to mix colors in creative ways.
P.Allen Smith often uses big splashes of colors, which contrast dramatically together in this garden bed.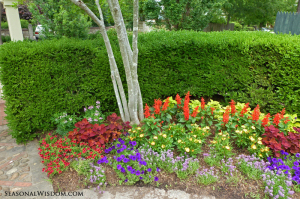 He also mirrors these colors with different plants in similar or contrasting hues.
Welcome Quieter Looks
On the other hand, sometimes quieter colors look nice too. The subtle shades of these hostas, ferns and ornamental grasses create a restful scene that is ideal for a shadier spot.
This bed shows that quieter colors can be rich and exciting too.
Here, a simple row of purple irises add quiet elegance to this textured wall.
Use Height
Varying heights in your garden is also a good idea.
Urns and large containers are scattered throughout P. Allen Smith's gardens. Their height adds a bit of drama to these settings.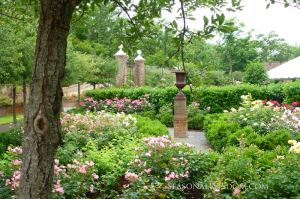 If your urn isn't very tall, build a platform for it. That's what P. Allen Smith did with this planter in his rose garden.
General Beauty
Here's a side view of the Moss Mountain Farmhouse, with P. Allen Smith's artist studio on the left. Take a tour inside this historically inspired and exquisitely decorated home.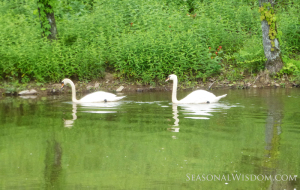 Swans, heritage poultry, lambs and other animals can be found around the farm. Learn more about some of his critters in this Seasonal Wisdom blog post.
Warm Thanks
This reunion event would never have happened without the kind support of these event sponsors, who covered most of our travel and expenses:
Little Rock Convention & Visitors Bureau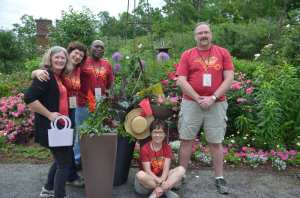 One of the best parts of these writer trips is spending time with the other bloggers, who continue to inspire me with their gardening talent and generous spirit. Shown (left to right, with links to their blogs) are Barbara Wise, me, Kenny Point, Kylee Baumle and Rick Bickling.
Learn More
Visit P. Allen Smith's website to learn more about his fascinating homes, garden tips and more.