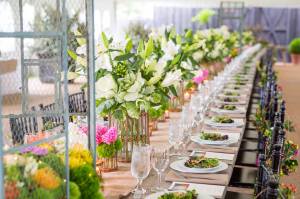 Imagine an intimate dinner with friends and family members enjoying seasonal, sustainable and American Grown Flowers on the table and even in your meal. Here's your chance to participate in a "Field to Vase" dinner coming to a city near you. There's even a special discount for Seasonal Wisdom readers!
Origin Matters with Flowers
If you read Seasonal Wisdom frequently, you may have seen this story a while back about the popularity of Slow Flowers with Debra Prinzing. As she explained, 80 percent of flowers sold in the United States are exported.  So, when you buy American Grown Flowers, you're directly supporting local flower farmers in this country.
Just as many people now want to eat locally grown foods, they also want to enjoy the beauty of locally grown flowers too.
Recently, I was invited to attend an American Grown Flowers "Field to Vase" Dinner at P. Allen Smith's Garden2Blog event. From the gorgeous local flowers to the delicious artisanal wine from Stargazer Barn, it was an unforgettable evening that warmed the hearts of everyone who attended.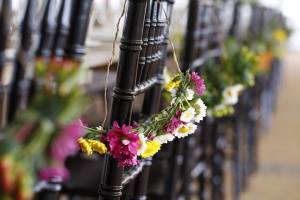 A special highlight of our dinner was the hand-crafted flower wreaths that awaited each of the guests upon arrival.
We couldn't wait to try them out! Shown here (left to right) are Kylee Baumle, Jenny Peterson and me sporting our flower wreaths and feeling a bit like spring nymphs.
American Grown flowers were featured prominently throughout the special event, from the amazing table arrangements to the food itself.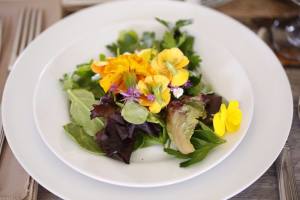 In fact, edible flowers from P. Allen Smith's garden were picked just hours before our meal to be included in this fresh salad. It tasted as good as it looked.
Upcoming Field to Vase Events
Here's your chance to have dinner at a flower farm too. There are a number of "Field to Vase" dinners planned over the next few months, including:
Monterey Bay, California              June 19, 2015
Boulder, Colorado                           July 18, 2015
Brooklyn, NY                                      August 20, 2015
Washington, D.C.                             September 3, 2015
Seattle, Washington                       September 12, 2015
Portland, Oregon                             October 3, 2015
Fallbrook, California                        October 10, 2015
Detroit, Michigan                             October 16, 2015
Save Money
You can save $25 off the ticket price at these remaining dinners.  Simply go here to get your promotion code and use it when you register for your dinner.
Your Field to Table dinner includes:
An artisan-style, locally sourced meal, craft beer and wine
Certified American Grown flowers to take home
A flower lover's gift bag.
But that's not all. This dinner also includes the opportunity to spend quality time with local flower farmers and others who care deeply about preserving America's floriculture. And that's priceless.
Learn More
Disclosure: I was an invited guest at this Field to Vase dinner, and my meal was provided at no charge. However, I was not paid to write this review, and my opinions are strictly my own.