The weather may still be cold and wintery where you live, but that doesn't mean you can't create unique and attractive bouquets.  Even better is when you can find the foliage and flowers for those arrangements locally, or from your own garden.  To learn more, Seasonal Wisdom spoke with Debra Prinzing, a Seattle-based advocate for local flowers, who shares expert bouquet arranging ideas and talks about her latest book, Slow Flowers.
Eighty percent of flowers sold in the United States are imported – and that is something Debra Prinzing wants to change.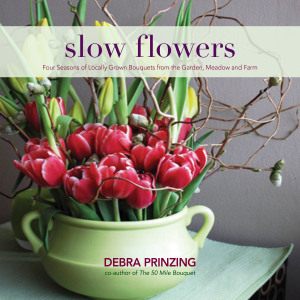 This well-known author has written a book called Slow Flowers, which includes 52 beautiful, locally grown bouquets.  Her book received the Garden Writers Association's 2014 Silver Award of Achievement.
But that's not all. Debra also established SlowFlowers.com – an online directory to American grown flowers, farms and studios. Plus, she airs a podcast where you can meet innovative flower farmers, eco-conscious designers and do-it-yourselfers around the U.S.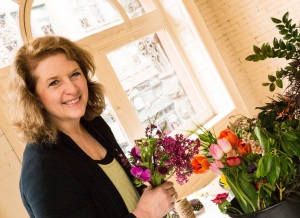 "My 'slow flowers' mindset is closely aligned with the Slow Food movement, which ascribes to the desire to grow, prepare and eat what's in-season or produced close to home," explains Debra. "Our U.S. flower industry has become a commodity marketplace relying on imports, and it feels like a disconnect.  I hope to alert flower consumers that there is a better way to have beautiful, local and seasonal flowers."
Just as foodies eat a different menu during winter than in the bountiful summer, floral designs should also be seasonal.  Debra encourages gardeners to channel their inner floral designers, and urges them to not be afraid to gather their own bouquet from what's growing in their gardens.
Three Design Tips from Debra
Think seasonally and design accordingly. "Floral design in the quieter, dormant seasons of our gardens requires more observation, more creativity and more originality, because the elements of our bouquets are less obvious," says Debra.
Remember foliage. "Anything evergreen or vegetative is up for grabs," she urges. "But don't think 'twigs and conifers' are your only cold-weather options. Consider the fabulous broadleaf foliage of plants like Southern magnolia, oakleaf hydrangea or Corsican hellebores too."
Be flexible. "Combine what delights you," adds Debra, "and bring flowers, leaves, stems, branches, berries and herbs into your home."
 Slow Flowers Design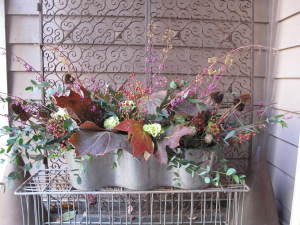 To recreate the above Slow Flowers cold-weather arrangement, you'll need:
INGREDIENTS
20 stems smooth eucalyptus foliage (Eucalyptus gunnii), grown by Charles Little & Co. (Oregon)
5 large leaves from oak leaf hydrangea (Hydrangea quercifolia), harvested from Debra's Seattle garden
10 stems purple beautyberry (Callicarpa bodinieri var. giraldii 'Profusion') from Charles Little & Co.
7 stems rose hips (Rosa multiflora), grown by Charles Little & Co.
7 purple coneflower seed heads (Echinacea purpurea), harvested from Debra's Seattle garden
5 stems pincushion flower seed heads (Scabiosa stellata 'Paper Moon') from J. Foss Garden Flowers (WA)
7 stems 'Supergreen' hybrid tea roses (Rosa 'Supergreen') from Peterkort Roses (Hillsboro, Oregon)
VASE
5-inch tall x 17-inch long aluminum planter with three 6-inch wide planting sections.
Learn More
Connect with Debra Prinzing.
Debra Prinzing is one of seven experts I feature in my presentation, "Top Gardening Secrets from the Experts." The others are Joe Lamp'l, P. Allen Smith, Robin Haglund, Christina Salwitz, Susan Cohan and Riz Reyes. To hire Seasonal Wisdom to speak at your next gardening event, contact me.
FCC Disclosure: Seasonal Wisdom was not compensated to write this article in any way.