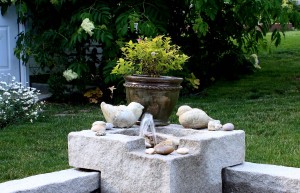 There's been a new addition to my garden in recent weeks. It gurgles and bubbles pleasantly, adding a relaxing ambiance to my deck. Here's my review of Laguna's Deck Pond and some advice for enjoying fountains and other water features in your garden…
Photo copyright Kevin O'Connor
This story began a few months ago, when I was invited to attend P. Allen Smith's first Garden2Blog event in late-April. One of the activities involved us working in teams, competing against each other in assemblying and decorating a Laguna fountain in record speed. Well, I was on the winning team of talented folks, which meant we each won our favorite Laguna water feature.
I selected the deck pond, because  I liked the sleek design, which matched my garden deck very well. As you can see above, the faux concrete finish means the pond pieces are lightweight and easy to manage.
Even a non-mechanical person like me can assemble this attractive fountain quickly, and that's one of its best features. In the corners, you'll see two underwater lamps from Laguna, which add romantic lighting in the evenings. When we first assembled the fountain, a lot of cottonwood was flying around in the air, which kept clogging the pump. Fortunately, the pump is easy to clean. Now that the cottonwood is no longer flying, the fountain pump is working well.
The fountain's simple lines lend themselves to minimal details. So, we opted not to add water plants. Instead, we placed a potted plant on top, alongside some stone birds and little rocks we've collected along the way.
Planted in the background (upper left to right) are a butterfly bush, snow in summer and feverfew under a solar lantern … along with a native elder tree, with heucheras, calendula and lettuces underneath. In the distance is an 'Apothecary Rose,' which enjoys a rich heritage and explodes into brilliant pink blossoms once a year.
Let It Flow: Four Fast Tips for Fountains
Location, Location, Location: Don't make the mistake of sticking your fountain in a faraway corner of your garden. Put it nearby the house, so you can enjoy the sounds through an open window.
Be Kind to Your Pump: Keep water levels high enough so you don't strain your pump. You may need to clean the pump regularly, especially during high-pollen times.
Fight Mosquitos: Standing water can be a breeding ground for mosquitos. Consider using a biological mosquito control product that kills developing mosquitos in bird baths and fountains, such as this one from Ecological Laboratories.  Always follow instructions carefully.
Flow in Right Direction: For good fortune, have your fountain flowing towards your home, not away from it, according to this Feng Shui expert.
Learn More: Laguna Ponds; Trouble-Shooting Water Features