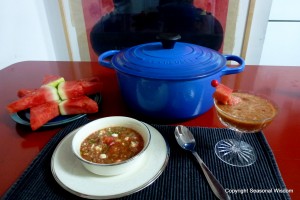 Baby, it's hot outside.  Cool off with this Watermelon Gazpacho Recipe from Seasonal Wisdom. Packed with sweet and hot peppers, limes and red onions, this watermelon gazpacho makes a delicious chilled soup or a refreshing vodka-based cocktail we like to call "Watery Mary."
This gazpacho is inspired by the flavors of late-summer, the traditional harvest time of year, when the watermelons, cucumbers and peppers are ripe and ready for picking in the garden, or from local farmers.
So, what's this watermelon gazpacho recipe have to do with P. Allen Smith and some pans from Le Creuset? I'm glad you asked…
If you read Seasonal Wisdom, you may know this blogger was honored to attend two Garden2Blog events in 2011 and 2013 with national lifestyle expert P. Allen Smith and talented bloggers from around the nation.  See who was there, and take a tour here, here and here.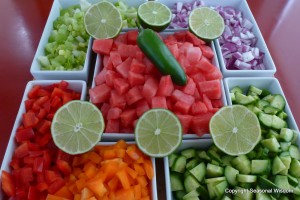 P. Allen Smith invited the bloggers to submit a recipe for a contest using a Le Creuset pot. But it was too hot to cook. Besides, a Le Creuset Dutch Oven also does a superb job of cooling and storing foods, because the pot does not react with the ingredients.
So, I concocted this vitamin-rich watermelon gazpacho recipe with a rainbow of fruits and vegetables.  All you need is a blender, and you don't even have to cook.
Did you know that watermelons are absolutely loaded with lycopene, a cancer-fighting antioxidant?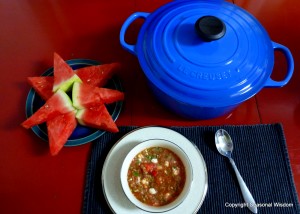 What You Can Do:  Go over and visit Seasonal Wisdom's watermelon gazpacho recipe at the P. Allen Smith Facebook page.
If you like the recipe, then please do LIKE it on that page. It's totally a long shot. But the winner gets a set of Le Creuset pans, which would be pretty amazing – and would make all the other pots and pans in my kitchen very jealous.
Plus, you'll also see other great recipes from the participating bloggers too, which you don't want to miss. Thanks so much for checking it out!
Disclosure: This Le Creuset Dutch oven was provided to Seasonal Wisdom for review. However, I was not paid to create this recipe for this P. Allen Smith promotion. As always, my opinions are my own.