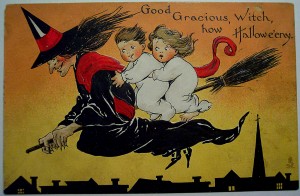 Halloween has many old, strange traditions that you probably didn't know.  Take a trip back in time to hear about some of the fascinating folklore, illustrated with vintage Halloween postcards, courtesy of riptheskull on flickr.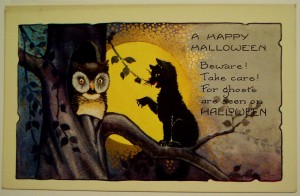 All Hallows' Eve or Hallowe'en has long been known as a frightening time when the ghostly spirits were said to run free, along with evil witches, fairies and goblins.
In Scotland and Ireland,  the sunset on October 31 until the sunset on November 1 was known as Samhain. As the Old Irish tale Tochmarc Emire explained, Samhain was "when the summer goes to its rest."
The Welsh called this day Nos Galan Gaeaf or "winter's eve." The next day, Calan Gaeaf, was their "first day of winter.'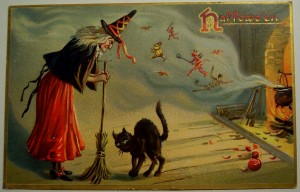 As  nature starts to go into dormancy now, and the outside world often looks dead and dreary, it's understandable why anxiety and fear would settle into the hearts of earlier cultures, who had to survive until the next year's growing season in spring.
Along with evil spirits, the souls of the dead (especially of family ancestors) were believed by many cultures to be wandering around now too.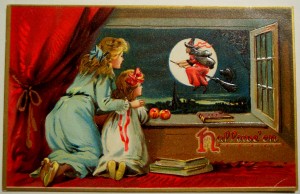 In Wales, the family would place a bit of food on the windowsill for their ancestors. They asked for protection on this evil night, and encouraged them not to haunt the family.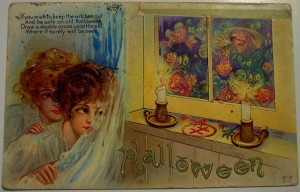 Along with drawing double crosses, as in this vintage postcard, people in earlier times employed different ways of keeping away evil …
"These included the placing of food on the doorstep to appease any witch
who might approach the house; the putting of salt in the key-holes;
the safe locking up of all the domestic and farmyard animals;
the killing of a cockerel and hanging of its tail feathers on stable doors…"
Cambridgeshire Customs and Folklore, Enid Porter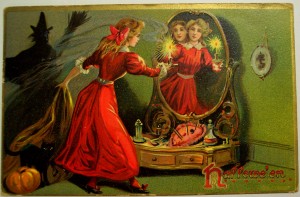 On this night, young women often used mirrors in a variety of complicated rites to reveal their future lovers. The face seen in the mirror was the person she would eventually love.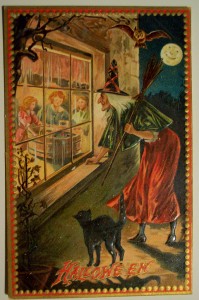 Other love divination games included fortune-telling puddings with apples and cream. The puddings contained two rings, two coins and two marbles. What you found in your pudding revealed whether you would be wed (rings), wealthy (coins) or single and childless (marbles).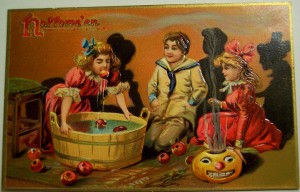 Apples were used in other ways, including the popular game of bobbing for apples. Each apple was named for a certain person, and people dove for the apples that floated in a pail full of water.  Seizing an apple in one bite was very good fortune indeed.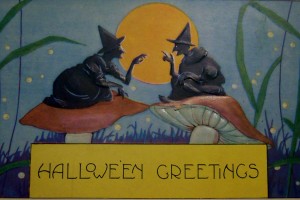 Not surprisingly, this was also a night to forecast death and misfortune. As John Sinclair wrote in the 1790s about Scotland …
"They set up bonfires in every village. When the bonfire is consumed,
the ashes are carefully collected in a circle. There is a stone put in …
for every person of the several families … and whatever
stone is moved out of its place, or injured before next morning,
the person represented by that stone …
is supposed not to live twelve months from that date."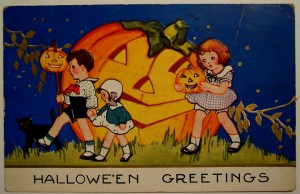 Today we celebrate with pumpkins, but in earlier days, lanterns made of hollowed-out turnips, and carved with ugly faces, were carried around to represent goblins. In parts of the UK, these lanterns were called "spunkies."
British historian Ronald Hutton says children would carry their spunkies around town as warnings of death, singing:
"It's Spunky Night, It's Spunky Night,
Gie's a candle, Gie's a light.
If 'ee dont, 'ee'll have a fright."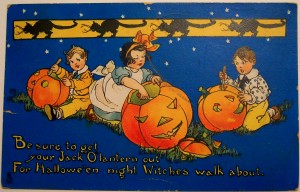 These lanterns were called Jack o'Lanterns in eastern England, because they looked like flickering flames in the marsh, explains Hutton.
As large numbers of Irish and Scottish immigrants came to the United States in the 19th century, Halloween grew in popularity in this country. Old traditions were adapted into the ones we know today, and it still remains a spooky time for kids of all ages.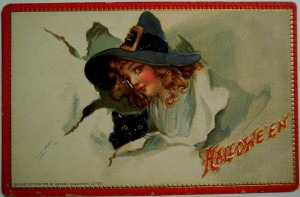 However you decide to celebrate Halloween, here's hoping you have a fun and safe holiday. Don't forget to hang some juniper branches and dried rosemary on your front door to keep away evil spirits!
Learn more:
Frightfully fun Halloween superstitions.
A spooky old poem for children of all ages.
Pumpkins – folklore, growing tips, nutritional facts and serving ideas
Selected sources for this post included:
Vintage Halloween postcards from RiptheSkull on Flickr.
Post copyright Teresa O'Connor, Seasonal Wisdom.